UIA vs. ISAU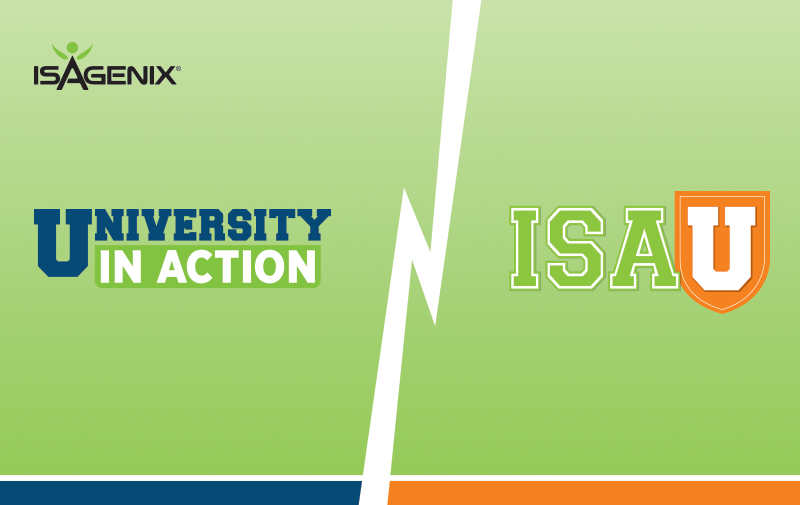 If you're up to date on the latest Isagenix news, you'll know about the super exciting business events we have coming up in the next few months, including IsaU and UIAs. Both of these events are geared towards helping to increase your Isagenix knowledge and propel your business to new heights. Is one event more important than the other? Absolutely not! Each event we put on will help to develop your skills and team in a different way, and provides the perfect opportunity to learn, network and connect. Keep reading to find out more about our upcoming events, and what makes each one unique.
UIA 
World-class training from a leading personal development trainer doesn't come around too often, so when you have the chance to learn from the highly-praised David T.S. Wood in one his first Isagenix UK events, trust us, it's not to be missed! Step outside your comfort zone in these practical and dynamic training sessions that are designed to reignite your self-belief, realign your objectives and redefine your individuality.
These intimate events are seminar-like in setting and interactive in style, and provide the ideal opportunity to immerse yourself in the business mindset and your personal development, as well as advancing your knowledge of the network marketing industry. Held across three days, the UK's inaugural UIA events will take place in London and Birmingham this December, where attendees will be expertly guided through the keys to becoming successful network marketers. David will focus on how to prospect, enrol and build long-term relationships, as well as teaching in detail how to get your people paid and how to break down concerns and overcome objections. Bring your teams along for the opportunity to practice the systems and templates to grow their businesses, and to help them gain confidence in the industry, the company and themselves.
David is known for his exciting, engaging and fun programmes, and for his ability to read his audience and move people to the next level in their lives as they action what they have learned. Tickets are selling fast, but there are still some available for both cities so get yours now to avoid missing out!
Tickets: £149 for the three days, so grab yours in the Back Office now. A step-by-step guide of how to buy tickets in your Back Office can be found here.
London:
When: 1–3 December 2017
Where: Hilton London Metropole, London
Birmingham:
When: 9-10 December
Where: ICC Birmingham
IsaU 
Every year, Isagenix host IsaU events in countries around the world. With so many under our belts, we have perfected the style and agenda to ensure it delivers exactly what the audience need to go into the new chapter of their business-building career with the knowledge and motivation to achieve great things.
Tickets sold out fast for the UK's first IsaU and with such a fantastic weekend planned for you all, it's no surprise. Joining the incredible line-up of speakers onstage will be none other than our Isagenix Co-Founders Jim & Kathy Coover.
Over the course of the weekend, you can expect to hear more about Isagenix as a company, our missions and our values. International leaders are taking time out of their schedules to help educate our UK Associates on the business methods, their top tips for success and the common pitfalls to avoid in network marketing. Jim & Kathy Coover will themselves be outlining the compensation plan in more detail than you've ever heard before, helping you to understand the full scope of what it has to offer and how you can earn each reward. This is also your chance to experience onstage recognition and hear success stories from those at the top of their game; giving the members of your team who are just starting out, something to aspire to. Product training by our very own nutritionist Rebecca Haresign will be led from the stage too, where you'll gain a better understanding of how to talk about the products and the science behind them.
All in all, this is an event for an aspiring, new or experienced Isagenix Associate, and that includes every member of your team. However much you think you know, you can always learn something from others – and this is place to do it. Plus, it's also a chance to connect with a variety of like-minded people; any one of whom might be able to answer that burning question that has been in the back of your mind. If you have already secured your place to join us at the UK's first foray into IsaU, we can assure you, this will be a weekend to remember!
You can find out more about the upcoming IsaU here.
When: Saturday 28 October 2017 – Sunday 29 October 2017
Timings:  Registration opens at 8am. The general session will be held from 9am – 5:30pm
Where: Hotel Notovel, London West, Hammersmith International Ctre, 1 Shortlands, London, W6 8DR
Tickets: Sold out!