Why You Need To Be At IsaU London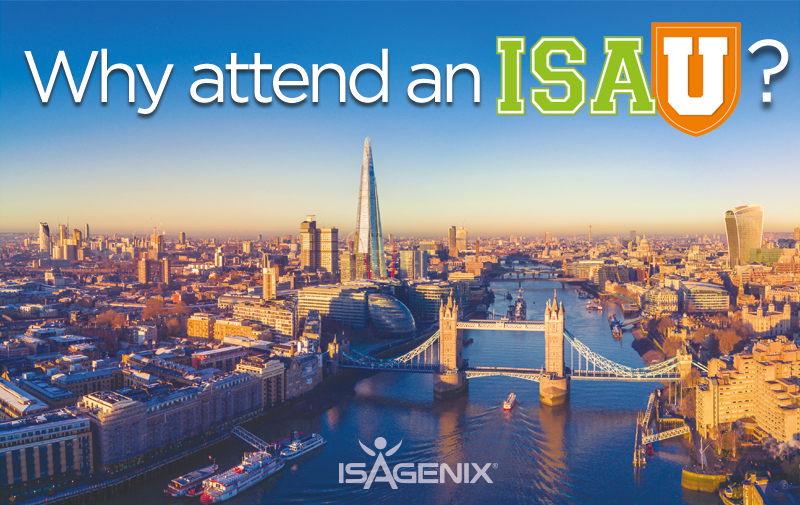 Have you heard about the exciting business event, IsaU London, coming up in October? Our incredible Co-Founders Jim and Kathy Coover will be taking to the stage, making this an absolute must on your team's event calendar for 2017! Read on to discover why IsaU London is so important for active and potential Associates.
IsaU is an essential opportunity for anyone looking to propel their Isagenix business to the next level. These popular events have taken place across the globe with Associates coming from all corners of each nation to learn from the best. IsaUs are specifically designed to strengthen both your business and your team by providing training on the most important principles of network marketing, and we can't wait for our UK Associates to experience it for the very first time!
What can you expect from an IsaU? A jam-packed agenda and two days of training from Isagenix Corporate Trainers and Top Leaders. The weekend will be made up of crucial training on the products and business methods, inspiring stories and strategies to help you connect with people and talk to them about Isagenix. A fantastic line-up of speakers will outline your key steps to professional success and reveal their tips on how to build belief in your team, plus much more. These Leaders have been where you are and are now some of our top-ranking Associates, making them the best people to educate you on the tools you need. It's time to motivate your mind, expand your awareness and be inspired to take the next step in your business.
Many of our Isagenix Millionaires and Top Leaders value the significance of plugging into events such as IsaU, along with their team members, to help open doors to unlimited potential and great leadership. It's not often that business builders in a new market like the UK have the chance to learn and hear from Isagenix Co-Founders Jim and Kathy Coover, so this event is simply not to be missed. And make sure you bring your team along too! As any seasoned Associate will tell you, attending events and networking with your fellow Associates is key to Isagenix.
So what are you waiting for?
Are you ready to gain new motivation to share your passion for Isagenix with others, and gain the knowledge you need to take your business to new heights? It's time to secure your spot at IsaU London! Tickets are selling fast, so don't miss out – head to your Back Office now to purchase your ticket, and don't forget to tell your team to do the same.
For more information on the IsaU, please visit IsagenixEvents.com. You can also Customer Care on 0808 189 0490 if you have any questions. See you there!