Meet our Celebration speakers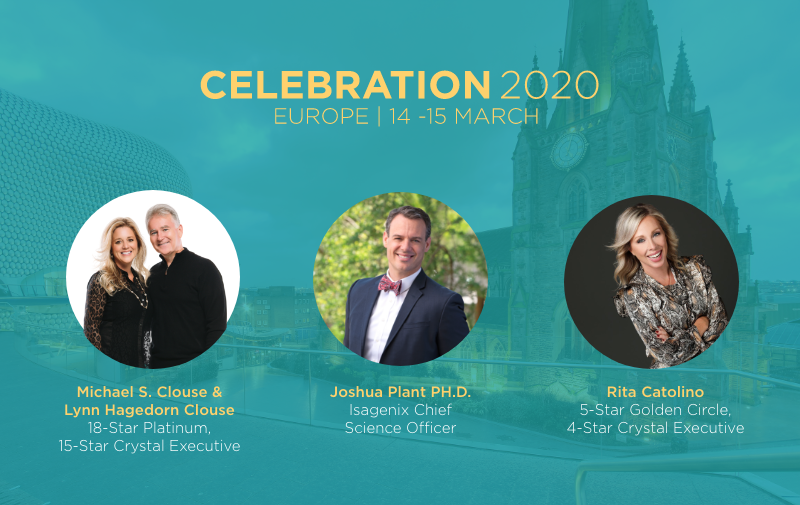 Celebration is THE event of the year and we are so excited to announce that Michael S. Clouse and Lynn Hagedorn Clouse, Rita Catolino and Dr. Plant and will be our keynote speakers this year! Read on to find out exactly why you need to be at our first ever European Celebration.
Michael S. Clouse and Lynn Hagedorn Clouse: 18-Star Platinum, 15-Star Crystal Executive
This power couple were recognised as the No. 1 Isagenix Income Earners for Isagenix at Global Celebration 2019, and they're regarded as some of the best trainers in the business, so we're beyond excited that they are coming to European Celebration! Michael was recognised as one of the "Top 10 Network Marketing Trainers" in the world, and has authored several published articles, books, videos, and audio training on Network Marketing. Lynn's training experience ranges from in-home meetings to sold-out arenas attracting over 16,000 attendees, which is no surprise as she is the fastest Isagenix Associate to earn $1 million!
Rita Catolino: 5-Star Golden Circle, 4-Star Crystal Executive
Rita Catolino will be showing you how she connected with people all over the world to build her network on social and in real life. Rita Catolino began her career in health and fitness when she started her own weight loss journey and her desire to lose weight and focus on her fitness and nutrition eventually led her to become a certified personal trainer. Since her certification she has coached people from all walks of life to better health and has appeared on seven international magazine covers as a fitness model. Since she was introduced to Isagenix in 2015, she's built a successful business and she's going to share how she built a worldwide Isagenix business through making connections with like-minded individuals.
Dr. Joshua Plant, Chief Science Officer
We can all agree there's been some really exciting products released recently, and there's even more to come! A huge part of that is due to Dr. Plant who oversees the development and quality of all our products. If you love the products and want to have more insight into the nutrition behind them so you can start confidently sharing it with your teams, there is no better person to hear it from than our Chief Science Officer!
Remember to get your Early Bird tickets while you still can! Buy them by 9 December 2019 and you'll get them for £69 – afterwards the standard price is £99.