A little bottle with huge potential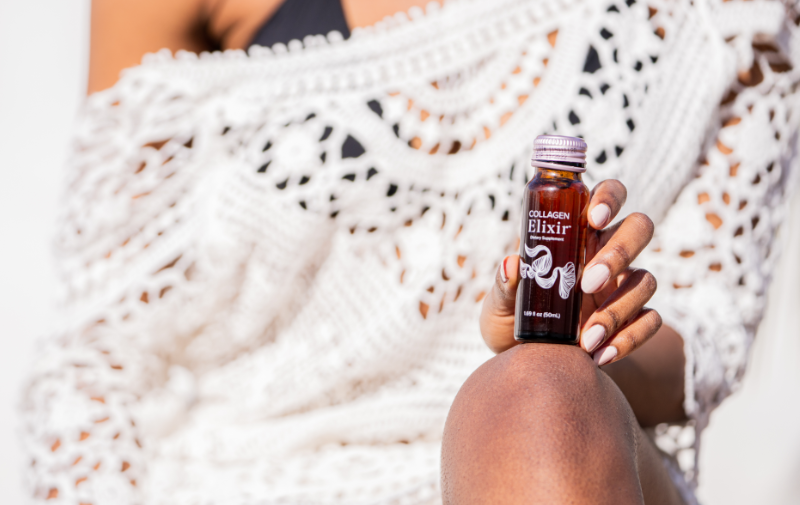 Collagen Elixir™ might be our little bottle of amazing but the impact has been HUGE! We recently caught up with three Isagenix legends that have had incredible success following the launch of Collagen Elixir in Europe. Kelly Verlez, Saskia van Cruchten and Michael Bockaert are here to share how they maximised the opportunity, as well as practical tips and advice you can use to start sharing Collagen to take your business to new heights.
1. Create a list of potential customers
Michael worked with his team before the product even launched to build a list of both new and old customers. He reached out to people he thought might be interested in trying Collagen Elixir and simply asked them this question "Are you open to taking a look at our latest beauty product". This simple technique benefited Michaels whole team and from the 54 people they had on their list, an incredible 40 people enrolled when Collagen Elixir launched. Just let that sink in for a moment. Incredible, right!?
Collagen is so easy to share because everyone wants better skin, hair and nails*. You don't need to be an expert, just twist it, drink it and you're done!
2. Look for new Customers both online and offline
We all know the power of social media and our 14-day Social Media Campaign makes it super simple for you to start sharing the news about Collagen. Connecting with people in real life was important for Saskia because it allowed her to really connect with people on a level that built trust and the trust is what built her business.
Top Tip: Keep sharing your own story through social media as well as the before and after photos available on the Social Pallet. This way people will know you're the person to come to when the time is right for them to start their wellbeing journey.
The most powerful product we have is our compensation plan and the ability to give people back their financial freedom
3. Host a Collagen Party
Michael and his team host weekly Collagen parties where people could learn about the benefits of the product, hear people's stories and see their results. The team would come prepared with samples, pull up banners and printed business cards with QR codes on to their replicated website so new customers could quickly and easily order.
Top Tip: If you enrol a new member at a party, ask them to come again next week and bring along a friend or family member with them. You can then use the How to earn with Collagen Elixir video to show them how by enrolling just two friends they can earn a cash bonus**.
Once you start using Collagen Elixir and start seeing the results, plan a party so people can see your results and hear your story
4. Connect with beauty Salons
One thing our three legends did that was a major game changer was sharing Collagen Elixir with beauty salons. They did this by arranging a meeting over the phone, by email or simply dropping by with a few bottles of Collagen so they can see and taste just how amazing this little bottle is.
When I meet with salons, I ask lots of questions to really get to know them and their struggles. We're a solution-based company and we can offer so many solutions to so many people
5. Continue the energy
Kelly and her team worked incredibly hard to enrol new people in their teams and build a strong foundation. But her success came from following up with all those new members and working with everyone in her downline to offer support.
Top Tip: The Collagen Elixir Toolkit has everything you need to help you put your plans into action. Add a little extra sparkle to your business and use these tools to continue the energy of our biggest launch ever!
Look for people that share your energy and want to run with you. We had a vision that this would be huge for the whole team and we can make a difference if we all do this together
The launch of Collagen Elixir in Europe has been huge, but this is only the beginning. When it comes to building a business with Collagen Elixir, the sky's the limit and we're here to support you every step of the way. Check out the Collagen Elixir Toolkit for all the tools, guides and recordings from past events to learn more about the opportunity.
*Vitamin C contributes to normal collagen formation for the normal function of skin. Biotin contributes to the maintenance of normal hair and skin. Zinc contributes to the maintenance of normal hair, nails and skin.
** The ability to earn income under the Isagenix compensation plan depends on many factors including an individual Associate's business, social, and sales skills; personal ambition and activity; availability of time and financial resources; and access to a large network of family, friends, and business contacts. Isagenix cannot and does not guarantee any particular level of earnings. Even Associates who dedicate a significant amount of time, effort, and personal funds may not achieve a meaningful level of success. For average earnings, please refer to the Isagenix Earnings Disclosure Statement at IsagenixEarnings.com.