Five reasons to love the Penny Beta App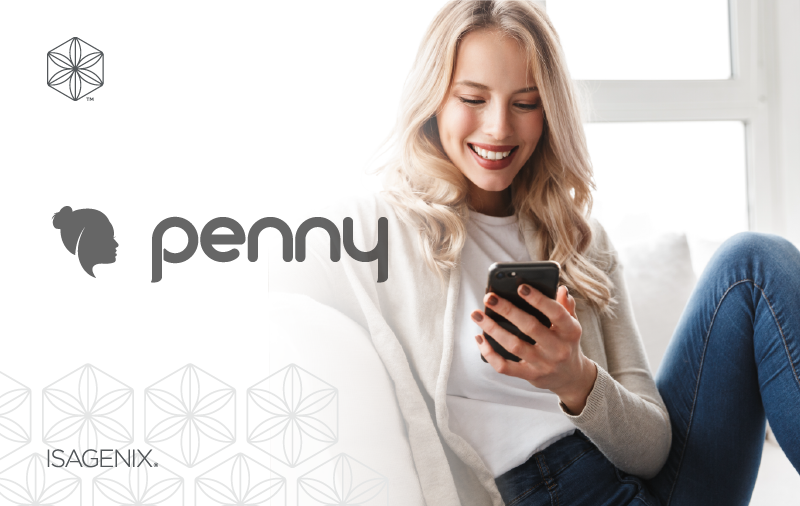 Have you met Penny yet? She'll get you organised, show you where to start each day and who to talk to. There's never been a better time to bring Penny into your life and let her take care of your daily tasks, so you can stay focused on the things that really matter: Networking, connecting and growing your business! We've created this handy guide to showcase our five favourite Penny superpowers and show you how she can help take your business to the next level!
The Penny app is free, but you have the option to upgrade to the Pro version to unlock even more features. Try a FREE 14-day trial of our Penny Beta app Pro and see just how awesome she really is.
1. Daily & Prospecting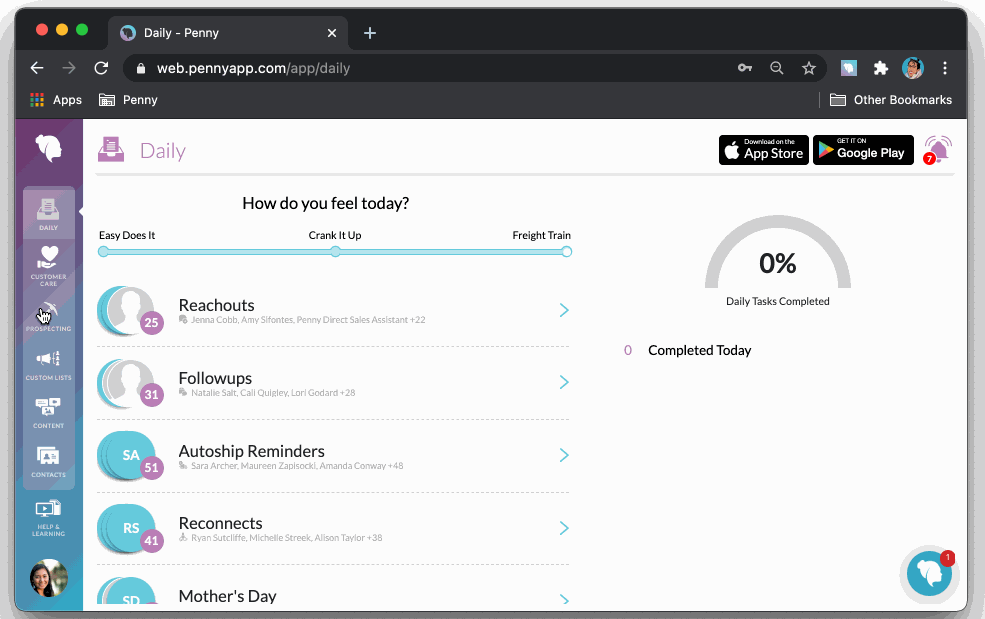 We all know the two important parts to growing our business; Finding new customers/team members and nurturing those relationships.  Penny's Artificial Intelligence recommends new people to contact and who to follow up with each day. All you have to do is sync your social networks and phone contacts and Penny will turn them into an endless stream of opportunities! Let's take a look at how she does it;
Daily – The Daily screen lists all those tasks you need to do today. If you wanted, you could run your entire business from this screen.
Reach outs – She'll intelligently review the people in your contacts and social networks and tell you 5 people per day for you to reach out to. You can share a piece of content, send recommended carts or just a conversational message.
Follow ups – After you've connected with someone you can rate how you felt it went. Penny will use this to determine the right follow up and continue to do so for as long as it takes for that person to become a customer.
For more information on getting started with your daily tasks, syncing your contacts and reaching out, check out all the articles here.
2. Customer Care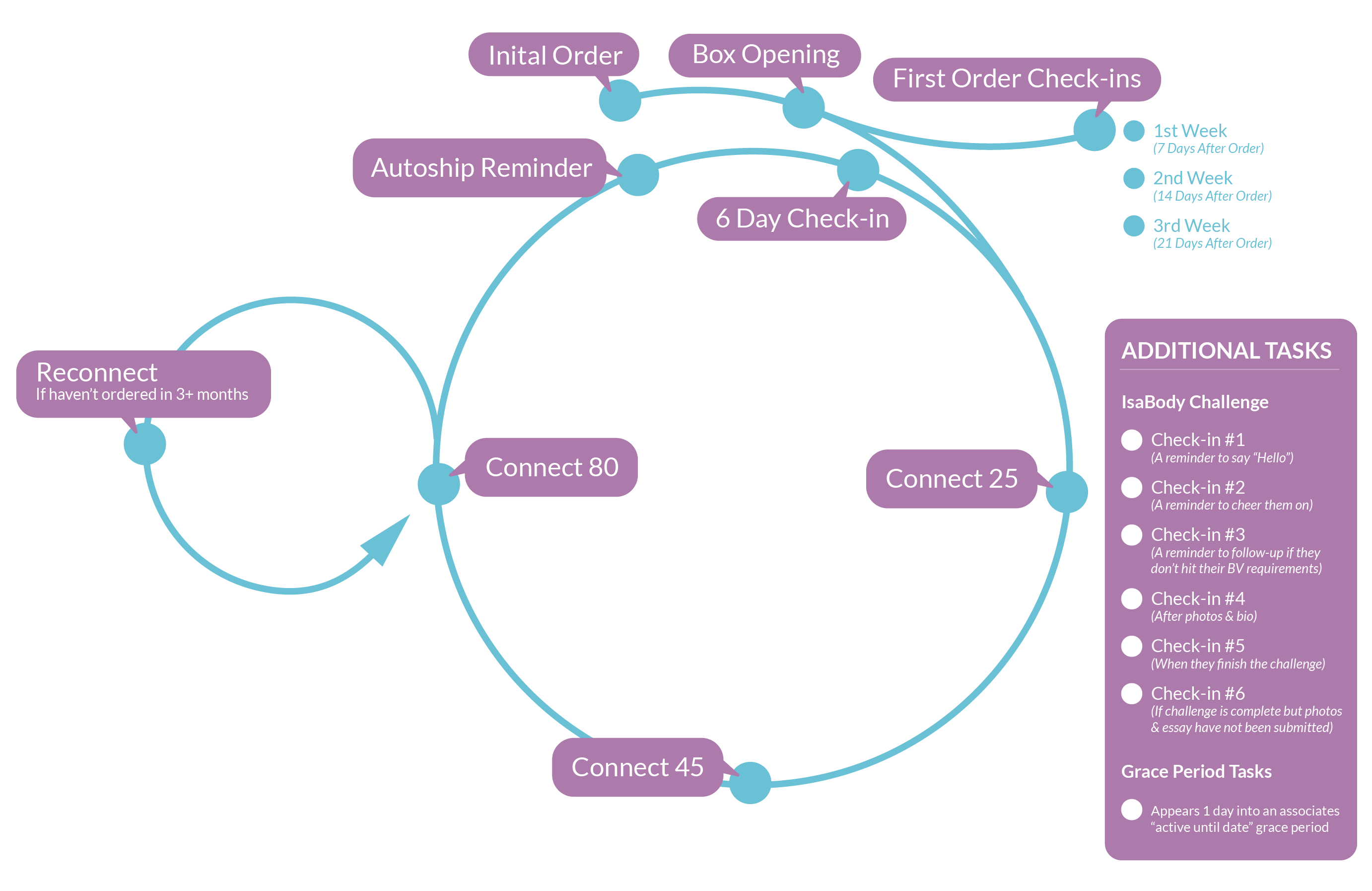 The Customer Care Cycle was designed to make sure you stay connected with your customers and give them the best possible experience, so they feel proud to be a part of the Isagenix family. Each Customer Care Cycle starts the day an order is placed. Penny will then create tasks to make sure you speak to your Customers at the right time, about the right topic. Got someone who's taking part in the IsaBody Challenge? They have their own care cycle, so you can support them to complete their challenge.
Get to know the Customer Care cycle better and what you need to do at each check in here.
One contact point that we're really excited about is Reconnect. Penny will show you who hasn't ordered in the past 3+ months so you can reconnect with those inactive customers and get them started again on their wellbeing journey. Remember, these people have shown an interest in Isagenix before, so the chances are, they'll be interested again! The first time you log in you might see a lot of Reconnect tasks. This is normal if you're new to Penny, but over time the goal is to keep the Reconnect list as short as possible.
3. NEW! Team Care (Pro Feature)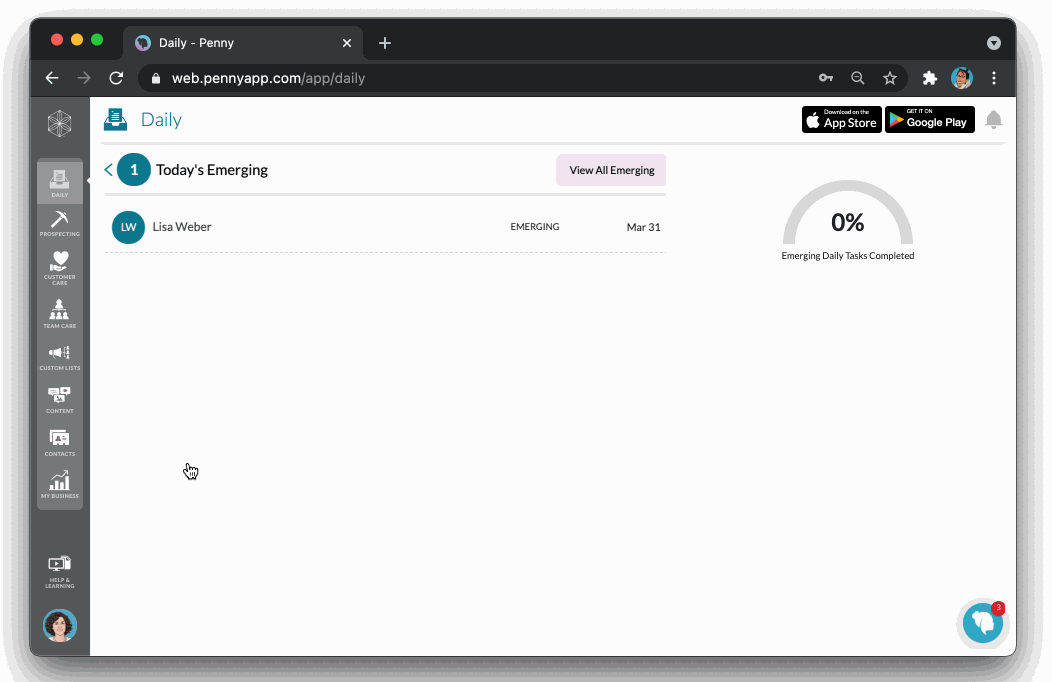 If you haven't noticed already, tasks in Penny are always the same; communicating with people, keeping in touch and nurturing relationships. It's just as important to do that with your business builders as it is your customers. The brand-new Team Care function does exactly that!
Penny now monitors your team's performance so you can congratulate the people that are doing well and coach those who might be struggling a bit. She'll determine an overall score based on business growth information such as number of orders, new enrolments, prospects added, content shared and how many tasks completed in Penny. This information then gives you a clear picture of your weekly performance. Find out more about Team Care here.
Note: This feature only works if you and your team are actively using Penny.
4. Content (Pro Feature)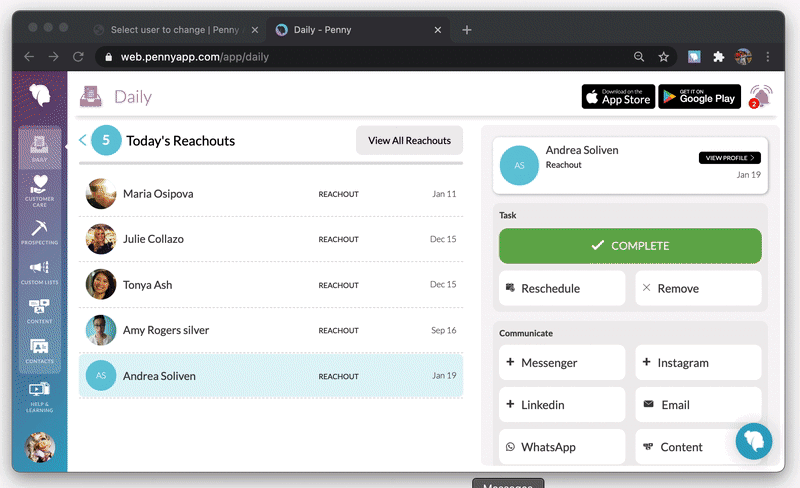 Content is your virtual library stocked full of interesting and useful posts you can share with your team. Isagenix has created tonnes of options to send to interest your contacts but you can also create your own too! You can share directly from a specific task or a Contact's profile card.
The best thing about content is you can create your own scripts for all those contact points in your Customer Care Cycle, which will save you so much time and effort as you build your business. Remember it's all about creating personal relationships, so your scripts don't have to be business related. Use your own style to create a script that works best for you when reaching out to people. The new Team Care feature also allows you to share scripts with your team and vice versa!
Find out all the different ways you can share content from the Penny App with your contacts and some hints on what to include in your scripts here.
5. Custom Lists (Pro Feature)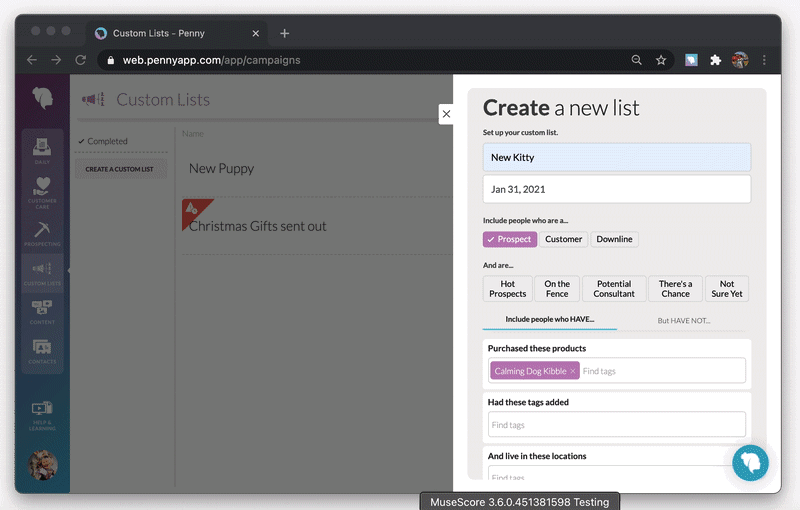 Penny's Custom Lists feature helps you build powerful lists based on how you've tagged your contacts, so you can target a group of people that would most likely be interested in a specific product, upcoming event or even a new promotion! This feature works hand in hand with the content feature.
For example, if you have any customers who have purchased shakes but not snacks, you can create a list just for those contacts to tell them about the different Isagenix snacks they might like. How about Rapid Crystal Reset? You could create a script and reach out to those Customers who might be interested in becoming a business builder and would jump at the chance of earning DOUBLE the crystal bonuses*.
Find out how Penny helps you build a custom list of targeted contacts here.
Discover exactly what our pocket personal assistant can do and download the app today here. You'll soon wonder how you ever coped without her!
The Penny app is available to download in all countries but currently only available in the following languages; English, Dutch, Spanish and French.