Speakers Announced! See Who You'll Meet at IsaU Manchester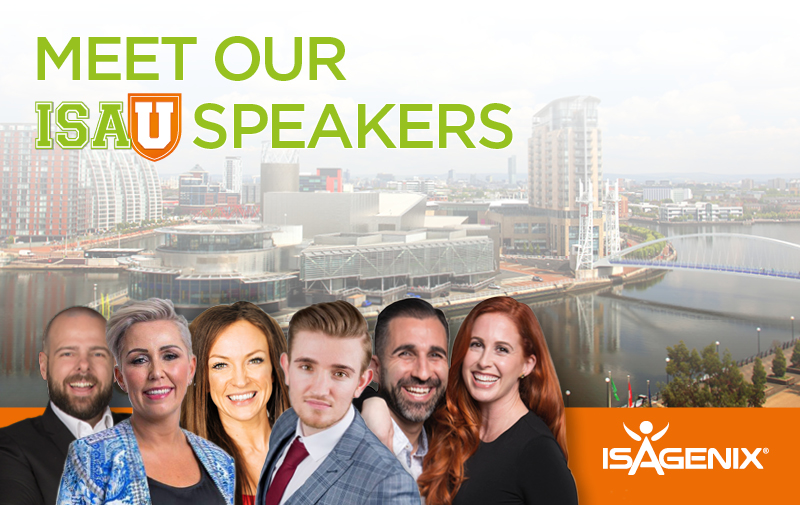 With less than two weeks until IsaU Manchester kicks off, we're excited to reveal the amazing Hosts, Keynote Speakers and Leadership Panel that will guide us through the weekend!
HOSTS
Carly Hewitt 4-Star Golden Circle, Crystal Executive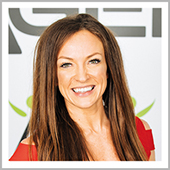 Carly came across Isagenix four years ago whilst working as a successful personal trainer in Australia. After attending her first event she caught the vision and got to work. She has enrolled over 360 people and has won several prestigious awards; including the Presidents Quest Award as well having been named one of the Women of Isagenix 2017. Carly is mum to gorgeous Isababy Charlie Ray and happy wife of Steve Pater. Her mission is to help bring Isagenix to the top, in the UK and throughout Europe helping people live a better life…. the IsaLife!
Tyler Davidson-Joyner 2-Star Silver Circle, Director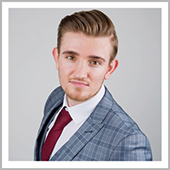 At 19 Tyler Davidson-Joyner was introduced to the Network Marketing profession and was instantly hooked. He had spent 3-4 years with another company and really enjoyed the experience. He felt like it was his time to learn, develop and grow as a person and he treated it like an MLM apprenticeship. Now Tyler feels that Isagenix's mission and vision fits alongside his own. He and his partner Jodie, whom he works very closely with are excited for the growth of the company, especially as it continues to expand through Europe. Tyler and Jodie are proud that they are the youngest members of the UK Founders Club.
KEYNOTE SPEAKERS
Brett David & Samantha Gascoigne Isagenix Millionaires*, 12-Star Platinum, 13-Star Crystal Executive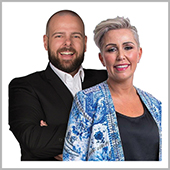 Brett and Samantha began their Isagenix journey back in 2013 and had a burning desire to change their lives. They built their Isagenix business fast and went on to become Isagenix Millionaires* in under two years. As busy parents of five children they know what it takes to build an Isagenix business in the pockets of their life. You'll hear how they stayed focused and motivated to build a solid financial wall around their family and how they focus on their 'WHY' to drive them forward. Brett and Samantha are passionate about helping others experience the same success they've had.
Zach & Eden Slobin Isagenix Millionaires*, 6-Star Golden Circle, 8-Star Crystal Executive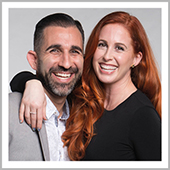 Zach and Eden are on a mission to change the world. This driven young couple have backgrounds in business management, training, coaching and building sales teams. They have built a successful business with Isagenix and are passionate about the company, the vision, the products and what this opportunity can do for others. You'll hear why Isagenix is home for them and how they have transformed their lives. Zach and Eden will share why they believe that network marketing is the way of the future and how Isagenix is leading the pack when it comes to companies who are doing it right!
LEADERSHIP PANEL
Carolyne Rodrigues Isagenix Millionaire*, 8-Star Platinum, 3-Star Crystal Executive
Emma Poli 4-Star Golden Circle, 2-Star Crystal Executive
Mark Colbourne MBE 1-Star Golden Circle, Executive
YOU WILL ALSO HEAR FROM…
Heather Atkinson Isagenix Millionaire*, 9-Star Platinum, 1-Star Executive
Shannon Fisher Isagenix Millionaire*, 8-Star Platinum, 3-Star Crystal Executive
Helen Koi Isagenix Millionaire*, 8-Star Platinum, 3-Star Executive
Sue Alexander 3-Star Golden Circle, Crystal Executive
Michelle Johnson 3-Star Golden Circle, Crystal Executive
Ian Smith 3-Star Golden Circle, Crystal Executive
Edd Arterton 1-Star Golden Circle, Crystal Executive
Lara Hall-Bryce 1-Star Golden Circle, Crystal Executive
Vicky Spellacy 1-Star Golden Circle, Crystal Executive
Sam Anderton 3-Star Golden Circle, Executive
Harry Ainslie 2-Star Silver Circle, Manager
You do not want to miss the opportunity to hear from these fantastic Leaders! Book your ticket to IsaU Manchester on 3-4 March TODAY!
And don't forget to bring your friends, family members and other prospects to the FREE Experience Isagenix opportunity meeting on Friday, 2 March. Visit eu.isafyi.com for all the details on this must-see learning session hosted by Zach and Eden Slobin.
For more information about IsaU and ticket details, please visit eu.isagenixevents.com.
Ranks as of 20/02/18
*Isagenix Millionaires are defined as Isagenix Associates who have cumulatively earned US$1 million or more with Isagenix. Earning levels for this Isagenix Independent Associate substantially exceed the average results achieved by all Associates during the same time periods and should not be construed as typical or average. Income level achievements depend on many factors, including the individual Associate's business and networking skills, personal ambition, time commitment, work habits and other abilities. For average earnings, please see the Isagenix Independent Associate Earnings Statement found at IsagenixEarnings.com.