Plant-Based Protein Explained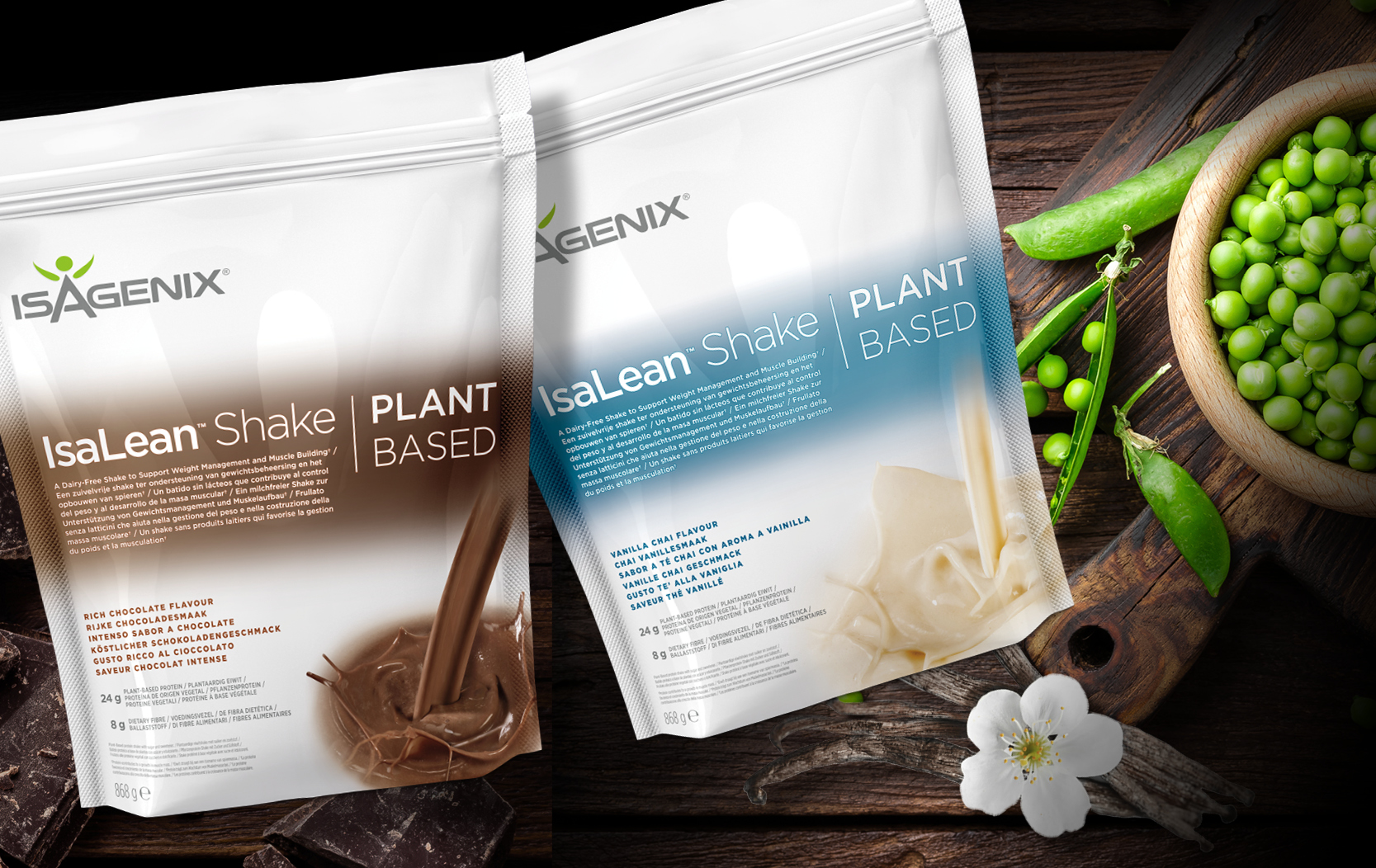 At Isagenix, we understand the important of formulating a plant-based shake with complete, quality protein sources. IsaLeanTM Shake Plant Based is a delicious addition to our Isagenix product range in Europe, and we've looked into the protein used in this product, along with its benefits.
Plant-Based Protein
The protein in this shake is provided by Phyto-IsaLean ComplexTM. This complex is made up of a blend of whole-grain rice protein and pea protein isolate, which has been crafted specifically to create a complete amino acid profile designed to support weight management and muscle building*.
One of the key nutritional differences between animal and plant-based sources of protein is the amino acid profile. Plant-based sources of protein tend not to provide all the essential amino acids. These amino acids cannot be made by the body, and therefore must be obtained from the diet. However, by combining these two sources of protein in an IsaLean Shake Plant Based means that you'll still be receiving all of these essential amino acids.
The brown rice protein is high in the sulphur-containing amino acids cysteine and methionine, but low in lysine. Our pea protein is low in cysteine and methionine, but high in lysine. While as sole sources of plant-based protein, each are incomplete, combining these two offers a complete amino acid profile that is similar to an animal protein source (1, 2).
The rice and pea blend is a suitable alternative for those seeking a protein option to suit their dietary requirements. The product does not contain lactose, which is a carbohydrate found naturally in dairy.
Plant-Based Protein Extraction
In addition, as part of our no-compromise quality policy, Isagenix avoids the use of chemicals such as hexane during the extraction process of the protein from raw ingredients. The use of hexane as a method of protein extraction would not meet Isagenix's no-compromise quality.
The brown rice protein used in IsaLean Shake Plant Based is produced using low-heat methods to ensure integrity of the final product.
The rice protein is extracted from multiple layers of the whole grain, not the more typical rice protein process that uses hexane to chemically extract the protein from only the bran layer. The chemical-free extraction process using enzymes produces a hexane-free protein.
Our pea protein is extracted through physical separation. The peas go through a process of screening, soaking, crushing, separating and drying. Along the way, the product passes through several phases of sterilisation and analytic testing to bring you the safest and most natural product.
Similar to the process of producing our brown rice protein, the process for pea protein doesn't use a chemical extraction process or hexane. The low-heat process ensures the pea protein is not altered, preventing any denaturation of the product.
When you enjoy your favourite flavour of IsaLean Shake Plant Based, you can be assured that chemical solvents haven't been used in the processing of your plant-based proteins.
* Protein contributes to a growth in muscle mass.
References
Kalman, D.S. Amino Acid Composition of an Organic Brown Rice Protein Concentrate and Isolate Compared to Soy and Whey Concentrates and Isolates. Foods 2014 Jun;3(3):394-402.
Tömösközi S, Lásztity R, Haraszi R & Baticz O. Isolation and study of the functional properties of pea proteins. 2001 Oct; 45(6):399-401.