Firstly, what is Isagenix SuperMix™?
Isagenix SuperMix™ is a delicious, tropical beverage that is packed with nutrient-dense botanical ingredient moringa to help support healthy body function and overall wellness. We like to call it nature's little wellness wonder.
Moringa is often referred to as the "miracle tree" and is gaining global popularity for its beneficial roles not only in nutrition but also in sustainability, global health, and agriculture. You can learn more about moringa here.
So, now we know what SuperMix™ is, why is it one of Isagenix's most loved products?
The Star Ingredient – Moringa
It's not called the "miracle tree" for nothing! It is truly one of the most nutrient-dense superfoods in the world.
Supercharges overall wellbeing
Essential nutrients support healthy body function and overall wellness*.
Convenient Nutrition
It's an easy way to incorporate moringa into your daily diet. Convenient pre-measured sachets, perfect for on-the-go with 50 calories per serving.
Sustainable
Sourced from some of the best moringa growing locations worldwide. These high-quality, natural nutrients are kept intact through shade-drying techniques so you can get more from the moringa.
Delicious
Paired with natural pineapple for a light, fruity taste.
Cleanse Day Approved
You can benefit from all the nutrients moringa has to offer even on Cleanse Days.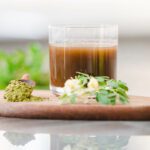 And, if all that wasn't enough to convince you to incorporate SuperMix into your day then let's just put it into perspective for you…
Fresh Moringa leaves contain**:
2 x more Protein than Yogurt**
4 x Vitamin A than Carrots**
17 x more Calcium than Milk**
7 x more Vitamin C than Oranges**
15 x more Potassium than Bananas**
Incredible right? You can download this as a social shareable along with other imagery of Isagenix SuperMix to support your business over on SmugMug.
Get your Isagenix SuperMix™ here!
* https://eu.isafyi.com/ingredient-spotlight-moringa/
**Islam Z, Islam R, Hossen F et al. "Moringa oleifera is a Prominent Source of Nutrients with Potential Health Benefits", International Journal of Food Science, vol. 2021