How To Get Your Exclusive Product Offers At Grand Opening!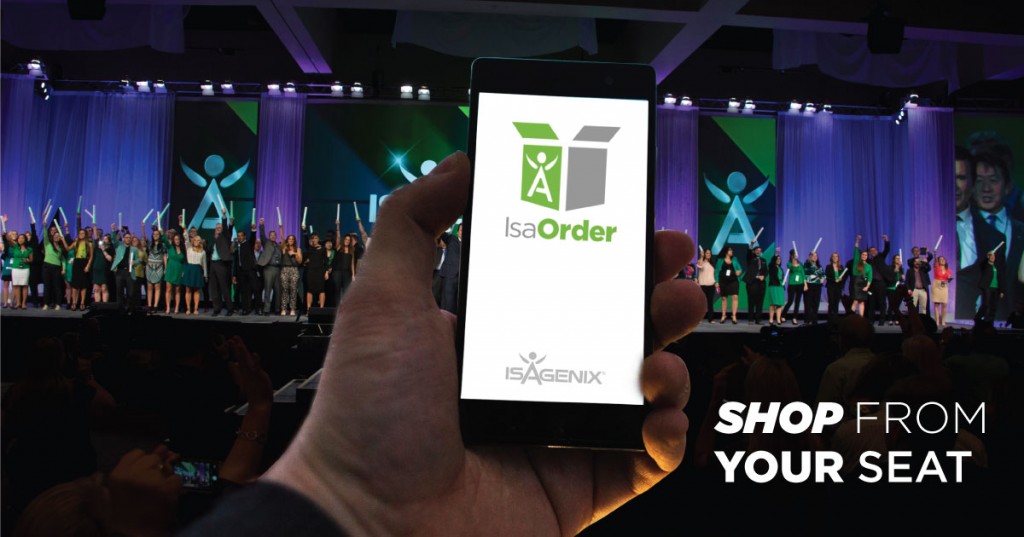 Have you heard about the IsaOrder app? This easy-to-use app syncs to your Back Office and is designed to make placing your order and managing your Autoship easier than ever. With a few taps of your smartphone, you can place or amend an order from wherever you are, and set yourself up with Autoship so you never run out of your favourite products.
And it gets better! If you're at the Grand Opening this weekend, you can take advantage of exclusive Shop From Your Seat offers. But don't delay – these amazing deals are available for 1 WEEK ONLY until midnight on Sunday 2 July 2017! The discounts will be automatically added to your account in the Back Office so no need to remember a discount code – it's all done for you. The details of the offers available to all Grand Opening ticket-holders were revealed onstage. Need a reminder? All the deals are listed below:
The above Shop From Your Seat offers are available exclusively for Grand Opening ticket-holders until midnight on Sunday 2 July 2017.
* IsaPro is currently in pre-order so your order will be shipped to you as soon as the product has arrived in the warehouse.
How to place your order:
Whether you're at the Grand Opening or not, you can still use IsaOrder to get your hands on Isagenix products! Follow the step-by-step guide below to use the app and place your order.
Download the app from the App Store (iPhone) or Google Play (Android)
Login using your Back Office username and password
Once logged in, click the 'Order' icon 
Search for a specific product or tap your chosen category to browse the products
To see more product information, tap the 'i' icon
Found a product you like? Tap 'Quantity' to enter how many you'd like to purchase, then tap the '+' icon to add it to your cart
Once you have all your chosen products in your cart, tap 'Next' to bring up the Payment & Shipping screen
Follow the prompts to enter your details, including any 'Coupons' or 'Discounts', and complete your order.
(Please note: The exclusive product discounts for Grand Opening will be automatically applied to your order once you have added the relevant products to your cart and proceeded to the Payment screen. For example, if you add 3 boxes of IsaDelight to your cart before 2 July 2017, the 15% discount and free shipping will be automatically applied. These offers are available only to Grand Opening ticket-holders.)
How to set up or amend your Autoship:
Autoship is our convenient delivery service that takes the hassle out of placing your order. Opt in and get your chosen packs, systems and products automatically delivered to you each month. To make it even easier, now you can organise your Autoship through the IsaOrder app! Simply follow the steps below.
Login to the IsaOrder app
Tap the 'Autoship' icon  
Browse the product catalogue and add your selected items to your cart
Tap the 'Cart' icon  then click 'Next' to bring up the Payment & Shipping screen
Tap 'Schedule' to set up (or change) your shipping date and Autoship frequency
Once you're happy, tap 'Confirm Autoship'
Please note: To amend your payment method or shipping address, please login to your Back Office.
If you have any questions about the app or are having issues, please contact Customer Care on 0808 189 0490 or via email [email protected].