Grand Opening – The Final Details!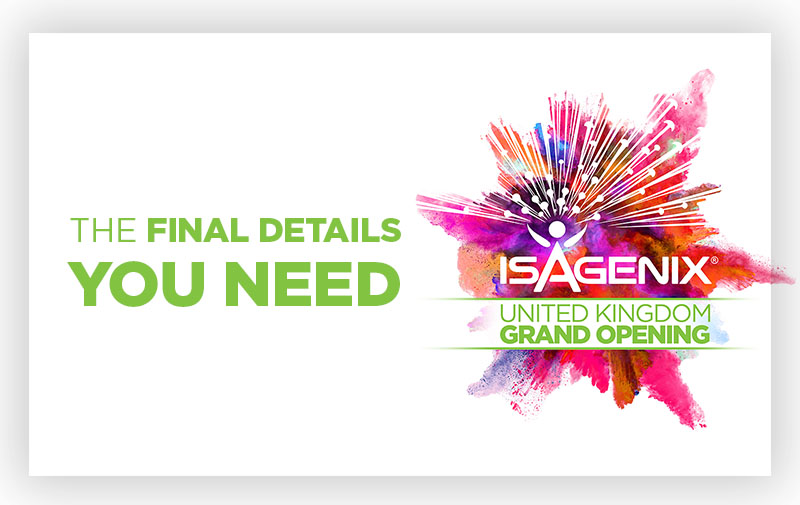 One week tomorrow will see the UK's biggest event of the year – Grand Opening – kick off in style, and we can't wait for you to see what's in store. There is so much to look forward to including new product launches, business training, onstage recognition, testimonials and much more!
This is the ultimate event for anyone interested in learning more about Isagenix. Whether you're a customer who wants to hear all about the products and how to complete your IsaBody Challenge, or a business builder working towards incredible success – the UK Grand Opening is an absolute MUST for you!
Tickets are still available so spread the word to your friends, family, neighbours, team members and anyone else interested in what Isagenix has to offer – we want to see them all there!
Want the best seats in the house? You can still get your hands on VIP tickets that include reserved seating, priority entry and goodie bag, plus we'll make a £50 donation to the Make-A-Wish charity too! Simply add the 'MAW – Reserved Seating' option when you purchase your ticket in the Back Office.
Bought a ticket for someone else? Don't forget to assign your tickets to the people who will be attending. This will help to speed up the registration process on the day so you can get straight into the event and have FUN!
How to get there, what to wear, registration and event timings, and other key information can all be found here. Remember, Sunday 25 June is 'Spirit of Isagenix' day when everyone wears green!
For all the behind-the-scenes action from Grand Opening, don't forget to follow us on Instagram and Facebook.
We look forward to seeing you there!