Get Your Event Tickets Before They're Gone!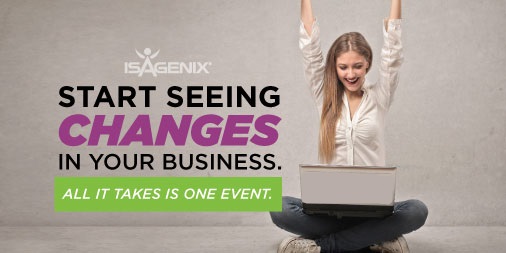 Are you ready to take your business to the next level? Be the first to hear the information being shared and experience all the amazing training available to you by attending Isagenix events. Whether you're new to the Isagenix opportunity or a seasoned business builder, these events offer valuable training to help launch or grow your business. Remember: events build belief!
If you were at the UK Grand Opening in June, you would have seen the announcement of two key business events coming your way later this year, and tickets are already selling fast! Keep reading to find out all the details.
Isagenix University (IsaU)
Open to all levels, IsaU is your opportunity to experience the culture of Isagenix in your city. You'll learn about our no-compromise products, develop your skills and hear from top Isagenix leaders. Even better? This event will be led by none other than our amazing Isagenix co-founders Jim and Kathy Coover! They are more than just inspirational – they are Isagenix culture and have built this company from the ground up to become what it is today.
IsaU is designed for beginners, part-timers, full-timers and experts to work together in a dynamic, fun setting that will lead to many lasting friendships and life-changing breakthroughs.
Here are all the event details you need:
When: Saturday 28 October 2017 – Sunday 29 October 2017
Timings:  Registration opens at 8:00am, and the general session will be held from 9:00am – 5:30pm
Where: Hotel Notovel, London West, Hammersmith International Ctre, 1 Shortlands, London, W6 8DR
Tickets: £99 and are on sale now through your Back Office!
You can also see more info here.
University in Action (UIA)
Get ready for three days learning, growth and fun! Led by David T.S. Wood, Isagenix Strategic Training Consultant, the University in Action (UIA) is packed with training on personal growth, skills development and leadership that will help you and your team to master the fundamentals on your Isagenix journey.
Recognised as one of the world's leading personal development trainers, David T.S. Wood guides attendees through the key areas of belief needed to become successful network marketers, breaking down doubts and concerns. Ask any Associate who has attended an event with David Wood, and they will tell you that his training sessions are NOT to be missed! Bring your team along to join you for this life-changing experience – this event is sure to sell out! You can find all the details below:
Tickets: Tickets are £149 for the three days, so grab yours in the Back Office now. A step-by-step guide of how to buy tickets in your Back Office can be found here.
When: 1–3 December 2017
Where: Hilton London Metropole, London
And our second UIA will take place a week later!
When: 9-10 December
Where: ICC Birmingham
Need accommodation and transport for either of these events? Visit UK.IsagenixEvents.com for exclusive discounts for London hotels. Tickets for both of these incredible, can't-miss events are selling fast so head to your Back Office now to avoid missing out!
How to buy tickets? Simply login to your Back Office, click 'View & Manage Events', choose 'United Kingdom' and then select the event of your choice!