Cleanse Days: Three ways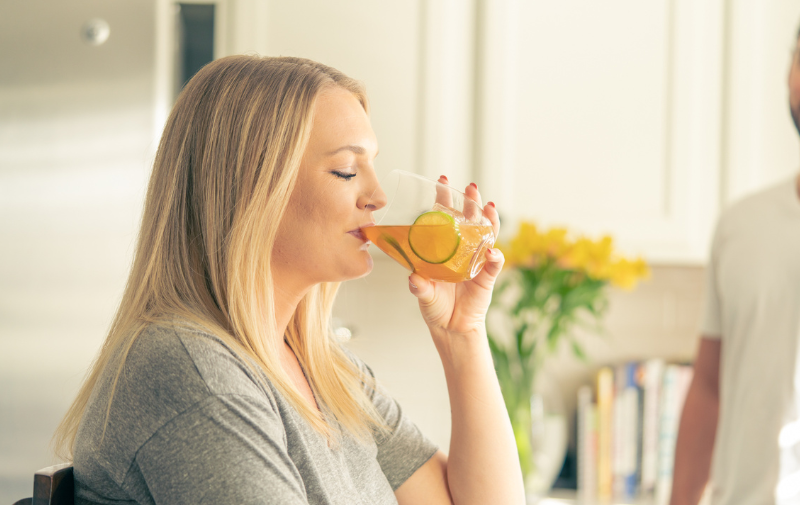 We catch up with Nutrition and Product Marketing Manager, Rebecca Taylor to delve a little deeper into the world of Cleanse Days – sharing the different ways to incorporate cleansing into your life and which one is best.
Cleanse Days in a nutshell
You'll probably know by now all about Cleanse Days and if you don't… well, a) where have you been? And b) don't worry, you will by the end of this article.
Cleanse Days are essentially our way of intermittent fasting. Each Isagenix weight loss system is designed with at least one Cleanse Day per week in mind, supported by products that help nourish the body, not restrict it.
Rebecca shares, "Our focus on cleansing is based on small amounts of targeted nutrients regularly throughout the day. We recommend you do your Cleanse Days up to four days per month to really feel the benefits."
What are the benefits of cleansing?
One of the first benefits that comes to mind is weight loss and whilst it's a very important benefit, it's not the only one.
For example, research has shown intermittent fasting to be advantageous on body composition and an increase in lean muscle mass.1
"Think about somebody who regularly works out, trying to build muscle and strip fat. Incorporating some fasting into their regime can in fact help to accelerate their goals, rather than just restricting calories.
Often people start to write fasting off the moment they get active but it can still play a really important role."
It can also help to reset appetite and have long-term health benefits; "A lot of research is coming out on autophagy, which is your body's natural cellular cleansing process, activated only by fasting.
We are already benefiting from this in terms of our natural fast when we go to bed but the research is now showing that by extending that period, you can help to accelerate the cellular process, something we now know is essential to the long-term maintenance of good health."
Three ways to clense
Single Cleanse Day
You'll fast for the whole day, with four servings of Nourish for Life™, your daily supplements and your chosen snacks.
"You get 10 credits to spend on snacks throughout the day, so our Cleanse Day Tracker is a great guide to stay accountable and make sure your calories aren't too high.
The more you cleanse, the more you realise that your Cleanse Days can look so different to your best friend, or even twin sister. It's really important you do what's right for you, stay hydrated and listen to your body.
Snack Bites are a firm favourite of mine and you can have up to three per Cleanse Day. They are very satiating so that feeling of hunger really isn't an issue."
Double Cleanse Day
You'll do two back-to-back Cleanse Days, repeating exactly what you'd do in a Single Cleanse Day – twice! We recommend only doing two of these per month because whilst it's great to reap the benefits, ultimately our bodies do still have nutrient requirements.
"It's also important not to forget about the Isagenix Snacks. They're such a great tool to have on your Cleanse Day to maintain those blood sugar levels so we don't dip towards the end of the day."
Daily Cleanse
Instead of fasting for the whole day, you'll drink one smaller serving of Nourish for Life™  daily – either first thing in the morning or before bed.
"This is all around time-restricted feeding and we're seeing a lot more about this in the mainstream media. By daily cleansing, you're taking advantage of that time where you naturally fast during the night.
You can play around with this too and extend it by an hour or so to really feel the benefits. The 16:8 method is an example and something you could easily adapt your Isagenix Shake Days – so fasting for 16 hours, eating for eight. You could Daily Cleanse every single day or every week day, it's totally up to you."
So, which one is best?
Ultimately the best type of Cleanse Day is going to be one that works for you. Think about which is most sustainable and how it's going to work around your schedule.
In 2021, we conducted a study comparing Single Cleanse Days to Double Cleanse Days and whilst results showed that both were incredibly beneficial, Double Cleanse Days may modestly enhance results in the short term if weight loss is your goal.
"This is exactly why we have three strong options on ways you can fast because there isn't a one size fits all solution.
When you fast, your body will start to use up your stored energy, so the longer you do so, the more stored energy you use. But the secret is, it has to be achievable and sustainable. So if Daily Cleansing feels more realistic, I'd say you can't go wrong."
References
Arciero PJ, Arciero KM, Poe M, et al. Intermittent fasting two days versus one day per week, matched for total energy intake and expenditure, increases weight loss in overweight/obese men and women. Nutr J. 2022;21(1):36. doi:10.1186/s12937-022-00790-0
Intermitterend vasten: De 3 manieren
We praten met de Nutrition- en Product Marketing Manager, Rebecca Taylor, om de wereld van "Cleanse Days", het zogenaamde intermitterend vasten, beter te begrijpen. We willen weten hoe het werkt, de verschillende manieren en wat het beste voor jou werkt.
Cleanse Days in een notendop
Waarschijnlijk weet je inmiddels alles over Cleanse Days en als je dat niet weet… nou ja, maak je geen zorgen, aan het eind van dit artikel weet je er alles van.
Cleanse Dagen zijn in wezen onze manier van intermitterend vasten. Isagenix-afslanksystemen zijn samengesteld met minstens één Cleanse Dag per week in gedachten, aangevuld met producten die het lichaam vooral helpen voeden en niet beperken.
Rebecca deelt: "Onze kijk op cleansing is gebaseerd op kleine hoeveelheden van de juiste voedingsstoffen die regelmatig gedurende de dag worden ingenomen. We raden je aan je Cleanse Dagen maximaal vier dagen per maand te doen om echt de voordelen te ervaren."
Wat zijn de voordelen van Cleansing?
Een van de voordelen waaraan je kunt denken is gewichtsverlies en hoewel dat een zeer belangrijk voordeel is, is het niet het enige.
Uit onderzoek is o.a. gebleken dat intermitterend vasten een gunstig effect heeft voor onze lichaamssamenstelling en voor een toename van de vetvrije spiermassa.1
"Denk aan iemand die regelmatig traint en die probeert spieren op te bouwen en vetmassa te reduceren. In plaats van alleen het beperken van calorieën kan intermitterend vasten als onderdeel van hun trainingsprogramma helpen om hun doelen sneller te realiseren. Vaak stoppen mensen met intermitterend vasten op het moment dat ze gaan sporten, maar het kan nog steeds een heel belangrijke rol spelen."
Het kan ook helpen om de eetlust te resetten en heeft voordelen voor de gezondheid op lange termijn:
"Inmiddels is er veel onderzoek beschikbaar naar autofagie, het natuurlijke reinigingsproces van je lichaam op celniveau, dat alleen door vasten wordt geactiveerd.
We profiteren hier al van in termen van ons natuurlijk vasten als we naar bed gaan, maar onderzoek toont nu ook aan dat je door die periode te verlengen, het cellulaire proces kunt helpen versnellen, iets waarvan we nu weten dat het essentieel is voor het behoud van een goede gezondheid op lange termijn."
Drie manieren om te vasten
Eén dag intermitterend vasten
Je vast de hele dag met vier porties Nourish for Life™, de aanvullende supplementen en je favoriete snacks.
"Je mag 10 punten gebruiken aan snacks gedurende de dag. Onze Cleanse Dag Tracker is een geweldige hulpmiddel om dit op de juiste manier te doen en om ervoor te zorgen dat je niet te veel calorieën inneemt.
Hoe meer je reinigt, hoe meer je beseft dat je Cleanse Dagen er anders uit kunnen zien dan die van je beste vriendin of zelfs je tweelingzus. Het is echt belangrijk dat je doet wat goed voor jou is, dat je gehydrateerd blijft en dat je naar je lichaam luistert.
Daarnaast zijn Snack Bites een grote favoriet van mij en je mag er maximaal drie per Cleanse-dag nemen. Ze verzadigen en van het hongergevoel heb je geen last."
Twee dagen intermitterend vasten
Je doet twee Cleanse Dagen achter elkaar, waarbij je precies herhaalt wat je in een enkele Cleanse Dag zou doen. We raden je aan om dubbele Cleanse Dagen maar twee keer per maand te doen, want hoewel het geweldig is om er de vruchten van te plukken, uiteindelijk heeft ons lichaam ook nog voedingsstoffen nodig.
"Daarnaast is het belangrijk om de Isagenix Snacks niet te vergeten. Ze zijn een geweldig hulpmiddel om tijdens het intermitterend vasten je bloedsuikerspiegel op peil te houden, zodat we tegen het einde van de dag geen dip krijgen."
Dagelijks vasten
In plaats van de hele dag te vasten, drink je dagelijks een kleine hoeveelheid Nourish for Life™. Doe dit 's ochtends als eerste of voor het slapen gaan.
"Het gaat allemaal over de periodes dat je niet eet. Je leest hier meer en meer over in de reguliere media. Door dagelijks te cleansen haal je extra voordeel uit de tijd waarin je normaal gesproken 's nachts van nature al vast.
Je kunt hier ook een beetje mee spelen en het met een uur of zo verlengen om echt van de voordelen te profiteren. De 16:8 methode kan je helpen om het nog makkelijker toe te passen op je Isagenix Shake Dagen – dus 16 uur vasten en 8 uur eten. Hiermee kun je dus elke dag van de week vasten. De keus is helemaal aan jou."
Welke is nu het beste?
Uiteindelijk zal de beste manier van intermitterend vasten er een zijn die voor jou werkt. Denk na over wat voor jou het makkelijkst werkt is en hoe het in jouw dag het beste past.
In 2021 hebben we een onderzoek uitgevoerd, waarin we 1 dag vasten hebben vergeleken met 2 opeenvolgende dagen vasten, en hoewel de resultaten aantoonden dat beiden ongelooflijk heilzaam zijn, kan 2 dagen vasten de resultaten je toch iets beter helpen op korte termijn als gewichtsverlies je doel is.
"Dit is nu precies waarom we drie sterke manieren hebben om intermitterend vasten toe te passen, want er is geen standaard oplossing.
Als je vast, begint je lichaam je opgeslagen energie te gebruiken, dus hoe langer je het vol houdt, des te meer je lichaam de opgeslagen energie gebruikt. Maar het geheim is dat het haalbaar en duurzaam moet zijn. Dus als dagelijks vasten goed voelt, zou ik zeggen dat je daarmee niets verkeerd doet."
Referenties
Arciero PJ, Arciero KM, Poe M, et al. Intermittent fasting two days versus one day per week, matched for total energy intake and expenditure, increases weight loss in overweight/obese men and women.Nutr J. 2022;21(1):36. doi:10.1186/s12937-022-00790-0
Reinigungstage: Drei Möglichkeiten
Wir haben uns mit Rebecca Taylor, Managerin für Ernährung und Produktmarketing, getroffen, um ein wenig tiefer in die Welt der Cleanse Days einzutauchen – und Dir die verschiedenen Möglichkeiten vorzustellen, wie Du die Reinigung in Dein Leben integrieren kannst und welche die beste ist.
Reinigungstage im Überblick
Du weißt wahrscheinlich schon alles über Reinigungstage und wenn nicht… a) was ist passiert? Und b) keine Sorge, am Ende dieses Artikels wirst du es wissen.
Reinigungstage sind im Grunde unsere Art des intermittierenden Fastens. Jedes Isagenix Abnehm-System ist auf mindestens einen Reinigungstag pro Woche ausgelegt und wird von Produkten unterstützt, die dem Körper helfen, sich zu ernähren und ihn nicht einzuengen.
Rebecca sagt: "Unser Fokus auf die Reinigung liegt auf kleinen Mengen gezielter Nährstoffmengen, die regelmäßig über den Tag verteilt werden. Wir empfehlen dir, die Reinigungstage bis zu vier Mal im Monat durchzuführen, damit du wirklich von den Vorteilen profitierst."
Wie profitiert man von der Reinigung?
Einer der ersten Vorteile, der einem in den Sinn kommt, ist die Gewichtsabnahme. Das ist zwar ein wichtiger Vorteil, aber nicht der einzige.
Untersuchungen haben zum Beispiel gezeigt, dass sich intermittierendes Fasten vorteilhaft auf die Körperzusammensetzung auswirkt und zu einer Zunahme der fettfreien Muskelmasse führt.1
"Stell Dir jemanden vor, der regelmäßig trainiert und versucht, Muskeln aufzubauen und Fett abzubauen. Das Fasten kann ihnen helfen, ihre Ziele schneller zu erreichen, anstatt nur die Kalorien zu reduzieren.
Oft wird das Fasten in dem Moment eingestellt, wenn man aktiv wird, aber es kann trotzdem eine sehr wichtige Rolle spielen.
Es kann auch helfen, den Appetit zu zügeln und langfristige gesundheitliche Vorteile zu haben: "Es gibt viele Forschungsergebnisse zur Autophagie, dem natürlichen Zellreinigungsprozess des Körpers, der ausschließlich durch Fasten aktiviert wird.
Davon profitieren wir bereits beim natürlichen Fasten vor dem Schlafengehen, aber die Forschung zeigt nun, dass eine Verlängerung dieses Zeitraums dabei helfen kann, den zellulären Prozess zu beschleunigen, von dem wir inzwischen wissen, dass er für die langfristige Erhaltung einer guten Gesundheit unerlässlich ist."
Drei Möglichkeiten der Reinigung
Ein einzelner Reinigungstag
Du fastest einen ganzen Tag lang und nimmst dabei vier Portionen Nourish for Life™, Deine täglichen Nahrungsergänzungsmittel und Snacks Deiner Wahl zu Dir.
"Du bekommst 10 Credits, die Du im Laufe des Tages für Snacks ausgeben kannst. Unser Reinigungstag-Tracker ist also ein guter Leitfaden, um den Überblick zu behalten und sicherzustellen, dass Deine Kalorienmenge nicht zu hoch ist.
Je mehr Du reinigst, desto mehr merkst Du, dass Deine Reinigungstage ganz anders aussehen können als die Deines besten Freundes oder sogar Deiner Zwillingsschwester. Es ist wirklich wichtig, dass Du das tust, was für Dich richtig ist, viel trinkst und auf Deinen Körper hörst.
Snack Bites sind mein absoluter Favorit und Du kannst bis zu drei pro Reinigungstag zu Dir nehmen. Sie sind sehr sättigend, so dass ein Hungergefühl wirklich kein Thema ist."
Doppelter Reinigungstag
Du machst zwei aufeinanderfolgende Reinigungstage und wiederholst damit genau das, was Du an einem einzelnen Reinigungstag tun würdest – und das zweimal! Wir empfehlen, ausschließlich zwei davon pro Monat zu machen, denn auch wenn es toll ist, von den Vorteilen zu profitieren, hat unser Körper letztendlich doch einen Nährstoffbedarf.
"Es ist auch wichtig, die Isagenix Snacks nicht zu vergessen. Sie sind ein großartiges Hilfsmittel an Deinem Reinigungstag, um den Blutzuckerspiegel aufrechtzuerhalten, damit wir am Ende des Tages nicht einknicken."
Täglicher Reinigungsprozess
Anstatt den ganzen Tag zu fasten, trinkst Du täglich eine kleinere Portion Nourish for Life™- entweder als erstes am Morgen oder vor dem Schlafengehen.
"Hier dreht sich alles um zeitlich begrenzte Nahrungsaufnahme und man liest in den Massenmedien viel mehr darüber. Mit der täglichen Reinigung nutzt Du die Zeit, in der Du von Natur aus während der Nacht fastest.
Du kannst auch damit experimentieren und den Zeitraum um eine Stunde erweitern, um wirklich von den Vorteilen zu profitieren. Die 16:8-Methode ist ein Beispiel, mit dem Du mühelos Deine Isagenix Shake Tage anpassen kannst – also 16 Stunden fasten und acht Stunden essen. Du kannst die tägliche Reinigung jeden einzelnen Tag oder jeden Wochentag durchführen, das liegt ganz bei Dir."
Welche Variante ist nun die richtige?
Letztendlich ist die beste Art von Reinigungstagen diejenige, die für Dich funktioniert. Überlege Dir, was am nachhaltigsten ist und wie Du es mit Deinem Tagesablauf vereinbaren kannst.
Im Jahr 2021 haben wir eine Studie durchgeführt, in der wir einzelne Reinigungstage mit doppelten Reinigungstagen verglichen haben. Die Ergebnisse zeigten zwar, dass beide unglaublich vorteilhaft sind, aber doppelte Reinigungstage können die Ergebnisse auf kurze Sicht leicht verbessern, wenn Du abnehmen willst.
"Genau aus diesem Grund haben wir drei starke Optionen, wie Du fasten kannst, denn es gibt keine Einheitslösung für alle.
Wenn Du fastest, beginnt Dein Körper, Deine gespeicherte Energie zu verbrauchen. Je länger Du fastest, desto mehr gespeicherte Energie verbrauchst Du. Aber das Geheimnis ist, dass es machbar und nachhaltig sein muss. Wenn sich die tägliche Reinigung also richtig anfühlt, kannst Du nichts falsch machen."
Referenzen
Arciero PJ, Arciero KM, Poe M, et al. Intermittierendes Fasten an zwei Tagen im Vergleich zu einem Tag pro Woche, abgestimmt auf Gesamtenergieaufnahme und -verbrauch, erhöht den Gewichtsverlust bei übergewichtigen/fettleibigen Männern und Frauen. Nutr J. 2022;21(1):36. doi:10.1186/s12937-022-00790-0