Introducing the Bedtime Bundle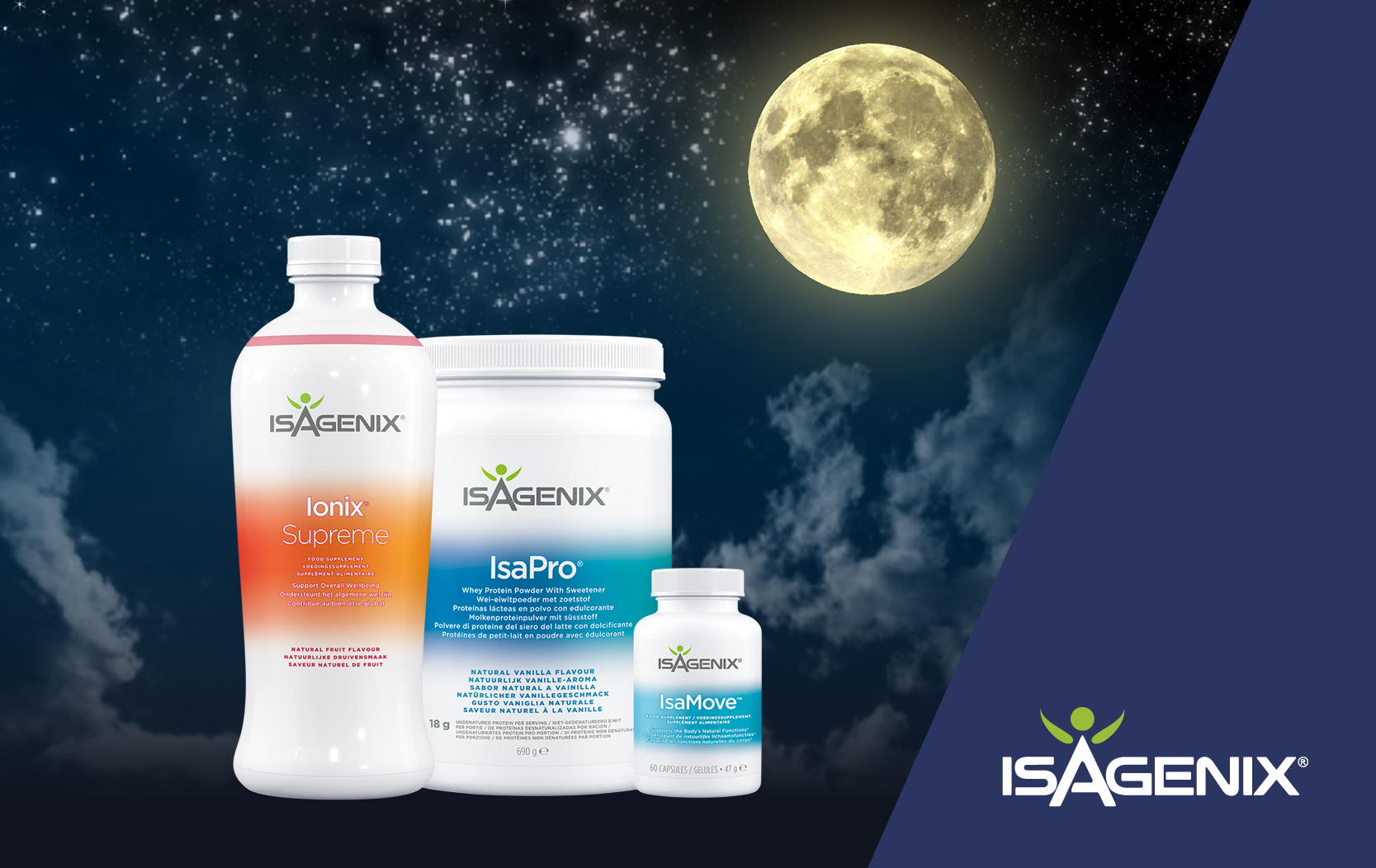 The concept of consuming protein before bed has taken the Isagenix world by storm. Starting off as an Isagenix-Associate inspired creation, this has evolved into a convenient way to help customers achieve their goals.
To make this even easier, Isagenix has now launched the Bedtime Bundle in the UK, Ireland and the Netherlands! Within this bundle, you'll find the core products you need to get started with your new bedtime routine. Keep reading to learn the benefits of each product, and how the Bedtime Bundle can help you to achieve your goals.
The core components of this bedtime routine are:
IsaPro®: contains 18g of high-quality whey protein per scoop. Research suggests that consuming whey protein before going to bed can support satiety and calorie control for weight management (1, 2). Including this as part of your Shake Day regime can help to keep you feeling full throughout the night, and reduce your desire to eat the following morning. It can also increase your resting metabolism, meaning your body is using up more energy whilst at rest (1, 2). After resistance training, up to two scoops of IsaPro taken at bedtime can also support your muscle-building goals (3).
Ionix® Supreme: is a botanical tonic with many benefits to the body. Providing 20 calories per serving, this is a great way to add flavour to your shake without the extra calories. In addition, it provides some valuable phytonutrients from herbal ingredients.
IsaMoveTM: is a daily supplement that combines magnesium with psyllium and peppermint. Magnesium is a mineral that has a key role in muscle function (4) and works to convert the food we eat into energy (5). By taking IsaMove just before bed, this can help to support the body's natural functions overnight.
How to Use
The ideal time to prepare your drink is 30-60 minutes before bed. Keep in mind it isn't recommended on a Cleanse Day*, but can be the perfect way to complete your Shake Day.
Add 1-2 scoops of IsaPro, one serving of Ionix Supreme and 120ml of water to an IsaBlender or shaker bottle.
Blend for 30-60 seconds. Add ice cubes if preferred.
Take 1-2 capsules of IsaMove just before bedtime.
Note: Alternatively, Ionix Supreme can be consumed along with IsaMove just before bedtime.
Ways to Customise
It's always important to have variety in an Isagenix system, and fortunately there many ways to spice up your bedtime shake!
Including this as part of your Shake Day routine can also help to keep you on track at night – this combination can be a great way to satisfy an after-dinner sweet tooth!
Our fantastic Bedtime Bundle is now available in your Back Office!
* A Cleanse Day is a nutritionally supported fast that nourishes and energizes your body's own detoxification systems. For further Cleanse Day information, visit Isagenix.com
References
1. Madzima TA, Panton LB, Fretti SK, Kinsey AW, Ormsbee MJ. Night-time consumption of protein or carbohydrate results in increased morning resting energy expenditure in active college-aged men. Brit J Nutr 2014;111:71-77
2. Kinsey AW, Eddy WR, Madzime TA, Panton LB, Arciero PJ, Kim J, Ormsbee MJ. Influence of night-time protein and carbohydrate intake on appetite and cardiometabolic risk in sedentary overweight and obese women. Brit J Nutr 2014;112:320-327
3. Snijders T, Res PT, Smeets JSJ, et al. Protein ingestion before sleep increases muscle mass and strength gains during prolonged resistance-type exercise training in healthy young men. J Nutr. 2015 Jun; 145(6): 1178-1184. doi: 10.3945/jn.114.208371.
4. Veronese N, Berton L, Carraro S, Bolzetta F, De Dui M, Perissinotto E, Toffanelle ED, Bano G, Pizzato S, Miotto F. Effect of oral magnesium supplementation on a physical performance in healthy elderly women involved in a weekly exercise program: a randomized controlled trial. Am J Clin Nutr 2014;100:974-81
5. NHS Choices. Magnesium. Available at: https://www.nhs.uk/conditions/vitamins-and-minerals/others/#magnesium (accessed 10th April 2018)