Become A World-Class Leader & Top The IsaRally Leaderboard!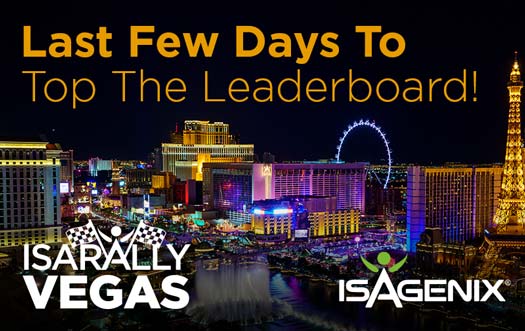 The IsaRally to Celebration 2017 contest closes on 25 June – how are you doing on the leaderboard?
To help you be one of the winning top 20, here are a few leadership practices that can help to increase your team's success by  fostering skills that can lead to even greater results. It also increases your chances of earning IsaRally points that could help you reach your next rank and earn the expenses-paid trip* to Celebration 2017 in Las Vegas.
Remember: leaders aren't simply born. They are developed through hard work and attention to detail. Commit to building your business, supporting your team and helping new customers get started on the Isagenix products by applying these simple techniques to enhance you and your team's potential:
Stay Connected: Helping a Customer or new Associate get started with Isagenix is only the first step. Your expertise, experiences and business acumen are invaluable in helping your teammates begin and sustain their business. Be proactive with your communications via weekly meetings or team calls.
Improve Every Day: True leadership begins with yourself. Develop your own personal growth strategies, skills, and knowledge so you can share your newfound wisdom. The more you learn, the more (and better) you can teach others.
Build from Within: Great leaders arise from other great leaders. Identifying and fostering strong leaders inside your team can help them build robust and dynamic sales teams of their own. It can even improve your own leadership style and skillset.
These are simply a few strategies to help your team achieve greater results, build a more cohesive unit, and sustain its success. Apply all of these tips and work towards securing your spot as an IsaRally winner. We can't wait to see you in Vegas this summer! There is an amazing event (Celebration 2017), exclusive training and an overall incredible prize waiting for you!
Lead Your Team into the Future!
*Winners may be responsible for additional expenses incurred during the trip that are not expressly stated in the prize package. Please review the IsaRally Vegas flyer for more details.