We would like to congratulate all those who took part in this year's IsaBody Challenge®, the first of its kind in the UK. Our finalists have been announced and it is time to celebrate several individuals who also stood out from the crowd. These individuals all have amazing stories and all thoroughly deserve to be recognized as Honourable Mentions.
Please celebrate IsaBody UK's 2017 Honourable Mentions!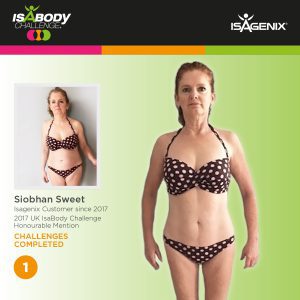 Name: Siobhan Sweets
Age: 52
Height: 1.70m
Total Weight Loss: 13.34kg/29.4lbs*
Number of Challenges: 1
Location: Cheshire, UK
Siobhan Sweets first joined the IsaBody Challenge when she saw how people could use Isagenix to help them transform lifestyles, and she wanted to be part of it. Siobhan felt that the best way to show people this would be to become a product of the product. Her journey truly started when she turned one of her bedrooms into a gym. With the aid of products from the Weight Management system, such as iced IsaLean™ Shakes, and products from the Energy and Performance system, such as e-shots™ and AMPED™ Hydrate, Siobhan's workout routine lost her a visible amount of weight* and people were starting to ask her questions. She started to feel the success and even started filming Facebook lives from her gym.
After attending Opening Celebrations and meeting Eden Slobin in London, Siobhan decided to share her before and after photos with the world via social media. She got an amazing response and was inundated with supportive messages. Siobhan continues to work on building lean muscle and spreading to word about Isagenix wherever she goes.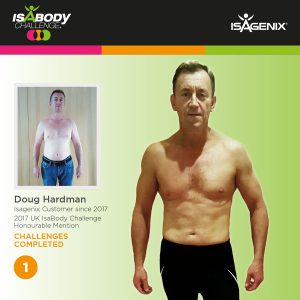 Name: Doug Hardman
Age: 48
Height: 1.85m
Total Weight Loss: 13.64kg/30.07lbs*
Number of Challenges: 1
Location: London, UK
Doug Hardman has come from a family who have always been challenged by weight gain. He had always been determined not to fall into this trap, and had succeeded until his career took an important turn. He was offered a role that involved long hours and constant international travel. This unfortunately meant that his diet consisted of unhealthy snacks and junk food, and both Doug's health and weight began to suffer. He was stuck in a rut until his brother in law suggested Isagenix's Weight Management system. At first he was skeptical, but he gave it a try as he had nothing to lose. He didn't regret this as he began feeling more energetic and ready to battle his weight. It took two attempts for Doug to find success with the product as personal challenges made him unable to complete the first system. Doug's second attempt was a flying success, and he is now more determined than ever. As he has now accomplished his weight goals he is currently focused on building lean muscle. Looking to the future, he is planning adventures he never would have previously dreamed possible.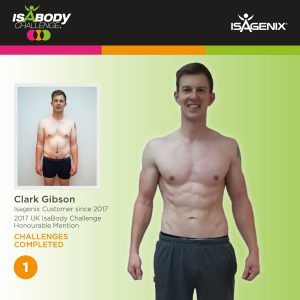 Name: Clark Gibson
Age: 30
Height: 1.77m
Total Weight Loss: 17.5kg/38.50lbs*
Number of Challenges: 1
Location: Croydon, UK
Clark Gibson was previously slender fit and healthy. Getting comments like 'muffin tops' and 'you've put on a bit of weight' was not something he was used to, and yet these were the comments he had been receiving and ignoring for the last few years. He had three jobs which he had been working to be able to afford the little extras in life, and those jobs had taken priority over his health. He needed a change in lifestyle if he wanted to keep up with the needs of his baby son and his physically demanding job as a fireman. This is when his mum introduced him to Isagenix. She showed him that it could help him in his goal to turn his health around, and that Isagenix also offered an opportunity for him to earn some extra money by sharing the products with others. The first thing Clark tried was the Weight Management Premium Pack. He was instantly hooked on this system, and he began to start going to the gym again. After a while people started to ask him questions about the change which was visible on his face 'questions were being flung at me from all directions and I was thriving off their praises and compliments'. Clarks is proud that he has been able to turn his life around. His new goal is to help others achieve the same.
*The weight loss and lifestyles results depicted in this publication may vary depending on level of effort, adherence to a controlled-calorie dietary regime, and physical constitution. The results were achieved when Isagenix products were included as part of a healthy lifestyle that incorporates regular exercise, appropriate portion control, and a varied and balanced diet to meet desired goals. Those who are pregnant, breastfeeding, or have a medical condition are advised to consult a doctor before using Isagenix products or making any other dietary changes.