Your guide to healthy skin, hair and nails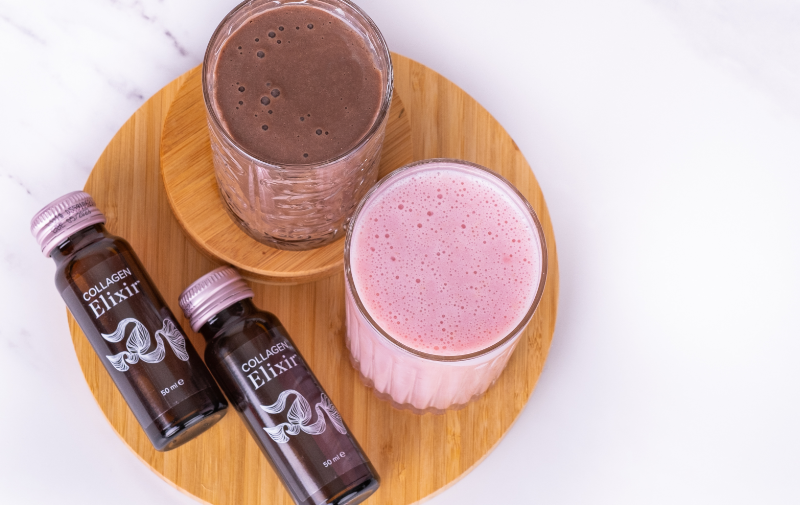 If you want glowing skin, the old saying 'you are what you eat' really is true. We talk about diet in terms of perhaps losing some weight, getting stronger in the gym, or looking after your health for the future, but what about for your skin, hair and nails?
It's important that we are getting enough of the right nutrients in our diets if we truly want to discover our glow. A healthy balanced diet is important for many aspects, but there are some key nutrients that play a specific role in supporting healthy hair, skin and nails:
Protein
We often talk about protein in terms of building muscle or to support with weight loss. However, getting enough protein in your diet is also important for both hair and nail growth because they are both made of the protein keratin. Building new keratin requires a variety of amino acids and a diet rich in protein helps ensure that there are ample amino acids at the ready to support growth. Although uncommon, protein deficiency can lead to weak nails, thin and brittle hair, and reduced hair pigmentation (1).
IsaLean™ Shake is made using undenatured whey and milk protein. In every serving you'll be getting 24g of protein which will provide these essential amino acids.
Collagen
Skin is the body's largest organ composed of water, fat and protein, and collagen makes up the largest part of that protein, creating structure, resilience, and elasticity. It acts like a glue that helps to hold everything in its place (2) and builds the foundation of a smooth and radiant complexion. Your body builds and repairs collagen every day, but collagen production gradually declines with age.
Good nutrition is essential for collagen production, but ordinary foods may not provide the right nutrients. While fish contains collagen, it's in the form of long collagen fibers that are hard for the body to use.
That's why we created Collagen Elixir™ – combining highly bioavailable collagen peptides along with vitamins and minerals like vitamin C, zinc and biotin to deliver collagen's benefits throughout the body (3). Collagen Elixir is made from marine collagen peptides which are composed mostly of type I collagen and is rich in unique, specialised amino acids that have targeted benefits for skin health and support the body's natural production of collagen.
Studies show that supplementing with marine collagen, alone or when combined with other nutrients such as vitamin C and zinc, may help improve skin hydration, elasticity, and thickness; improve physical aspects of hair and nails; and minimise the appearance of fine lines and wrinkles (4-11).
Vitamins and minerals
You'll probably be surprised at just how many different vitamins and minerals play a role in supporting healthy hair, skin or nails. Although we need vitamins and minerals in much smaller amounts than nutrients like protein, they each play important roles within the body. Vitamins and minerals to look out for to support healthy hair, skin and nails include:
Vitamin A, vitamin C, vitamin E, riboflavin, biotin, niacin, iodine, selenium, zinc.
The good news is that our IsaLean Shake is a source of each of these key nutrients, providing around one third of your daily recommended amount (12). IsaLean Shake is also ready in just a few seconds, so that's one meal a day taken care of (makes a great breakfast on busy mornings!), and is an easy way to make sure you're providing your body with these essential nutrients.
Good nutrition helps to support your wellbeing from head to toe, but making sure you're including these key nutrients every day can help you on your journey to support healthy hair, skin and nails. Our Shake and Glow Pack makes this so easy for you – your monthly supply of IsaLean Shake and Collagen Elixir so you'll never run out of these essentials!
Rushton DH. Nutritional factors and hair loss. Clin Exp Dermatol. 2002;27(5):396-404. doi:10.1046/j.1365-2230.2002.01076.x

Fratzl P, editor. Collagen Structure and Mechanics. New York: Springer; 2008.

Yazaki M, Ito Y, Yamada M, Goulas S, Teramoto S, Nakaya MA, Ohno S, Yamaguchi K. Oral Ingestion of collagen hydrolysate leads to the transportation of highly concentrated Gly-Pro-Hyp and its hydrolyzed form of Pro-Hyp into the bloodstream and skin. J Agric Food Chem. 2017 Mar 22;65(11):2315-2322. doi:10.1021/acs.jafc.6b05679.

Stephens TJ, Sigler ML, Hino PD et al. A Randomized, Double-blind, Placebo-controlled Clinical Trial Evaluating an Oral Anti-aging Skin Care Supplement for Treating Photodamaged Skin. J Clin Aesthet Dermatol. 2016 Apr;9(4):25-32.

Genovese L, Corbo A, Sibilla S. An Insight into the Changes in Skin Texture and Properties following Dietary Intervention with a Nutricosmeceutical Containing a Blend of Collagen Bioactive Peptides and Antioxidants. Skin Pharmacol Physiol. 2017;30(3):146-158.

Pei XR, Yang RY, Zhang ZF et al. [Effects of marine collagen peptide on delaying the skin aging]. Zhonghua Yu Fang Yi Xue Za Zhi. 2008 Apr;42(4):235-8. Chinese. Kim DU, Chung HC, Choi J, Sakai Y, Lee BY. Oral Intake of Low-Molecular-Weight Collagen Peptide Improves Hydration, Elasticity, and Wrinkling in Human Skin: A Randomized, Double-Blind, Placebo-Controlled Study. Nutrients. 2018 Jun 26;10(7):826.

Asserin J, Lati E, Shioya T et al. The effect of oral collagen peptide supplementation on skin moisture and the dermal collagen network: evidence from an ex vivo model and randomized, placebo-controlled clinical trials. J Cosmet Dermatol. 2015 Dec;14(4):291-301.

Choi SY, Ko EJ, Lee YH et al. Effects of collagen tripeptide supplement on skin properties: a prospective, randomized, controlled study. J Cosmet Laser Ther. 2014 Jun;16(3):132-7

Yagoda M, Gans E. A nutritional supplement formulated with peptides, lipids, collagen and hyaluronic acid optimizes key aspects of physical appearance in nails, hair and skin. J Nutr Food Sci. 2014;S5:002.

De Luca C, Mikhal'chik EV, Suprun MV et al. Skin Antiageing and Systemic Redox Effects of Supplementation with Marine Collagen Peptides and Plant-Derived Antioxidants: A Single-Blind Case-Control Clinical Study. Oxid Med Cell Longev. 2016;2016:4389410.

Bhowmik D, Chiranjib KP, Sampath K. A potential medicinal importance of zinc in human health and chronic disease. Intl. J. Pharm Biomed Sci. 2010;1(1):5-11.