What To Expect At The UK Grand Opening!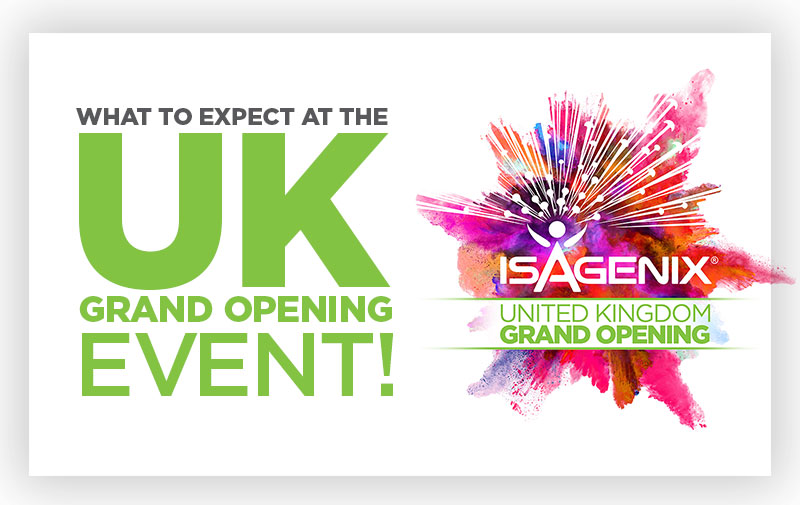 Get ready for the official UK Grand Opening!
To celebrate one of the most exciting country launches in Isagenix history, we're inviting YOU to be a part of the official Grand Opening of Isagenix UK on 24-25th June in London!
Join global Isagenix leaders and the corporate team for a jam packed two-day event where you'll be the first to hear about exclusive product launches, brand new promotions and incentives, inspirational training, tools to help you build your business and much more! If you want to become a founding Isagenix leader in the UK then you'll want to lock this event in your calendar.
Why Attend?
Events build belief and here at Isagenix, we pride ourselves on delivering practical and inspirational events that provide you with the building blocks you need to launch your business. Isagenix Events are like no other events! Any successful Isagenix leader will tell you that attending an Isagenix Event propelled their business to the height of success.
Immerse yourself in our culture
Our culture is what sets us apart. Learn about our company history, our vision, our heart and our plans for the future. You'll get to meet other Isagenix Associates and leave this event with not only great business training but life-long friends too!
Passion for the products
Receive in-depth training on our life-changing products. Learn about the science behind our products and hear real life results from real people. Plus, if you want to know what products are coming next, you'll want to be at this event!
Exclusive promotions and incentives
The Grand Opening will see the launch of brand new promotions and incentives that are coming to the UK. You'll learn about key programmes to help you build your business including the IsaBody Challenge, START and much more. Plus, we'll also be revealing a new incentive which could see you jetting off to a secret location!
World class training from top leaders
Be the first to get your hands on the 90 Day Action Plan, which coupled with our world-class training from those who have had success, will ensure you leave this event with everything you need to take your business to the next level. Click here to find out which incredible keynote speakers will be onstage sharing their story, knowledge and tips.
Key event details
When: 24 – 25th June 2017
Where: ExCel, London
Tickets: Standard Ticket £125
More details including transport, parking and opening hours can be found here.
Are you ready to be a part of Isagenix history? Don't miss out! Tickets for the Grand Opening of Isagenix UK are selling fast. Rally your teams, spread the word, get excited and grab your tickets now!
Stay tuned to UK.IsaFYI and the @IsagenixUK Facebook page for further Grand Opening updates including our incredible speaker line up and important event info.