Product Spotlight: 5 reasons To Love IsaLean™ Shake!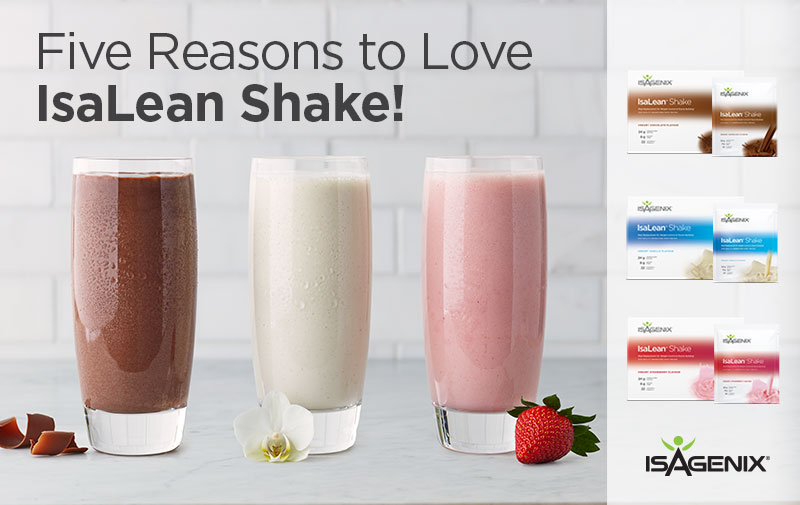 Isagenix hero, our meal replacement and the staple product of all our systems and packs across Weight Management and Energy & Performance solutions – the Isagenix IsaLean Shake is the ultimate must-have, and we're here to tell you why!
1.       Nutrition made simple
Good eating habits and physical activity are key to reaching and maintaining your goals, but it can be challenging to get the nutrition you need each day. IsaLean Shakes take the effort out of healthy eating and provide your body with the essential nutrients it needs to perform at its best; protein, carbohydrates, fats, fibre, vitamins and minerals. It's calorie-controlled too, with just 240 kcals per serving. This isn't just a shake, it's a delicious meal!
2.       Make, shake and take!
Unlike other meal replacements, the IsaLean Shake is not mixed with milk, but with water! This makes it easy to make, shake and take: simply mix the powder with water, shake it up in your IsaShaker (or blend with ice if you prefer) and enjoy it wherever you are– at work, at home, at the gym or on the go!
3.        The power of protein
Whatever your goal, protein is essential. Among other benefits, protein supports muscle recovery as well as contributing to growth of muscle mass and maintenance of normal muscle and normal bones. IsaLean Shakes contain an exclusively sourced Myo-IsaLean Complex™. The 24g of high-quality, undenatured whey and milk protein in every serving helps you to reach your daily protein intake and reach both your Weight Management and Energy & Performance goals. Our high-quality whey protein formula contains a superior branched chain amino acid profile and is combined with all the other essential nutrients for optimal health and wellness.
4.       Tailored to your taste buds
IsaLean Shakes taste delicious simply mixed with water, but when you're consuming them everyday it's natural to want a bit of variety! IsaLean Shakes are incredibly versatile and are the perfect base to add your own ingredients. Customise it by adding your favourite fruit, leafy vegetables or even other Isagenix products such as Ionix® Supreme and Nourish for Life™ (more on these products in the coming weeks!) to your shake. These extra ingredients will add calories as well as key nutrients, but as long as you're keeping track, there's no reason not to indulge your creativity as well as your taste buds!
5.       Free from…
As well as having natural sweeteners, no artificial colours or flavours in our shakes, they are also free from both soy and gluten. Why is this important? People are becoming increasingly aware of food intolerances, and by ensuring IsaLean Shakes are soy-free and gluten-free, we enable more people to enjoy their rich taste and reap the benefits of this nutritionally balanced meal replacement to support their healthy and active lifestyle.
YOUR QUICK-FIRE QUESTIONS ANSWERED…
What actually is an IsaLean Shake?
A delicious, convenient meal replacement for everyday weight management.
Contains 24 grams of high-quality, undenatured protein
Supports weight loss
Contributes to maintenance of weight-loss goals
Essential carbohydrates and fats
High in fibre with 8 grams per serving
Naturally sweetened with no artificial flavours or colurs
What flavours does it come in?
Creamy vanilla, Creamy Strawberry and Creamy Chocolate!
How many shakes should I have?
If your goal is to lose weight, you're recommended to replace two daily meals with an IsaLean Shake, while enjoying one healthy 400-600 calorie meal per day. To maintain your weight, substitute one daily meal with an IsaLean Shake and eat two healthy 400-600 calorie meals per day. For those whose goal is around Energy & Performance, we suggest having an IsaLean Shake with 100-200 calorie mix-ins (such as oats or a piece of fruit) for breakfast, as well as your nutritionally balanced meals and snacks. Remember to stay hydrated and don't forget to get regular exercise too! More details on meal plans can be found in the guides that you will receive with your pack or system.
How can I buy it?
IsaLean Shakes can be found in every one of our UK packs and systems across both Weight Management and Energy & Performance solutions. You can place orders in the UK from 15th May 2017 through an Associate or in the Back Office. Contact the person who introduced you to Isagenix to find out more!