UK, Ireland & Netherlands, Get Ready for 'A December to Remember'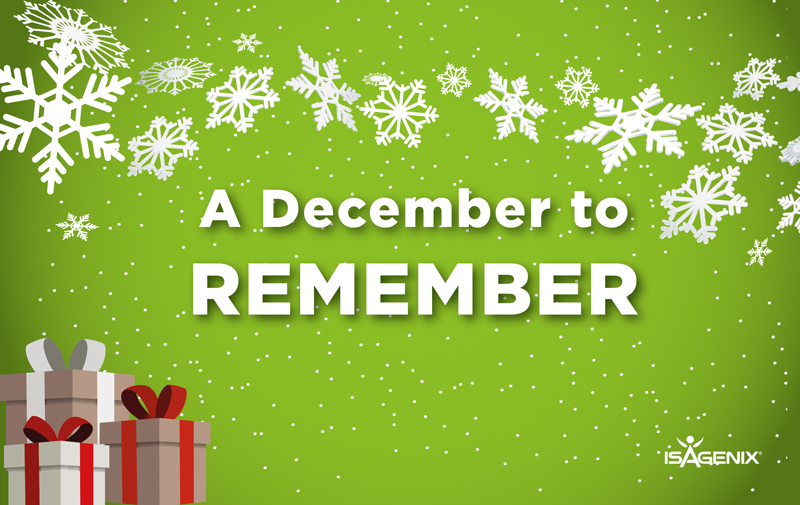 Want a cash bonus over the holiday period? Whether it's to help keep the kids entertained during the school holiday period or to replenish your savings after Christmas, extra cash is sure to go a long way this time of year. With this in mind, we're excited to announce our newest promotion that rewards you simply for growing your Customer base*. Excited? So are we!
The details
From 4 December 2017 through 31 December 2017, personally enrol five or more new Customers with an initial order of 150 BV+ and earn cash bonuses! The more qualifying Customers you enrol during the qualification periods, the more cash you earn – pretty simple, right?
Qualification Period: 4 December 2017 to 31 December 2017
Enrol five (5) new Customers = £164/€180
Enrol eight (8) new Customers = £410/€450
Enrol ten (10) new Customers = £656/€721
Maximise your earnings with 30-Day Systems & Double PIBs to earn up to £1,056/€1,161!
That's £400 / €440 in 30-Day System Double PIBs + £656/€721 from 'A December to Remember' bonuses.
Get set for Christmas and earn cash bonuses simply for sharing the gift of health and wellness today! Check out the flyer for all the details and FAQs!
PLUS! 
Winter IsaLean Bar Bonanza! Christmas is coming early this year! Between 8 December and 31 December 2017 the 30-Day Weight Loss System will include a FREE box of our delicious IsaLean Chocolate Decadence bars.
*TERMS AND CONDITIONS
Open to UK, Ireland and Netherlands Active Associates only. Bonuses are calculated in GBP (UK) and EUR (Ireland & Netherlands) and will be paid with commissions which are subject to the Foreign Exchange Policy. Participation constitutes your full and unconditional agreement to these terms and conditions and any promotion rules, FAQs or guidelines posted and the decisions of Isagenix, which are final and binding in all matters related to the contest. All dates and times shown are US EST. Prize is not transferrable. Isagenix reserves the right to audit, adjust or deny any volume, compensations, recognition or other incentives awarded during or as a result of this contest to ensure rules of the contest are adhered to. Associate enrolments and product orders that are deemed, at the sole discretion of Isagenix, to be solely for contest advancement shall not be counted in the contest. All members are subject to standard compliance reviews both during and after the close of the contest; prizes may be withdrawn by Isagenix at any time. Outstanding compliance matters will affect eligibility for the final prize. Any person who attempts to manipulate the Compensation Plan or the contest, violates any rules of membership code of ethics, or who otherwise attempts to circumvent the rules, forfeits any and all rights to receive any prize and will be disqualified from the contest. Rewards may be recouped in the event of refunds of product sales used to qualify for the contest.