The (not so) secret to smart snacking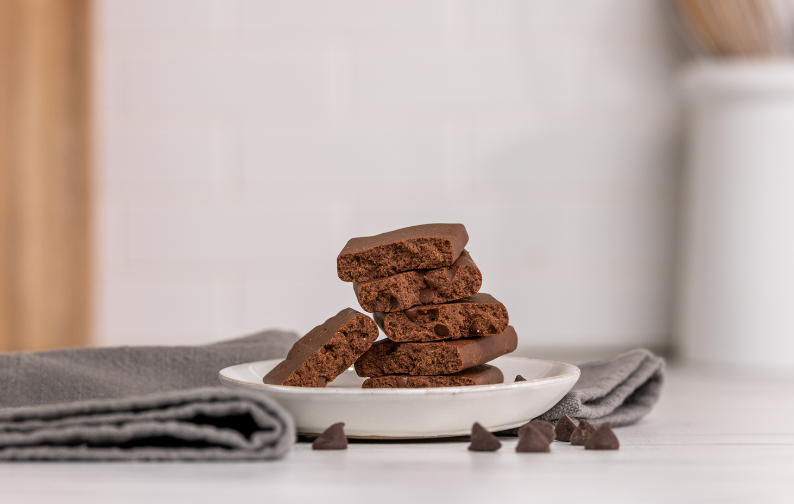 Let's face it, 'snacking' can often have negative connotations and it's sometimes associated with mindless eating and consuming empty calories. But did you know that snacking can in fact be a fantastic tool for reaching your health and wellbeing goals?
Making smarter snack choices can help manage your appetite between meal times and ensure you're getting all of the nutrients your body needs.
But what exactly is smart snacking, we hear you ask, and how can you implement it easily into your routine? Here's all you need to know…
Avoid mindless grazing
Unhealthy snacking doesn't always refer to the type of foods we're consuming, it can also refer to how we're consuming them – which can't be as easy to spot. Grazing is a prime example of this and can hinder your health goals.
Think, when working on a big project, do you have a pack of nuts or dried fruit close by? Or maybe you grab a handful of crisps or sweets whilst waiting for the kettle to boil? This can contribute extra calories to your day in a way that can easily go unnoticed and untracked. Mindless grazing can also look like:
Nibbling on foods without considering your portion size
Snacking at times when you are not especially hungry
Munching while in front of a screen or while you're focusing on something else
Taste testing while preparing a meal
Too many calories from any source can slow, or even halt your progress toward achieving your goals. Try to be more mindful when it comes to this type of snacking and we're sure you'll see results!
Create healthy snacking habits
The most important difference between mindless grazing and healthy snacking is that healthy snacking is strategic and intentional.
A few ways to include healthy snacks:
Prepare snacks with an appropriate portion size, usually 100 to 200 calories
Schedule snacks at a strategic time of day, such as mid-morning or post workout, to help manage appetite and boost energy at times when you expect to need a pick-me-up
Plan and prepare your snacks in advance before your choices can be influenced in a less healthy direction by an out-of-control appetite
These could be…
Plant-Based IsaLean® Protein Bar in Chocolate Fudge Brownie flavour – because no matter your health and wellbeing goals, there's always time for chocolate.
Carrot sticks & hummus – a great source of soluble fibre to control blood sugar levels and protein to keep you feeling full.
TOP TIP: Don't peel your carrots! Most of the good stuff is in fact on the outside. Simply give it a wash and you're good to go.
Snack Bites Cinnamon Roll flavour – perfect for a mid-afternoon sweet treat and only 110 calories, sticking to your calorie goals made easy.
Don't restrict yourself
It's no secret that when trying to cut out the snacks that you think you 'shouldn't' be having, it can lead to binge eating them all in one sitting, consequently setting back your progress and hindering your results. Here at Isagenix, we believe it's important to have a little bit of what you love, hence why we offer both sweet and savoury snack options.
TOP TIP: Feeling peckish? Try creating a balanced snack plate featuring one fresh (think fruit or veggies), one protein (maybe your favourite protein yoghurt or a delicious Snack Bite) and one small treat. Aim for no more than 200 calories per plate and you'll be left feeling satisfied until your next meal.
Lean on our solutions (you won't regret it!)
We get that not one size fits all when it comes to healthy snacking, hence why we offer convenient, delicious snacking solutions for every palette and every wellbeing goal. For a calorie-controlled sweet treat, we have Snack Bites. If you enjoy a savoury, calorie controlled snack there's Harvest Thins or for a sweet high protein post-gym snack we have Plant Based IsaLean Protein Bar. The question is, which will you choose?
Het (niet zo) geheim van slim snacken
Laten we eerlijk zijn, 'snacken' heeft vaak een negatieve bijklank en wordt soms geassocieerd met ongezond eten en het consumeren van lege calorieën. Maar wist je dat snacken in feite een fantastisch hulpmiddel kan zijn om je doelen op het gebied van gezondheid en welzijn te bereiken?
Door slimmere snackkeuzes te maken kun je je eetlust tussen de maaltijden door onder controle houden en ervoor zorgen dat je alle voedingsstoffen binnenkrijgt die je lichaam nodig heeft.
Maar wat is slim snacken precies, horen we je vragen, en hoe kun je het gemakkelijk in je routine implementeren? Dit is alles wat je moet weten…
Vermijd ongezond snacken
Ongezond snacken heeft niet altijd betrekking op het soort voedsel dat we consumeren, het kan ook betrekking hebben op hoe we het consumeren – wat niet altijd even gemakkelijk te herkennen is. Snacken is hier een goed voorbeeld van en kan je gezondheidsdoelen in de weg staan.
Als je aan een groot project werkt, heb je dan een pak noten of gedroogd fruit bij de hand? Of misschien pak je een handje chips of snoep terwijl je wacht tot de waterkoker kookt? Dit kan extra calorieën aan je dag toevoegen op een manier die gemakkelijk onopgemerkt en ongetraceerd kan blijven. Ongedacht snacken kan er ook zo uitzien:
Knabbelen op voedsel zonder rekening te houden met je portiegrootte
Snacken op momenten dat je niet echt honger hebt
Snacken terwijl je voor een scherm zit of terwijl je je op iets anders concentreert
Smaakproeven tijdens het bereiden van een maaltijd
Te veel calorieën uit welke bron dan ook kan je vooruitgang in het bereiken van je doelen vertragen of zelfs stopzetten. Probeer bewuster om te gaan met dit soort tussendoortjes en we weten zeker dat je resultaten zult zien!
Creëer gezonde snackgewoonten
Het belangrijkste verschil tussen onbedacht en gezond snacken is dat gezond snacken strategisch en bewust is.
Een paar manieren om gezonde snacks in te bouwen:
 Maak snacks klaar met een geschikte portiegrootte, meestal 100 tot 200 calorieën
Plan snacks op een strategisch moment van de dag, zoals halverwege de ochtend of na de training, om de eetlust te reguleren en energie te stimuleren op momenten dat je verwacht een opkikker nodig te hebben.
Plan en bereid je snacks van tevoren voor, voordat je keuzes in een minder gezonde richting kunnen worden beïnvloed door een uit de hand gelopen eetlust
Dit kunnen…
Plantaardige IsaLean® Eiwitbar in de smaak Chocolate Fudge Brownie – want wat je doelen op het gebied van gezondheid en welzijn ook zijn, er is altijd tijd voor chocolade.
Wortelsticks & hummus – een geweldige bron van oplosbare vezels om de bloedsuikerspiegel onder controle te houden en eiwitten om je een vol gevoel te geven.
TOP TIP: Schil je wortels niet! Het meeste goede zit namelijk aan de buitenkant. Gewoon even wassen en je kunt aan de slag.
Snack Bites Cinnamon Roll smaak – perfect voor een zoete traktatie halverwege de middag en slechts 110 calorieën, je caloriedoelen gemakkelijk halen.
Beperk jezelf niet
Het is geen geheim dat wanneer je snacks probeert te schrappen waarvan je denkt dat je ze 'niet' zou moeten eten, dit kan leiden tot een eetbui, waardoor je vooruitgang achteruitgaat en je resultaten belemmerd worden. Hier bij Isagenix vinden we het belangrijk om een beetje te hebben van waar je van houdt, vandaar dat we zowel zoete als hartige snackopties aanbieden.
TOP TIP: Heb je trek? Probeer een uitgebalanceerd snackbordje te maken met één verse snack (denk aan fruit of groenten), één proteïne (misschien je favoriete proteïne yoghurt of een heerlijke Snack Bite) en één kleine traktatie. Streef naar niet meer dan 200 calorieën per bord en je zult een voldaan gevoel overhouden tot je volgende maaltijd.
Vertrouw op onze oplossingen (je zult er geen spijt van krijgen!)
We weten dat niet alles hetzelfde is als het gaat om gezond snacken, daarom bieden we handige, heerlijke snackoplossingen voor elke smaak en elk welzijnsdoel. Voor een calorie-gecontroleerde zoete traktatie hebben we Snack Bites. Als je van een hartige, caloriebeperkte snack houdt, is er Harvest Thins of voor een zoete eiwitrijke snack voor na het sporten hebben we de Plant Based IsaLean Protein Bar. De vraag is, welke kies jij?
Das (gar nicht so) große Geheimnis des cleveren Naschens
Seien wir ehrlich: "Naschen" hat oft einen negativen Beigeschmack und wird manchmal mit gedankenlosem Essen und dem Konsum leerer Kalorien in Verbindung gebracht. Aber wusstest du, dass Naschen ein fantastisches Mittel sein kann, um deine Ziele für Gesundheit und Wohlbefinden zu erreichen?
Eine kluge Auswahl von Snacks kann dir helfen, deinen Appetit zwischen den Mahlzeiten zu zügeln und sicherzustellen, dass du alle Nährstoffe bekommst, die dein Körper braucht.
Aber was genau ist Smart Snacking, fragen wir uns – und wie kannst du es ganz einfach in deinen Alltag integrieren? Hier erfährst du alles, was du wissen musst…
Vermeide gedankenloses Snacken
Ungesundes Naschen bezieht sich nicht immer auf die Art der Lebensmittel, die wir zu uns nehmen, sondern auch auf die Art und Weise, wie wir sie zu uns nehmen – und das ist oft nicht so leicht zu erkennen. Naschen ist ein Paradebeispiel dafür und kann deine Gesundheitsziele behindern.
Wenn du an einem großen Projekt arbeitest, hast du dann eine Packung Nüsse oder Trockenfrüchte in der Nähe? Oder nimmst du vielleicht eine Handvoll Chips oder Süßigkeiten zu dir, während du darauf wartest, dass der Wasserkocher kocht? Das kann dir auf unbemerkte Weise zusätzliche Kalorien zuführen, ohne dass du es merkst. Unbedachtes Naschen kann auch so aussehen:
Naschen von Lebensmitteln, ohne auf die Portionsgröße zu achten
Naschen zu Zeiten, in denen du nicht besonders hungrig bist
Hineinfuttern, während du vor einem Bildschirm sitzt oder dich auf etwas anderes konzentrierst
Verkosten bei der Zubereitung einer Mahlzeit
Zu viele Kalorien, egal aus welcher Quelle, können deine Fortschritte beim Erreichen deiner Ziele verlangsamen oder sogar aufhalten. Sei achtsamer, wenn es um diese Art von Naschen geht, und wir sind sicher, dass du Ergebnisse sehen wirst.
Gesunde Snacking-Gewohnheiten schaffen
Der wichtigste Unterschied zwischen gedankenlosem Naschen und gesundem Naschen ist, dass gesundes Naschen strategisch und mit Absicht erfolgt.
Ein paar Möglichkeiten, gesunde Snacks einzubauen:
Bereite Snacks mit einer angemessenen Portionsgröße zu, normalerweise 100 bis 200 Kalorien
Plane Snacks zu einer sinnvollen Tageszeit ein, z. B. am Vormittag oder nach dem Training, um den Appetit zu zügeln und die Energie zu Zeiten zu steigern, in denen du voraussichtlich einen Energie-Kick brauchst.
Plane und bereite deine Snacks im Voraus vor, damit deine Wahl nicht durch einen unkontrollierten Appetit in eine weniger gesunde Richtung beeinflusst wird.
Das können sein…
Schränke dich nicht ein
Wenn du versuchst, die Snacks wegzulassen, die du eigentlich nicht essen solltest, kann das dazu führen, dass du sie in einem Zug verschlingst, was deine Fortschritte und Ergebnisse beeinträchtigt. Wir bei Isagenix glauben, dass es wichtig ist, ein bisschen von dem zu haben, was du liebst, und bieten deshalb sowohl süße als auch herzhafte Snacks an.
TOP TIPP: Hast du Appetit? Stell dir einen ausgewogenen Snack-Teller zusammen, der ein frisches Produkt (z. B. Obst oder Gemüse), ein Protein (z. B. deinen Lieblings-Protein-Joghurt oder einen leckeren Snack Bite) und eine kleine Leckerei enthält. Achte darauf, dass der Teller nicht mehr als 200 Kalorien enthält, damit du bis zu deiner nächsten Mahlzeit satt bleibst.
Vertraue auf unsere Lösungen (du wirst es nicht bereuen!)
Wir wissen, dass es keine Patentlösung gibt, wenn es um gesunde Snacks geht. Deshalb bieten wir bequeme, leckere Snack-Lösungen für jeden Geschmack und jedes Wohlbefinden. Für eine kalorienreduzierte süße Leckerei haben wir Snack Bites. Wenn du gerne einen herzhaften, kalorienreduzierten Snack dabei hast, gibt es Harvest Thins und für einen süßen, proteinreichen Snack nach dem Sport gibt es den Plant Based IsaLean Protein Riegel. Die Frage ist nur, wofür wirst du dich entscheiden?