Team GB athlete uses AMPED Nitro to boost her training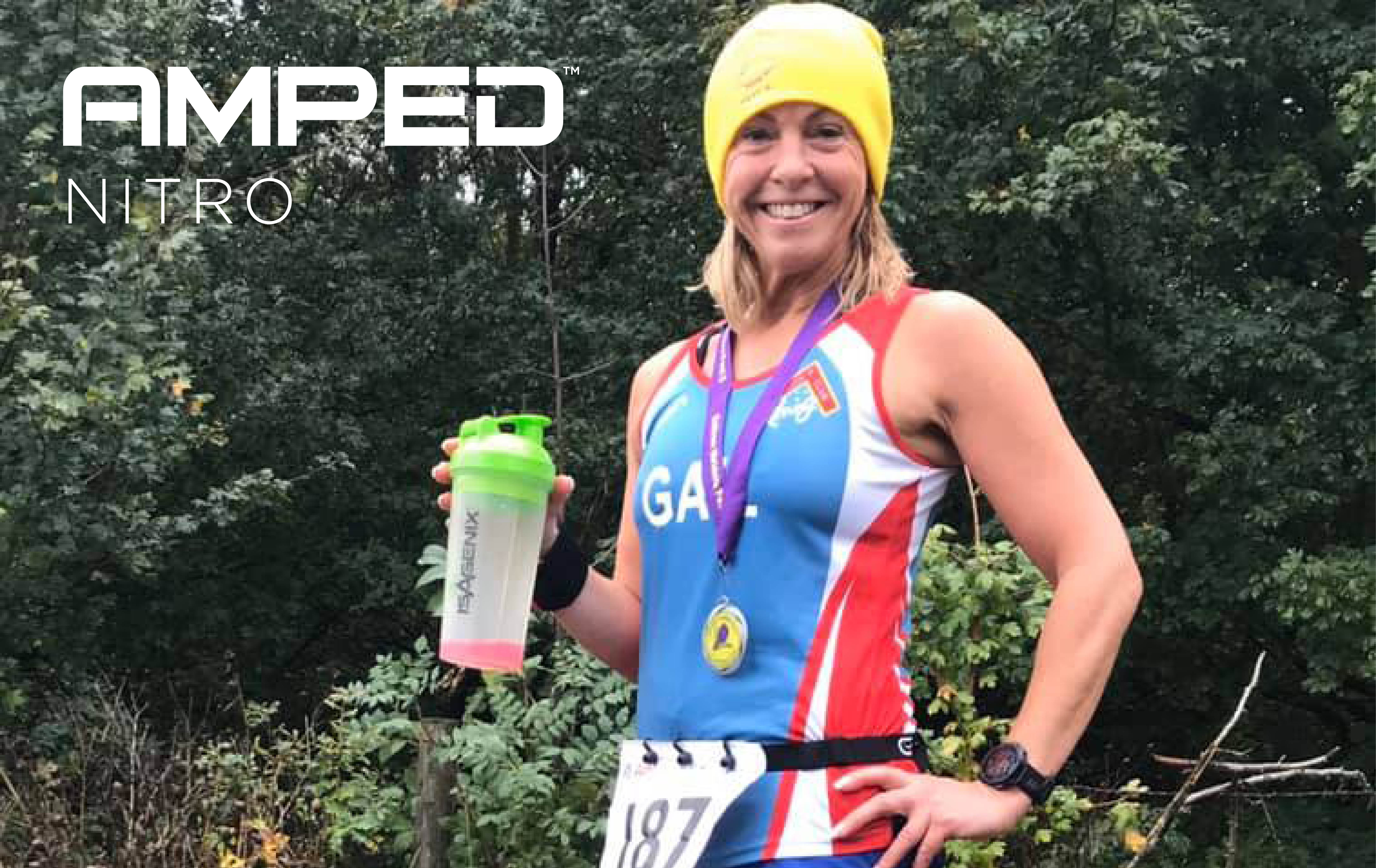 Gail started competing in triathlons at the age of 50 – 4 years later she's now also competing in aquathlons with Team GB, which is typically a 2.5k swim followed by a 5k run. So, we gave her AMPED ™ Nitro, our new pre-workout supplement, to see if it helped her training and race days. The verdict? She's now calling it her 'little pot of magic'.
Her triathlon training is relentless, so even on rest days she goes swimming, and on a typical training day, she could be doing an hour-long strength and conditioning class with weights and cardio, followed by over an hour on the turbo bike, and skipping exercises! With such a strenuous routine, she's been taking Nitro 15 minutes before exercise, and feels stronger, more energised, and she doesn't feel fatigued.
During race season, she drops down on weight training to avoid any injury, but now that it's not racing season, she's been increasing weight training, and this morning she lifted her heaviest yet with Nitro – at 8 ½ Stone (55kg), she squatted 30kg! That's over half her body weight!
"I've never taken a pre-workout before, but now I don't want to be without it! It's that good that I'm worried that you'll sell out, so I've ordered three! The best thing is that it's given me energy and confidence in my ability. Last night in the pool there were a lot of swimmers 20 years younger than me and it was the end of a long day, but I felt like I was pushing the boundaries and keeping up with top swimmers. I felt confident that I could do it with the extra energy that Nitro gives me!"
Going forward, she's planning to incorporate AMPED Nitro in her training so she can prepare to the best of her ability, and she's also going to use it on race days.
"You need to have energy for the whole time doing a triathlon which is about 3 hours, and energy levels can drop rapidly – now incorporating Nitro with the other Isagenix products, I feel amazing! Truly the longer you take this nutrition, the better you feel. It's my little pot of magic really!"