Succeed With Isagenix When You Eat It, Love It, Share It!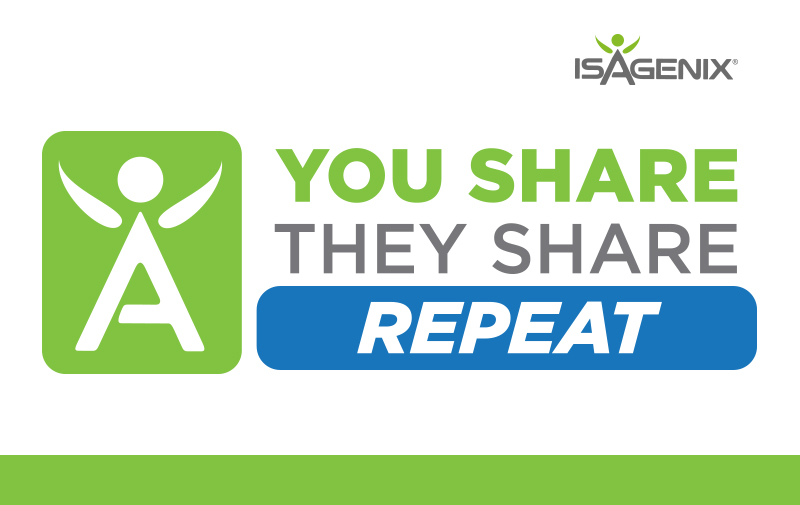 There is no question that Isagenix products drive transformations. Over 550,000 happy Customers all around the globe are enjoying them. But making a commitment to live a healthier lifestyle isn't always the tough part – it's staying committed, and that takes support. This is why Isagenix offers programs like the IsaBody Challenge®, but it's also why we are a direct sales company.
We believe there is no better testimonial to the transformations our products can create than from our Customers who have had a real experience with them. Isagenix rewards Customers who spread the news about their positive product experiences and who help more and more people join Isagenix and reap the benefits. We encourage you to Eat It, Love It, Share It™! It's that simple.
Eat It – Enjoy the products.
Love It – See and feel the difference.
Share It – Celebrate your results!
Celebrate Your Results, and Use 'You Share, They Share, Repeat'.
You Share, They Share, Repeat™ is the simple, duplicable system that helps Isagenix businesses take off and pays you bonuses along the way. Watch the video to learn how you can earn income for sharing Isagenix through Product Introduction Bonuses, Double PIBs and (Crystal) rank advancements!
[brightcove]5415295181001[/brightcove]
Prepare to share the Isagenix opportunity and the incredible earning potential through Isagenix with your Customers by downloading the You Share, They Share, Repeat script under "Tool PDFs" in the "Tools" section at IsagenixBusiness.com.