Product Spotlight: 5 Reasons To Love Ionix Supreme!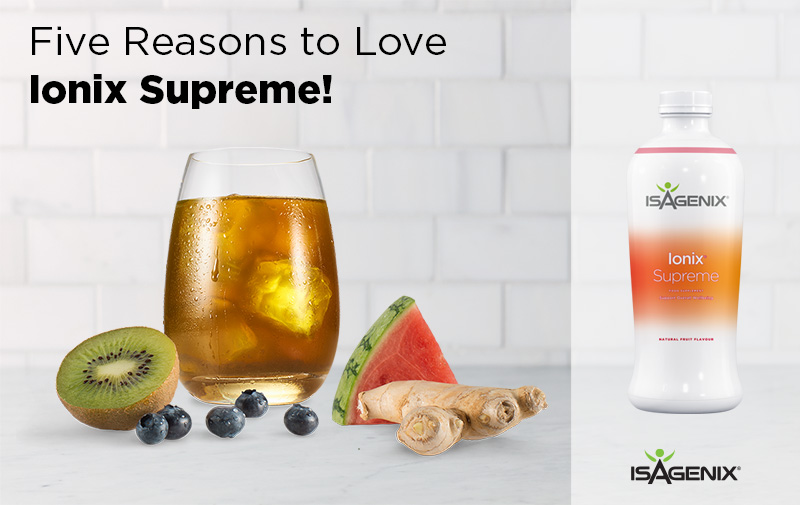 A great-tasting botanical tonic that supports overall well-being and can be enjoyed everyday – what's not to like?! Ionix Supreme is one of our best-loved products worldwide, and while everyone has something different that they love most about it, for us it's all about these five main reasons…
Everyday health
We could all use support in caring for our everyday health, which is why the Isagenix Research & Development team spent so much time on the formula. It combines herbs and nutrients with a blend of B vitamins to support overall health, the nervous system1 and immune system1, and the essential functions the body performs everyday1.
No more sluggish feelings!
It's an unfortunate fact of life that many of us experience some form of stress at some point, but it's how we deal with it that is important. Stress can really take its toll on our well-being, and can leave us feeling sluggish as well as hindering our optimal performance. Fortunately, Ionix Supreme is on call to help support energy2, reduce tiredness and fatigue2, and contribute to the protection of our cells from oxidative stress3.
Four ways to enjoy it
We know everyone has different tastes and preferences, so you'll be pleased to hear that there's not just one way to enjoy Ionix Supreme, but FOUR ways! Warm up in winter by diluting it with hot water to drink like a tea. In need of a summer refreshment? Pour Ionix Supreme over ice or mix with cold water. To really savour the flavour, simply sip it as it comes. Take your pick or try all four – you decide!
Confidence is key
The ingredients in Ionix Supreme (and all Isagenix products) are tested for potency and purity. Our science-backed nutritional programmes contribute to general health and wellbeing, and Ionix Supreme is a key part of that. It's included in a number of packs and systems across the Weight Management and Energy & Performance solutions to help you to reach your goals.
Rich & convenient
With its distinctive fruity flavour, Ionix Supreme is not just rich in benefits but in taste too! Including this fortified botanical tonic in your Cleanse Day4 plan helps to ensure your body gets the nutrients it needs and keeps your taste buds happy too. As you can consume it on its own, it is also a highly convenient product requiring no preparation!
YOUR QUICK-FIRE QUESTIONS ANSWERED…
What actually is Ionix Supreme?
A daily botanical tonic formulated to support overall well-being.
Supports energy with vitamins B6, B12, niacin and riboflavin1
Supports the body's functions with vitamin B6, riboflavin and thiamin 3
Contributes to the protection of cells from oxidative stress with riboflavin2
What flavour does it come in?
Natural fruit flavour.
How do I use Ionix Supreme?
To receive optimal benefits from Ionix Supreme, we suggest a daily intake of 2-4 tbsp (30-60 ml) per day, enjoyed alone or mixed with water.
How can I buy it?
Ionix Supreme is found in many of our packs and systems across both Weight Management and Energy & Performance solutions. You can place orders NOW through your Associate or via the Back Office. Contact the person who introduced you to Isagenix to find out more!
1 B vitamins [B6, B12, niacin (B3) and riboflavin (B2)] contribute to the reduction of tiredness and fatigue.
2 Riboflavin contributes to the protection of cells from oxidative stress.
 3 Vitamin B6 contributes to the normal functioning of the nervous, psychological and immune systems. Riboflavin (B2) contributes to normal functioning of the nervous system and vision. Thiamin contributes to normal functioning of the heart system.
4 A Cleanse Day is a nutritionally supported fast that nourishes and energises your body's own detoxification systems. For further Cleanse Day information, visit Isagenix.com.