Power Couple: Marco Cairo and Elena Ponte's Impressive Transformation with the IsaBody Challenge
Marco Cairo and Elena Ponte are two of the latest success stories to come out of Isagenix, the global leader in direct sales and social selling. The Italian couple, who are also business partners, have made a name for themselves in the Isagenix community by achieving impressive results in the IsaBody Challenge and building a thriving business.
The IsaBody Challenge is a 16-week program that challenges participants to transform their bodies and lives through a combination of nutrition, exercise, and healthy lifestyle habits. Marco and Elena took on the challenge and excelled, with Marco being announced as a finalists in the competition and Elena an Honourable Mention. The pair received a combined €1650 in prize money!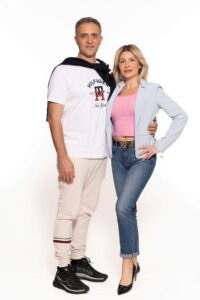 Marco and Elena, seasoned leaders in the industry, both credit their success to the support and guidance they received from Isagenix. "Isagenix has changed our lives in so many ways," says Elena. "We have never felt so healthy, happy, and fulfilled. The products are amazing, and the community is like a family."
But their success didn't stop with the IsaBody Challenge. Marco and Elena have also built a thriving business with Isagenix, earning a significant income and helping others achieve their health and wellness goals. They are most proud of their success inspiring others to take charge of their health and pursue their dreams.
"Thanks to my results, many people have started asking me for advice on how they can achieve the same and this is now growing my community" says Marco, "I want to help more and more people join the IsaBody Challenge and achieve their goals and find self-confidence."
The success of Marco and Elena is a testament to the power of Isagenix and the dedication of its members. They have shown that with hard work, determination, and the support of a community, anything is possible. Isagenix is proud to have Marco and Elena as part of its family, and we look forward to celebrating their continued success in the years to come.