Nourish for Life: Your Cleanse Day companion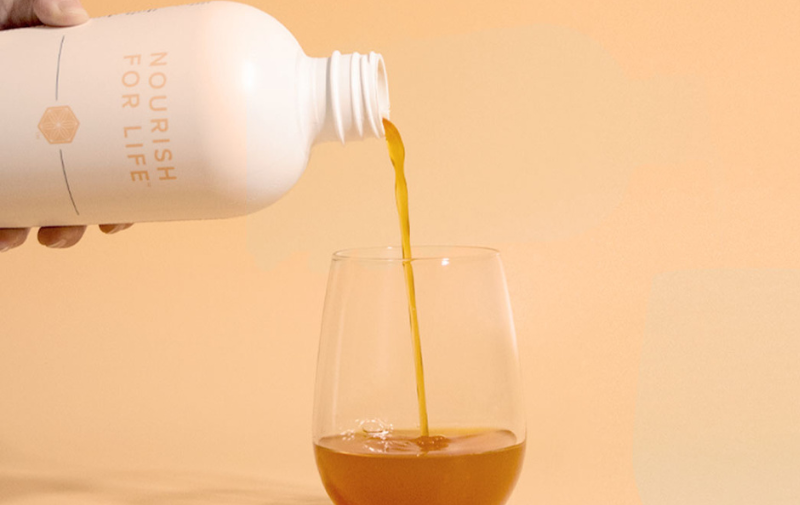 Some call it intermittent fasting. We call them Cleanse Days. They're a fantastic way to work toward losing weight, burning fat, and giving your body's systems the chance to rid toxins naturally. You'll hear a lot about Cleanse Days at Isagenix (if you haven't already) and the impact they have on physical transformations. But, how they work can sometimes feel like a mystery, especially because we can't see what's going on inside our own bodies.
Let's go through a typical Cleanse Day to see how it works.
What Is a Cleanse Day?
A Cleanse Day is a full day of intermittent fasting using Nourish for Life™ , which, as the name suggests, nourishes your body in place of meals and supports your natural detoxifying systems, such as your liver and kidneys, in their functions during this time. Cleanse Days are designed to help you lose weight and burn fat while your body gets a break from the calories normally consumed during shakes and meals.†
Is Cleansing Hard?
We're not going to tell you that a Cleanse Day is as much fun as a cheat day, but just because something isn't easy, doesn't mean it can't feel doable and even rewarding. While intermittent fasting takes many forms, a proper Cleanse Day is a full day without eating a meal. Is it challenging? Yes. Will you feel amazing after you've accomplished one? DOUBLE YES. In short, Cleanse Days are worth it.
What Is Nourish for Life?
It's easy to see Nourish for Life and lump it together with all the other juicing and cleansing fads out there, but there's a key difference between Nourish for Life and the others — we aren't making wild claims that our drink is cleansing magic. Instead, Nourish for Life nourishes your body with botanicals while your body does the cleansing. You've been walking around with the tools to cleanse your whole life; Nourish for Life just helps your body do what it does best during a Cleanse Day.†
So, I Don't Eat Anything Else?
Isagenix has got you here, too. In addition to the nutritional benefits from Nourish for Life, you can enjoy small snacks in limited portions, like Snack Bites and Plant-Based Harvest Thins. They're the perfect ways to get you through Cleanse Days without ruining your routine. It's all about having the tools you need to achieve results while staying comfortable!
How Often Am I Supposed to Cleanse?
Every Isagenix Weight Loss Pack comes with a Weight Loss Guide that explains everything you need to know about the products and your weight loss journey, including an easy-to-follow calendar that labels your Shake Days and Cleanse Days. Most people choose one day a week to cleanse, but if you're feeling mighty, you can venture into back-to-back Cleanse Days (with no more than two back-to-back Cleanse Days and a maximum of four Cleanse Days per month)!
How Quickly Can I Expect Results?
Hundreds of product users agree that Cleanse Days feel incredible, but weight loss is a marathon, not a sprint. While those juices and cleansing fads promise instant results, Nourish for Life and Cleanse Days are an important step in a journey designed to last a lifetime.
Nourish for Life is available in two delicious flavours; Natural Rich Berry or Peach Mango, in a convenient pre-made liquid. Peach Mango is also available in powder form, perfect for travelling and on-the-go cleansing, just add water!
Nourish for Life™: Je "CLEANSE" maatje
Sommigen noemen het intermitterend vasten. Wij noemen het Cleanse Dagen. Ze zijn een fantastische manier om gewicht te verliezen, vet te verbranden en je lichaam de kans te geven gifstoffen op natuurlijke wijze af te voeren. Je zult bij Isagenix veel horen over Cleanse Dagen (als je dat nog niet hebt gehoord) en de impact die ze hebben op lichamelijke veranderingen. Maar hoe ze werken voelt soms als een mysterie, vooral omdat we niet kunnen zien wat er in ons eigen lichaam gebeurt.
Laten we een typische Cleanse-Dag doornemen om te zien hoe het werkt.
Wat is een Cleanse Dag?
Een Cleanse Dag is een volledige dag van intermitterend vasten met Nourish for Life™ dat, zoals de naam al aangeeft, je lichaam voedt in plaats van maaltijden en het ondersteunt de functie van je lever en nieren als natuurlijke ontgiftingssystemen. Cleanse Dagen zijn bedoeld om je te helpen gewicht te verliezen en vet te verbranden terwijl je lichaam een pauze krijgt van de calorieën die normaal gesproken met shakes en maaltijden worden opgenomen.

Is Cleansing moeilijk?
We gaan je niet vertellen dat een dag vasten even leuk is als een smokkel dag, maar omdat iets niet gemakkelijk is, betekent het niet dat het niet haalbaar of zelfs lonend kan zijn. Hoewel intermitterend vasten vele vormen kent, is een echte Cleanse Dag een volledige dag zonder maaltijd. Is het een uitdaging? Ja. Voel je je geweldig nadat je er een hebt volbracht? DUBBEL JA.
Kortom, intermitterend vasten is de moeite waard.
Wat is Nourish for Life™: ?
Het is makkelijk om Nourish for Life™ op één hoop te gooien met alle andere sap- en reinigingsrages die er zijn, maar er is een belangrijk verschil tussen Nourish for Life™ en de anderen. We doen geen wilde beweringen dat Nourish magisch is. Wat Nourish for Life™ eigenlijk doet is het voeden van je lichaam met botanische stoffen terwijl je lichaam de reiniging doet. Je loopt je hele leven al rond met de mogelijkheid om je lichaam te reinigen. Het enige wat Nourish for Life™ doet is je lichaam helpen om te doen waar je lichaam goed in is tijdens een Cleanse Dag.
Eet ik dan verder niets anders?
Isagenix heeft hier ook aan gedacht. Naast de voedingswaarden van Nourish for Life™, kun je genieten van kleine geportioneerde snacks, zoals Snack Bites en Plant-Based Harvest Thins™. Het zijn de perfecte manieren om je door je intermitterende  dagen heen te helpen zonder de dagelijkse gang van zaken overhoop te moeten gooien. Het draait allemaal om de hulpmiddelen die je nodig hebt om resultaten te boeken terwijl je je prettig blijft voelen!
Hoe vaak moet ik Cleansen?
Elk Isagenix pakket heeft een handleiding die uitlegt wat je moet weten over de producten en je afslankreis, inclusief een gemakkelijk te volgen kalender waar je de Shake-  en Cleanse Dagen plant. De meeste mensen kiezen één dag per week om te reinigen, maar als je je goed voelt, kun je proberen 2 vasten dagen achter elkaar te doen (maar niet meer dan twee blokken van 2 dagen per maand met een maximum van 4 intermitterend vasten dagen per maand)!
Hoe snel kan ik resultaten verwachten?
Honderden gebruikers zijn het erover eens dat vasten dagen ongelooflijk goed aanvoelen, maar gewicht verliezen is een marathon en geen sprint. Terwijl veel sap- en reinigingskuren direct resultaat beloven zijn Nourish for Life™ en de intermitterend vasten dagen een belangrijke onderdeel van een reis die een leven lang duurt.
Nourish for Life™ is verkrijgbaar in twee heerlijke smaken; Natural Rich Berry in een handige fles met kant-en-klare inhoud en Perzik Mango in poedervorm, perfect voor op reis en/of om onderweg te gebruiken. Gewoon water toevoegen en klaar is kees!
Nourish for Life: Ihr Begleiter für den Reinigungstag
Manche nennen es intermittierendes Fasten. Wir nennen sie Reinigungstage. Sie sind ein fantastischer Weg, um Gewicht zu verlieren, Fett zu verbrennen und dem Körper die Möglichkeit zu geben, Giftstoffe auf natürliche Weise loszuwerden. Du wirst bei Isagenix viel über Reinigungstage hören (falls Du das noch nicht getan hast) und über die Auswirkungen, die sie auf körperliche Veränderungen haben. Aber wie sie funktionieren, kann sich manchmal wie ein Rätsel anfühlen, vor allem weil wir nicht sehen können, was in unserem eigenen Körper vor sich geht.
Gehen wir einen typischen Reinigungstag durch, um zu sehen, wie es funktioniert.
Was ist ein Reinigungstag?
Ein Reinigungstag ist ein ganzer Tag intermittierendes Fasten mit Nourish for Life™, das, wie der Name schon sagt, Denen Körper anstatt von Mahlzeiten versorgt und Deine natürlichen Selbstreinigungssyste wie Leber und Nieren während dieser Zeit in ihrer Funktion unterstützt. Die Reinigungstage sollen Dir helfen, Gewicht zu verlieren und Fett zu verbrennen, während Dein Körper eine Pause von den Kalorien bekommt, die normalerweise durch Shakes und Mahlzeiten aufgenommen werden.*
Ist ein Reinigungstag schwer?
Wir werden Dir nicht sagen, dass ein Reinigungstag genauso viel Spaß macht wie ein Cheat-Tag, aber nur weil etwas nicht einfach ist, heißt das nicht, dass es sich nicht machbar und sogar lohnend anfühlen kann. Intermittierendes Fasten gibt es in vielen Formen, aber ein richtiger Reinigungstag ist ein ganzer Tag ohne eine Mahlzeit. Ist das eine Herausforderung? Ja. Wirst Du Dich nach einem solchen Tag fantastisch fühlen? DOPPELTES JA. Kurz gesagt: Reinigungstage sind es wert.
Was ist Nourish for Life?
Es ist leicht, Nourish for Life mit all den anderen Entsaftungs- und Reinigungsmoden in einen Topf zu werfen, aber es gibt einen entscheidenden Unterschied zwischen Nourish for Life und den anderen – wir machen keine wilden Behauptungen, dass unser Getränk ein Reinigungszauber ist. Stattdessen versorgt Nourish for Life Deinen Körper mit pflanzlichen Wirkstoffen, während Dein Körper die Selbstreinigung übernimmt. Du hast schon Dein ganzes Leben lang die Mittel zur Reinigung in der Hand; Nourish for Life hilft Deinem Körper einfach, das zu tun, was er an einem Reinigungstag am besten kann.*
Ich esse also nichts anderes?
Isagenix hat auch hier etwas für Dich. Zusätzlich zu den ernährungsphysiologischen Vorteilen von Nourish for Life kannst Du kleine Snacks in begrenzten Portionen genießen, wie Snack Bites und Plant-Based Harvest Thins. Sie sind die perfekte Möglichkeit, um die Reinigungstage zu meistern, ohne Deine Routine zu unterbrechen. Es geht nur darum, die Werkzeuge zu haben, die Du brauchst, um Ergebnisse zu erzielen und dabei stabil zu bleiben!
Wie oft soll ich einen Reinigungstag machen?
Jedem Isagenix Abnehm-Paket liegt ein Abnehm-Leitfaden bei, der alles erklärt, was Du  über die Produkte und Deiner Abnehm-Reise wissen musst, einschließlich eines einfach zu befolgenden Kalenders, der Deine Shake-Tage und Reinigungstage kennzeichnet. Die meisten Menschen entscheiden sich für einen einzelnen Tag in der Woche, um zu entschlacken, aber wenn Du Dich stark fühlst, kannst Du auch zwei aufeinanderfolgende Reinigungstage einlegen (nicht mehr als zwei aufeinanderfolgende Reinigungstage und maximal vier Reinigungstage pro Monat).
Wie schnell kann ich mit Ergebnissen rechnen?
Hunderte von Produktanwendern sind sich einig, dass sich die Reinigungstage unglaublich gut anfühlen, aber Gewichtsabnahme ist ein Marathon, kein Sprint. Während diese Säfte und Reinigungsmoden sofortige Ergebnisse versprechen, sind Nourish for Life und die Reinigungstage ein wichtiger Schritt auf einer Reise, die ein Leben lang andauern soll.
*Nourish for Life ist in zwei köstlichen Geschmacksrichtungen erhältlich: Natural Rich Berry oder Peach Mango, in einer praktischen vorbereiteten Flüssigkeit. Pfirsich Mango ist auch in Pulverform erhältlich, perfekt für Reisen und die Reinigung unterwegs, einfach Wasser hinzufügen!