The IsaBody Challenge® gives people across our European markets the chance to make a change and undergo a total transformation. Every round, hundreds of people sign up, committed to transforming their lives and reaching their goals.
Each of our three finalists receives £1,000/€1,100, a professional photoshoot, as well as the chance to compete for the 2018 IsaBody Challenge European Grand Prize award! Read below to meet our 2018 Challenge Round 3 Finalists!
Milda Latakaite
Age: 32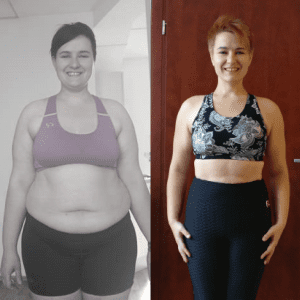 Height:  5'5'' / 1.66
Location: Belgium
Challenge Start Weight:  225.52lb / 102.50kg*
Challenge End Weight: 176.46lb / 80.20kg*
Maintenance Weight: 170.52lb / 77.50kg*
Total Weight Loss:  -55.01lb / -25kg*
Total Challenges Completed: 1
Solutions Utilised: Weight Management
For years, Milda Latakaite felt like her life had slipped from her hands. Before she started on this journey, she knew something was wrong. "I had let years pass by without a big change."
It wasn't just physical discomfort. "I never felt truly happy or able to love myself. I felt like I was rolling into an abyss. I wouldn't wish this feeling on my greatest enemy." Milda needed a helping hand.
Then she found Isagenix. "I met a hugely inspiring woman, who (forgive my direct language!) was brave enough to cut through my BS. All she asked was for me to trust her and go with her on this journey." She trusted her gut feeling, and said yes. It was exactly what she had been lacking.
"And then life was never the same again." Milda still can't believe how simple the journey was. Simple, but not easy. "I had to fight my own brain and my environment was critical.'' She credits her own tenacity and, most of all, the great group who supported her through this time.
After completing the Challenge, Milda feels like she's living a new life. "My mind is sharp, and my body is so much stronger. The IsaBody Challenge reshaped my body and helped me heal spiritually. It helped me to love myself."
Matt Dochniak
Age: 28
Height:  5'8'' / 1.72m
Location: United Kingdom
Challenge Start Weight:  143.01lb / 65kg*
Challenge End Weight: 158.42lb / 72kg*
Maintenance Weight: 160.62lb / 73kg*
Total Weight Gain:  +17.61lb / +8kg*
Total Challenges Completed: 1
Solutions Utilised: Energy & Performance
Before the Isabody Challenge, Matt Dochniak lacked confidence. "As a young male PE teacher, I was viewed as fit, energetic and healthy. Although these descriptions were true, I wanted more."
He felt he had a head start – he tried to apply his professional knowledge about eating well and exercising often – yet he never seemed to get any closer to his ambitious fitness goals. Then he decided to enter the IsaBody Challenge, with a muscle growth goal.
"I knew this time it would be different because I had the science and the community of Isagenix behind me. I joined the local gym, designed my own training routine, and got to work."
He noticed results very quickly. "The scale started to rise and muscle appeared. I felt unstoppable." People started to notice and encourage Matt, who felt his confidence surge.
"In addition to physical nourishment, the IsaBody Challenge provided me with accountability." With a community of supporters and a deadline, he thrived. Even though he had a busy summer, he didn't let the weddings and parties interfere with his motivation to succeed. On the contrary, he found they helped, as seeing friends and family at these events allowed him to share his journey and push himself further.
Matt purposefully decided not to look at his 'Before' photo for a long time, so he could see the full extent of his transformation only when he finished the Challenge. "When I finally put 'Before' and 'After' photos together at the end of the Challenge, I could not believe my transformation."
Although Matt was healthy and fit before, he now feels like he has gained the confidence and muscle definition he had been striving towards for many years. "I am so proud of my achievement.  I hope to inspire others to challenge themselves to reach their fitness goals.  I know the convenience and efficacy of these products has made my transformation attainable and cannot thank this the IsaBody Challenge enough for helping me to transform my body, my mind, and my hopes for the future. Time to create some more stories!"
Juan Jose Moreno Ruiz
Age: 48
Height:  5'7'' / 1.70m
Location: Spain
Challenge Start Weight:  158.42lb / 72kg*
Challenge End Weight: 138.61lb / 63kg*
Total Weight Loss:  -19.8lb / -9kg*
Total Challenges Completed: 1
Solutions Utilised: Weight Management & Energy & Performance
Juan Jose Moreno Ruiz has always worked to manage his weight. "In my family, we all have the same genetic profile. All my life, I have fought not to become obese by practicing sports and being healthy." Even with this effort, in recent years he noticed he couldn't keep a stable weight. "I have tried all kinds of diets, but it's become harder and harder."
When he first heard of Isagenix, he was sceptical. "I admit I wasn't trustful in the beginning, but then my wife started taking the products. We learned more about the systems, including what goes into each product, and how the best results could be achieved when using them together." So, he decided to give it a try, and sign up for the IsaBody Challenge.
"The products really surprised me, the flavours tasted so natural, and they made me feel so good." Once he completed the Challenge, Juan felt like his results went beyond the weight loss. "I have a feeling of well-being I had not had in a long time, more energy and a sharper mind."
Juan is happy to have found a new kind of nutrition, one which will support his goals and the life he wants to lead. "Starting on the Isagenix products feels like a very important step to make my life healthier. I know they are going to help me maintain my physique, and the active lifestyle I love so much."
*The weight loss and lifestyles results depicted in this publication may vary depending on level of effort, adherence to a controlled-calorie dietary regime, and physical constitution. The results were achieved when Isagenix products were included as part of a healthy lifestyle that incorporates regular exercise, appropriate portion control, and a varied and balanced diet to meet desired goals. Those who are pregnant, breastfeeding, or have a medical condition are advised to consult a doctor before using Isagenix products or making any other dietary changes.