Meet the Round 3 IsaBody Finalists for 2021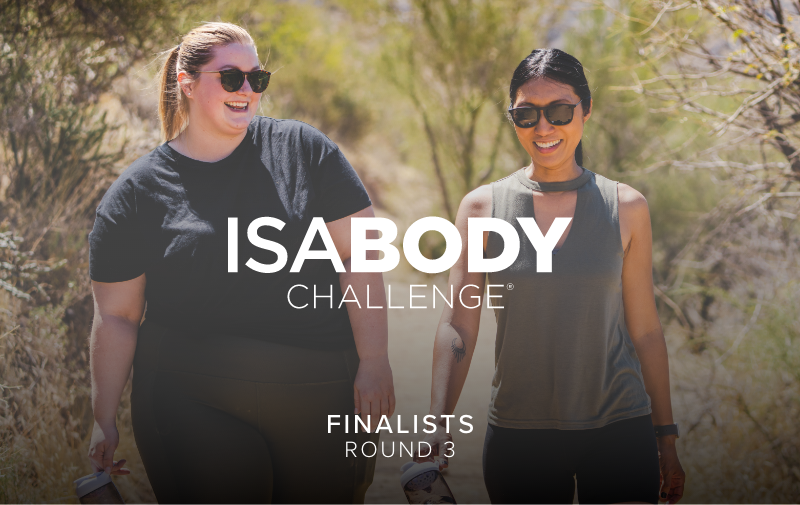 We've officially named our nine Finalists of 2021! Meet the three inspirational people who've made the cut and are in with a chance of becoming the European IsaBody Grand Prize Winner, winning £5000/€5500 on top of their £1000/€1100 prize for being a Finalist!
Michaela Riedlsperger
I felt extremely uncomfortable in my body after my two pregnancies, through which I not only gained my two wonderful children but also gained 20 kilograms in weight. My old jeans didn't fit any more and I couldn't believe it was me when I saw photos of myself. My mum told me that she was starting with Isagenix and wondered whether I would join her because lifestyle changes are always easier if you're doing it with others! So together with her and my best friend, I started on 14 March 2021 and I haven't regretted it for a single day.
I have tried countless diets, diet changes and programmes, but unfortunately ended every single one after a maximum of two weeks because they were simply too restrictive and I couldn't fit them into my everyday life. This time, however, it was different. I fully committed, and it was extremely easy for me from the first to the last day.
The products simply taste good and you really don't have to do without anything. Now I am finally a big step closer to my desired weight and I fit into my old jeans again! I'm going to do another IsaBody Challenge right away, because with this simple and super-functioning programme, I've finally managed to lose my pregnancy weight and ignited a new fresh lust for life. I have endless energy and strength, I sleep indescribably well and no longer have to struggle out of bed in the morning. I simply cannot imagine my life without Isagenix!
Dorien Jacobs
Just back from a week of sunshine, sunbathing and swimming in bikinis, I was looking at photos of myself and I just didn't like what I saw. Not only did I want to feel beautiful again, but I wanted to improve my health in general, so it spurred me on to order IsaLean Shakes, snacks, the whole package!
I won't pretend the first few weeks were easy, but my coach who introduced me to Isagenix encouraged me, helped me with my progress and motivated me. I was losing weight all the time! It was a strange sensation – I have been on diets before and then I got a flatter stomach and that was it, but now I was losing weight all round. This also means that there is no spectacular difference at first, so it's important to remember it's not a quick fix, and consistency is key!
My focus is still very much on losing weight but my coach keeps reminding me that it's not just about that and she is right! I now enjoy the chocolate shakes and eat with everyone at the table in the evening which is really important to me. I've also started daily walks and how nice it is to walk with lighter, thinner legs. Three months later I can wear clothes again that have been hanging in the closet for a long time! I feel more rested, I walk almost every day, my clothes look good on me, I am proud of my body. I don't have an exact target weight, I just want to feel even more healthy and continue on this plan. Thanks to Isagenix products my body and I are finally in alignment!
Matteo Ariano
I'm a waiter and bartender by profession, so my life has always been hectic with very long shifts and relying on coffee, cigarettes and fun to distract from regular life, before going back to work. It left me feeling tired, I'd gained a few extra kilos and I didn't like how I was feeling. I needed a change in my life, so I started Isagenix after being introduced to it by a good friend who's been using it for five years! I had nothing to lose as there was a money back guarantee.
At the beginning it took motivation and consistency, but then the more days that went by I realised that something in me was actually changing, not only on a physical level but inside too, and this was a huge turning point. I felt an energy and mental clarity I had never felt before! After a month, I started to involve other friends and now they too understand the benefits and are starting to get interested in the business, just like me. I really think this nutritional system is a breakthrough considering the all-natural ingredients, from adaptogenic herbs to the undenatured whey protein.
I'm increasingly motivated to continue and improve, I've been working out again since the gyms reopened and the AMPED products really help me perform at my best. I now weigh 69kg with added body mass and I feel full of energy. I've even been using Collagen Elixir for two months and now my skin is improving too!
Be one of our next IsaBody Challenge Finalists! 
The IsaBody Challenge® is a 16-week journey to work towards your wellbeing goals whilst being supported by a community of people who are all on their own journey too, and who'll be cheering you on every step of the way! Ready to start your challenge?
>>> Join the IsaBody Challenge <<