Meet our Round 3 IsaBody Finalists!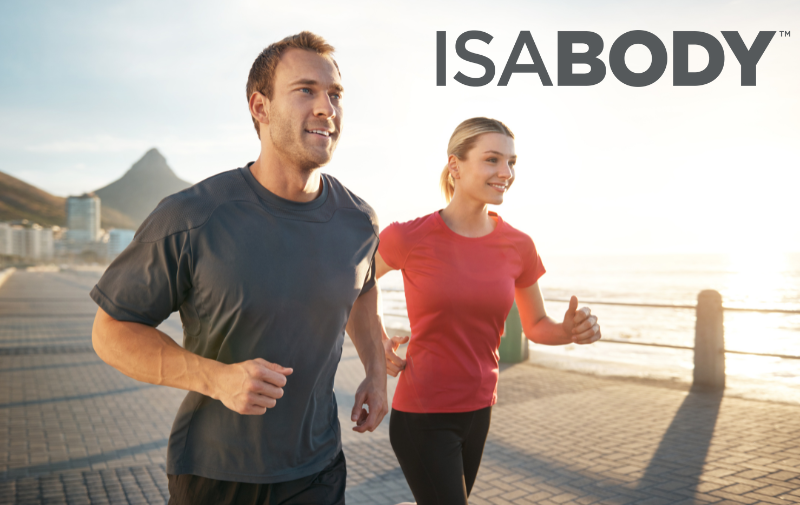 Our third and final round of IsaBody Finalists have been decided and we know you will be so inspired by their stories. Each of our final three finalists are in with a chance of becoming the European IsaBody Grand Prize Winner, winning £5000/€5500 on top of their £1000/€1100 prize for being an IsaBody Finalist! Read on for some serious IsaBody Challenge inspiration…
Claudia Rodigari
As a busy mum of three, Claudia Rodigari wasn't looking for a weight loss program when she joined Isagenix.
"I started for Collagen Elixir, my background is in the beauty industry so I was very interested in this product. But I soon noticed that Isagenix had more products including the weight loss program so I decided to give it a go!"
Having been overweight her whole life, coupled with a number of major surgeries on her shoulders, she knew she wanted to change something. "When I started on the weight loss program I saw results very quickly, after the first 11 days I knew this was different."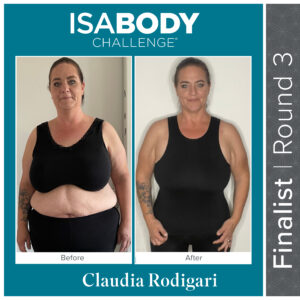 "I have tried a lot of things in the past and always stopped. I thought it would be the same with Isagenix, that the system would work at first and then the same thing would happen. I decided to join the IsaBody Challenge to keep me motivated. When I look back on the 16 weeks of the challenge, it's just unbelievable how much has changed. Not just the weight, of course, the outward appearance, you can see that. I am like a completely new person."
Claudia's family have supported her on her Isagenix journey and quickly saw a difference in her, she's even inspired her husband to get started with the program too.
"I had the support of my family and because it is a concept that you can integrate so well into family life. I also never lost motivation because I really wanted this, I wanted to change!
Being able to get on my bike again with my little daughter and go for a bike ride together is just so amazing. I have so much energy and I can move easily, I'm just enjoying life – it's incredible!
 These are things I couldn't do that 16 weeks ago when I started the challenge. I can't believe it and I'm extremely grateful."
Her success with the IsaBody Challenge and also using Collagen Elixir hasn't gone unnoticed. Everywhere she goes people are noticing the difference in her and are joined her growing Isagenix Business. "Now, when people say they want to get started with Isagenix I show them all the options, if they decide to get started with Collagen Elixir and Celletoi I also share our nutritional products as the two go hand in hand together. They compliment each other so well!"
Since completing the challenge and losing 39 kilos in total so far on her Isagenix journey, Claudia is so excited for the future.
"My life has done a complete 180° in 16 weeks, I'm just so happy I went through with it and decided to give it a go."
Sonja Mulder-Kramer
Sonja Mulder-Kramer got started on Isagenix because she was looking for a way to improve her energy levels. As a busy mother who works full-time in a bank and part-time as a fitness instructor evenings and weekends, she was feeling tired and lethargic. That's when she decided to give Isagenix a try.
"One of my friends Ella has a beauty salon, she had got started with Isagenix and was very excited about it! When we were out walking I told her about how tired I was feeling and she suggested I give it a try, at first using some of the energy and post workout products to support me with my fitness lessons."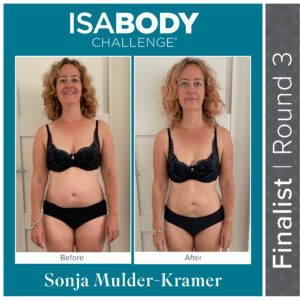 Sonja quickly began feeling the boost in energy she had been seeking and soon after started to try more of the Isagenix products. Then she joined the IsaBody Challenge to really focus on her results. As someone who has always loved food she couldn't imagine doing Cleanse Days, but they have now become part of her lifestyle and daily routine.
"I have a busy job and then teach four hours of fitness classes every Wednesday evenings. Before I would be so tired but now with Isagenix I am able to do my job and then continue on to teach with no problem at all. I even teach on my Cleanse Days and my clients are always so surprised at how much energy I have!"
People soon began to notice a difference in Sonja. Not only did she have more energy but she was dropping kilos she didn't realise she had to lose. At first she didn't share what she was doing and kept it to herself but soon started to share with others her secret, Isagenix!
"The gym I teach at is for women only. They noticed that there was something different and asked me very directly. They said, wow! Your stomach! How did you do that?! My friend Ella who helped me get started then helped my clients get started too and I was able to earn an additional income. When I go out and see people I haven't seen for a while they always ask what I am doing. It is great to be able to share Isagenix with others and help them get amazing results too."
Sonja and her husband have been able to enjoy a holiday together for the first time since having their son thanks to her IsaBody Challenge Prize money. "My husband had a heart attack followed by surgery so to be able to take this holiday together and celebrate life and rest will be wonderful!"
Karl Fryer
With a summer holiday coming up, Karl Fryer was feeling like he wanted to make some changes. "I was feeling bloated, a bit overweight and wanted to get rid of my belly ready for my family holiday in August. A friend of mine had just done a 30 day shred, so I asked him about it and he connected me with Donna Young who helped me get started." says Karl.
Within a couple of days his wife joined him. "Isagenix really appealed to me as it was just 30 days to start with. I signed up too the IsaBody Challenge in the IsaLife app as I saw you could get some free products by doing it so thought why not!
I'd seen lots of great testimonials and with a money back guarantee I had nothing to lose, apart from weight!"
After his first 30 days using the Isagenix products, Karl couldn't believe all the changes he was experiencing. "I was sleeping so much better without snoring! I had more energy and was way less bloated. Not to mention the weight was coming off and I had lost four inches off my waist."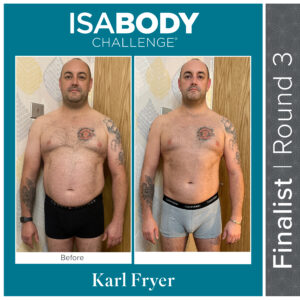 Karl continued on with the program throughout his IsaBody Challenge and has been able to maintain his results, even after going on his holiday.  "In the middle of the challenge we went on an all inclusive holiday and I was feeling great. Of course I enjoyed myself, but when I arrived back home I was straight back on track and continued on with my challenge."
Karl even tackled his Cleanse Days with ease on the road in his job as an engineer, "I'm used to working long days and going for a few hours without food so I found Cleanse Days quite easy."
On completing his 16-week IsaBody Challenge, Karl is feeling better than ever and loves the convenience of the products. "I find Isagenix so simple and easy to follow. The shakes taste great and are so filling. The time it takes to organise my breakfast and lunch is down to minutes as I don't need to think about what I'm having. I used to grab fast food and sandwiches on the road but not anymore! I now save money by having shakes instead of buying food out every day."
Karl has now started his next IsaBody Challenge and incorporates Isagenix into his family's lifestyle. " When I first saw the cost of the products I thought it was a lot but if you break it down you can actually save money! With a 30-day money back guarantee there's absolutely nothing to lose, give it a go and if you don't like it you can get your money back."