Meet our Round 2 IsaBody Finalists!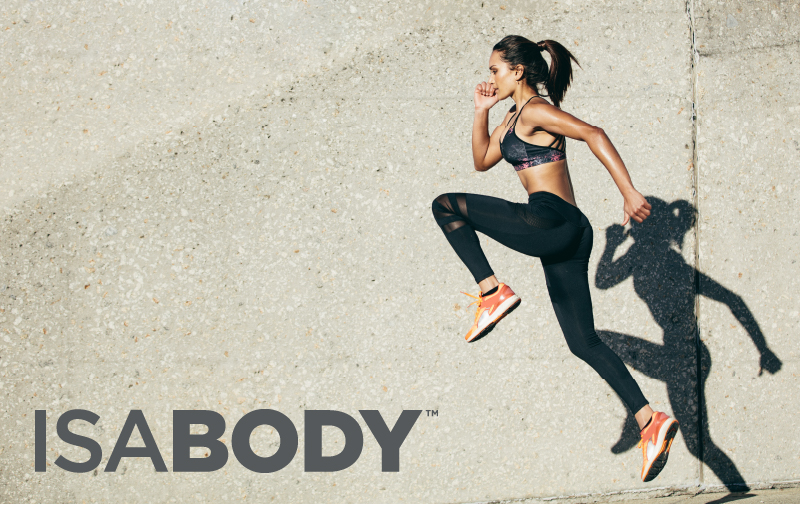 Our Round 2 IsaBody Finalists have been chosen. It's time for you to meet these three inspirational people who've made the cut and are in with a chance of becoming the European IsaBody Grand Prize Winner, winning £5000/€5500 on top of their £1000/€1100 prize for being an IsaBody Finalist!
Marco Cairo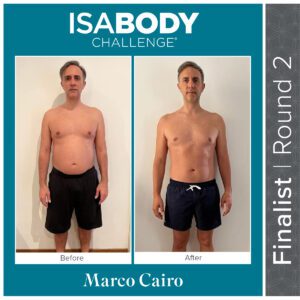 Marco started with Isagenix when Zija joined the Isagenix family. He had been following the success of Isagenix for many years and was excited for the potential of the Isagenix and how it could help him expand his business. "I could see the products and the compensation plan were fantastic so for me this was really great news."
"I immediately had big goals for how I could help Isagenix grow in Italy and throughout Europe. I started using the products and had attempted the IsaBody Challenge before but had never completed it. This time I really decided to push things and transform my body.
I took joining the IsaBody Challenge as an opportunity to change.
During his challenge Marco released 5.5 kilos (12 pounds) and is so happy with his results.  "My main results were losing body fat around my waist and gaining lean muscle mass. I feel so much lighter and stronger. I've now started exercising in the gym. My wife Elena and I did the Challenge together and she was also announced as an Honourable Mention which is an amazing achievement."
"I've had to refresh my wardrobe because the clothes I had were feeling so loose on me. I feel so much better about myself and want to build on these results from the IsaBody Challenge. I feel so happy I was consistent and focused during the 16 weeks. I now intend to play sports, tone up more in the gym and continue my new healthy lifestyle."
"Thanks to my results, many people have started asking me for advice on how they can achieve the same and this is now growing my community. I want to help more and more people join the IsaBody Challenge and achieve their goals and find self-confidence."
Danielle Burke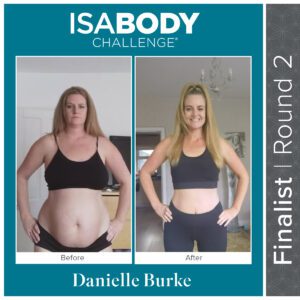 Six months after giving birth to her daughter, Danielle Burke was at a low point in her life.
"I was the biggest I'd ever been, I was miserable and I had no confidence whatsoever. People thought I was still pregnant which was really affecting my day-to-day life and I just wanted to hide away from the world. A friend I used to go to school with was using the Isagenix system and posting on Facebook about it so I got in touch with her. I bought my pack and started the IsaBody Challenge in January."
Very quickly, Danielle's energy levels were through the roof. "I started sleeping properly again and my digestion was working effectively for the first time in forever. The weight was just melting off me!"
"After just a couple of weeks I got into a skirt I hadn't worn in ages. I put a post on Facebook and people started to message me about what I was doing. I had two of my friends already doing the program with me for support and from this point people really started noticing the change in me.
Danielle started to start enjoying her life again, "I started making plans with people again where before I used to avoid seeing people, I didn't want to be seen at all. Everyone was saying "Wow Danielle, what are you doing?! You seem brighter, you seem happier!", and I couldn't wait to tell them about it.
By the time Danielle had completed the IsaBody Challenge she had reached the rank of Director, simply by sharing Isagenix with other people along the way.
"It was really unexpected and just took off. I didn't go into this to make a business out of it, I just wanted to feel better and lose weight but it has changed my life on so many levels. I've bought a whole new wardrobe, I've won a trip to Ibiza for the IsaRally competition and I've gone on to build a business with Isagenix and become an Executive.
I love every single product but my favourites are IsaLean Shakes, Ionix and Cleanse for Life but I really love Celletoi skincare. Everyone is getting Celletoi for Christmas this year!
The IsaBody Challenge really kept me accountable along the way. Sometimes when you lose weight you quickly go back to old habits but this really kept me on track and learn to treat this as a lifestyle.
When I got the call to tell me I was an IsaBody Finalist I screamed down the phone. I ran out the door and screamed in the garden too, my neighbour popped his head over and asked if everything was alright. I said yes everything is fantastic!
The prize money has saved Christmas for our family this year. We were getting concerned with the cost of living is going up so much so to have a cash prize like this was incredible.
This time last year I was about to go on benefits. If I can do this and come from the place I was, I want people to know anyone can do this.
If you're thinking about getting started with Isagenix don't think about it, just do it. Just say yes and figure it out afterwards. What's not to love about something that is going to help you age healthily and earn extra income!
Suzanne Bos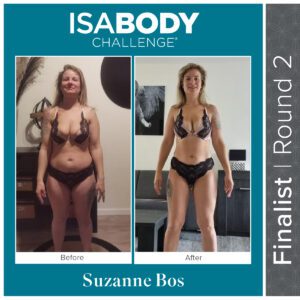 Suzanne Bos is a mum of two young children aged three and one. Sadly when Suzanne was pregnant with her son she tragically lost her own Mother at the age of just 55.
"My whole world was turned upside down, I had to come to terms with a life without my mother and that she had a grandson she would never get to know."
Suzanne started to think about her own lifestyle and decided that something had to change. "I decided I wanted to be as healthy as possible for my children. I quit smoking and I started to live healthier. Yet every night I still sat in front of the TV with a bag of chips."
When her friend Saskia introduced her to Isagenix, she was a bit skeptical. "I wasn't sure about doing shakes and the cleanse days were something totally new to me. But I was open and thought I would just try it and give it a go."
I joined the IsaBody Challenge straight away! Luckily I really liked the products and put my own spin on things making it feel like a lifestyle, not a diet. I started learning about eating healthily and realised my diet before was lacking in many different areas.
I started running with my dog and throughout the IsaBody Challenge I have improved my fitness. I do HIIT training three times a week now and I never would have believed I would be doing this when I started."
Looking to the future, Suzanne is now a healthy role model for her young children, "I never thought I would be announced as a finalist. I feel very happy and proud of myself.
I absolutely love the products now especially Isagenix Greens, Amped Nitro pre workout, and of course I have an IsaLean Shake every morning.
"Now, I'm happy with my body. Of course there is still more I can achieve but I'm on the right track. The sadness of my mother's death has not diminished but because I started working on myself, I didn't fall into a black hole. I'm sure my mom is proud to be watching me from above!"
"Always believe in yourself, you are worth it!"