Meet our IsaBody Grand Prize Winner 2020!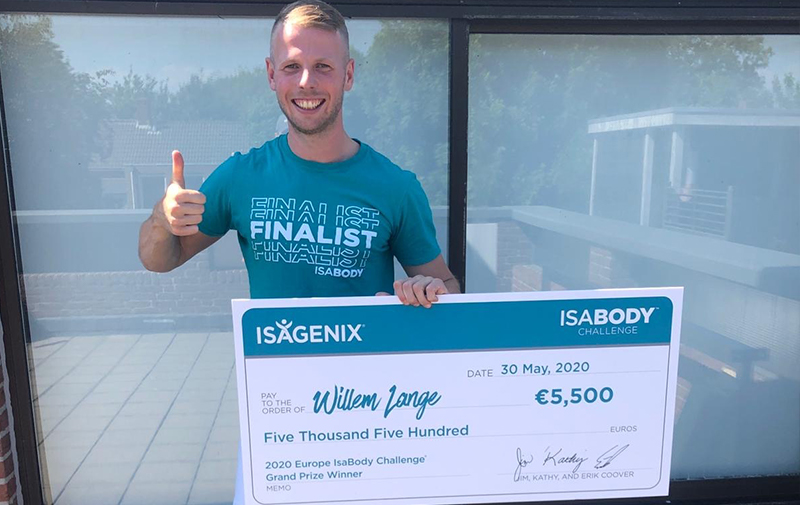 Willem Lange made one small decision to start an IsaBody Challenge®, and that step turned out to be life changing. It's led to a whole new healthy lifestyle, he's transformed his body, he feels confident again and he's just won €5,500 because his transformation was voted as the best in Europe! Can you imagine winning that amount of money for achieving your goals? If you're feeling inspired and want to know how our 2020 European IsaBody Grand Prize Winner did it, read on!
How do you feel after winning IsaBody?
I feel amazing! My dream really came true! Last year I was sitting in the audience during my first event watching the 2019 IsaBody Finalists, and their stories showed me that even if you're at your lowest, it's possible to turn everything around and become the best version of yourself! I was so inspired and in that moment I decided I would be on stage next year to inspire other people with my story and become the next IsaBody winner. I still can't believe it, but one year later I did it!
I want to thank every single person who helped and supported me during this journey, especially Judy Sky for introducing me to Isagenix and showing me the way. Thank you to each IsaBody finalist for their inspiring stories and support throughout! We were never in a competition with each other, we were all in a competition with ourselves to become the healthiest we could be, and we've definitely all succeeded in doing that! We all deserved to win.
Why did you start IsaBody?
I was in a place where I didn't feel like me anymore – I was unhappy, I had no motivation or energy and going to the gym once a month was a push. I just needed to make a change and choosing to start IsaBody transformed my life!
What's the best thing about the IsaBody Challenge?  
The most important thing to me is that I became the fittest and happiest person I ever been. I've got more self-esteem, energy, Isagenix friends, a body I'm proud of and I've become the person I want to be! It's made it so much more special that I've been able to have this journey with a massive supportive community of Isagenix friends.
You've already achieved so much! Do you have any more fitness goals?
My goal for now is to push myself to the next level for the Global IsaBody Challenge final. Even though I am in the best shape of my life, it's always good to challenge yourself to become better.
What will you do with your prize money?
I am going to share it with the people around me who supported me during my journey and I also want to invest in my personal development and my Isagenix business.
What are your plans for your Isagenix business?
Last year I transformed my body, and this year I want to transform other people lives. I want to show people what's possible with Isagenix if you just go for it, and I want to help them achieve great results. I hope to be able to make my Isagenix business my fulltime job this year and become the first start 1000 in the Netherlands!
What's your advice to someone who is thinking about starting IsaBody?
Next year this could be you if you really believe you can do it. Everything is possible!
Are you feeling inspired? Find out more about the IsaBody Challenge and sign up through your Back Office or the IsaLife App. not This could be you next year!