Meet our 2022 Round 3 IsaBody Honourable Mentions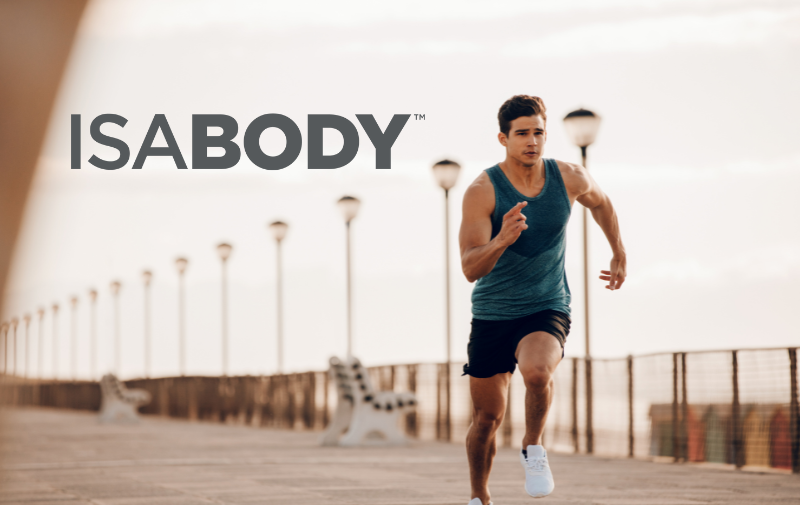 The final round of our 2022 IsaBody Challenge has been decided! The Finalists and Honourable Mentions for our 3rd and final round for this year have been chosen and we can't wait to share their incredible results with you. Read on for some serious inspiration and meet our Round 3 IsaBody Honourable Mentions!
Helen Turner
Helen Turner has been a consistent IsaBody Challenger since joining Isagenix in 2017, having completed the challenge 11 times before. But this time was different and probably her most important yet. After losing her brother very suddenly in February 2022, Helen slipped into unhealthy habits to help her cope.
"During the weeks after losing my brother Andrew, I fell into some very bad habits. I was either eating nothing at all or eating rubbish. I didn't sleep properly for months and was having a couple of glasses of wine, sometimes more, every night to try sleep, which of course was not the answer.  Despite knowing that my body needed the best nutrition more than ever, I was exhausted and barely functioning, nobody had any idea just how bad it was."
In addition to the personal stress Helen was going through, she was also under pressure in her job, working late most days and at weekends. Her mental health was suffering, and she knew something had to change. "I hadn't been to the gym in weeks which isn't like me and despite being so passionate about the link between mental and physical health I couldn't motivate myself. I gained weight, I felt bloated, my skin and hair were awful, I had lost fitness, I felt exhausted and mentally drained and was not in a good place at all."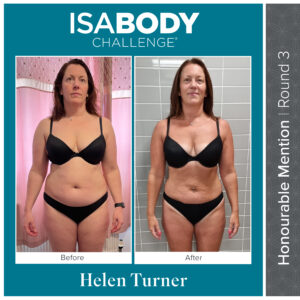 Helen decided to join the IsaBody Challenge again in April 2022. With the support of her PT and getting back on the Isagenix products, she soon began to feel better and see results.
"I set off on a journey to get back to myself knowing it wasn't going to be easy. Over time I started to feel better, my energy levels were improving and most importantly I was sleeping again.  The funny thing about mental health and stress is that even when you know what will help you don't always do it and taking your own advice isn't easy.
As the weeks of the challenge went on my fitness improved as did my strength, I started to enjoy the gym again and slowly the results started to come. The path wasn't straight there were blips and set backs but with the support of Josh, my PT, and the incredible friends I have around me I kept going. 16 weeks later and I couldn't believe my photos when I saw them side by side, I knew I had dropped the weight and was in smaller size clothes but actually seeing how far I had come was so emotional for me. Most importantly I am pretty much back to myself with my energy levels as high as ever, sleeping well and feeling fabulous!"
Annika Becksén
Annika Becksén had always struggled with her weight. "I have struggled with my weight all my life. I've tried all kind of diets and exercise. I would see good results, but they would never last."
She became concerned for what the future might hold with her health and knew she needed to make a change. After being inspired by her Personal Trainer, Karin, she decided to give Isagenix a go and join the IsaBody Challenge.  "I was deeply inspired by my PT Karin and her husband and their results despite already being fit and healthy. I told them, let's go and get thi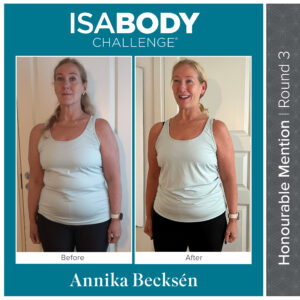 s body working!"
Annika committed to the 16 weeks of the IsaBody Challenge and her results have been life changing.  "I have had my ups and downs, but since I have started with Isagenix I have seen a dramatic improvement in my health. My parents both struggle with their health and there are many hereditary conditions in my family and have been for generations. I realise now what I need to to to stay healthy and fit and avoid illness and injuries."
Annika has found her way with Isagenix products and training in the gym three to four times a week. "Continuing on this path with Isagenix and exercise will help me healthy, strong and flexible and give me the best opportunity to lead a healthy life for as long as possible. I turn 58 soon and I intend to keep going for at least another 30 years!"
Lesley Green
As a busy foster mum caring for children with complex health, emotional and mental needs, Lesley Green was losing her spark and felt that something needed to change. "I could feel my light burning out. I had lost my mojo and was sleeping way too much. Earlier this year I had a wake up call that my physical health was declining too and I knew I needed to change something but I had no motivation, energy or time to focus on improving my health"
Lesley saw a post on social media promoting a nutritional programme that promised to be simple and flexible, reduce stress, improve sleep and aid weight loss, all the things she was desperately looking for.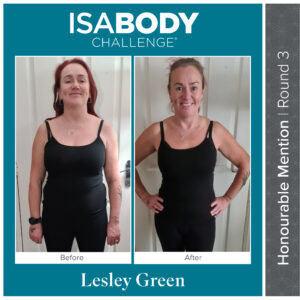 "After mulling over for a couple of weeks and thinking of all the excuses why not to do it, I took the plunge and ordered a 30-day program, thinking it's 30 days out of the rest of my life, what's the worst that can happen?"
Lesley had big hopes for the IsaBody Challenge. "I wanted to  reboot my body and mind, detox 50+ years of food and drink habits and if I lost weight, well that was a bonus. Being past 50, with a few health challenges I didn't have high hopes for losing weight but all I can say is WOW, wow and more wow!"
"Isagenix has far exceeded my expectations. I can't even list all the positives because there are so many but to name a few.  I've lost weight, inches, and my body shape has totally improved. I'm able to manage my stress levels so much better and I bounce around with energy to match my ADHD son. This really has been life changing in so many ways and is a gift that keeps on giving. I've ended my 16 week challenge spot on my target weight but this is not the end, this is my lifestyle now and the beginning of a beautiful and magical relationship!"
Michael Bockaert
Our 413th Isagenix Legacy Club Member, Michael Bockaert has over 25 years of experience in the fitness industry coaching clients to achieve the results they desire. He decided to put the IsaBody Challenge to the test and lead by example.
"As a coach for 25 years I work with many people who want to lose weight. I get all my clients on the IsaBody Challenge straight away when they start with Isagenix so I decided to be an example and do the IsaBody Challenge myself."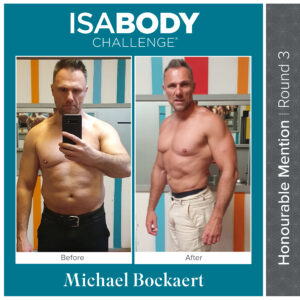 Michael wanted to motivate himself and get back on track after long periods of not being able to train during lockdown. "My aim was to get more shredded and reduce body fat. The Isagenix system ensures you get back into shape after longer periods of not being on track with your nutrition."
"During lockdown we were inside for long periods of time. I didn't train myself for the first two or three months, usually I was at the gym working 12 hours a day and then to go to being at home all the time eating. I gained a lot of weight during that time and I saw the same with my clients either gaining body fat or losing muscle mass."
Michael recommends anyone who joins his team looking for weight loss to join the IsaBody Challenge to the best results. "I make sure everyone who starts Isagenix with me to take their before photos and join the challenge, we do the challenge together and help them to stay on track and guide them through it."