Michael Bockaert has been in the fitness industry for over 20 years, running a very successful gym and coaching business. When he was introduced to Isagenix back in 2017 he had no previous experience with Network Marketing but being open minded, he was willing to give the products a go and test them on some of his clients.
"I was introduced to Isagenix by Sander, a friend of mine from the Netherlands, who is also a personal trainer and coach. I was willing to put the products to the test and see what they could do. I quickly saw the difference with my clients using the Isagenix products. They had way more energy and their physique was much better on the day of competition. How they were able to recover and stay in good shape after competition and their ability to maintain low body fat was also far better on the Isagenix products."
After seeing the results with his clients first hand, Michael was interested in taking a look at the business opportunity. "Unlike other business opportunities, I didn't have to invest a huge amount to get started, I just had to give it a try. I made the decision to give it my all. When I say I'm going all in, I'm going all in!"
In a matter of weeks Michael had reached his initial goal of reaching Crystal Executive and continued to work hard and share the Isagenix program with his network both belly-to-belly at Sip and Sample events and online. Five years on and Michael has reached the rank of 7 Star Crystal Executive, 7 Star Golden Circle simply by sharing his passion and what is possible for others.
"I remember my friend and coach Zach Slobin saying to me in the very beginning, ignorance on fire is better than knowledge on ice. At first I had no idea what I was doing but I took action. Success in this business comes down to taking action and being consistent. It's not start stop. You have to be consistent. That doesn't mean you have to work 12 hours every day. Simply be consistent the whole year round with the time you have to dedicate to your business."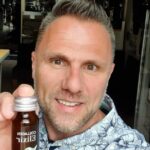 During the pandemic he introduced many small business owners to another stream of income with Isagenix which is something he is very proud of. "I remember in April, 2020, I personally enrolled 18 beauty salons. They were praying for money with the bills are going up and no income coming in. Giving others a real way to earn residual income through that crisis showed the power of what this business model can do for people."
As the first Isagenix Legacy Club member from Belgium, Michael is proud of what he and his team have achieved in just a few short years. When he attended his 6th incentive trip this year for IsaRally Ibiza, he was excited to see so many of his team having success of their own, "The leaderboard was 40 people from Europe and more than a half were in my team. So to be able to celebrate with everybody from Belgium and the Netherlands on a free trip to Ibiza, that was the best feeling."
Since joining Isagenix Michael has been awarded International Leader of the Year for 2018 and 2019 and just this year was presented with Leader of the Year at Global Celebration in Orlando. He attributes his success to having a great work ethic and building a solid foundation of support for his growing team.
"I had a huge goal to be the first Isagenix Millionaire in Europe. Now people can see this opportunity is real! Now they can see it's anyone's game. Anyone can do this. Anything is possible. If I can do it, everybody can do it!"