Sixteen years ago, Isagenix Owners Jim and Kathy Coover took a leap of faith on a vision to impact world health and free people from physical and financial pain. Now, that vision is shared globally, capturing the passions of nearly 600,000 health-conscious individuals in 15 markets who are living their dream lives thanks to better overall health.
Our goal of transforming lives extends to the community, as well. With your help, we have raised more than $9 million in 12 countries for Make-A-Wish® since 2012, helping the organization grant 938 wishes to children suffering with critical illnesses. In addition to our work with Make-A-Wish, we provide nutrition to those in need. In 2017, Isagenix donated nearly $4 million in products to food kitchens serving the disadvantaged and disaster relief efforts for victims of Hurricane Harvey, Hurricane Irma, Hurricane Maria, and the earthquake in Mexico.
Our passion for health includes protecting the planet. Over the past few years, we have ramped up our efforts to reduce our carbon footprint, starting with our global headquarters. Our LEED-certified building is now outfitted with solar panels which can provide approximately one third of our power needs. We have eliminated 25,000 plastic water bottles annually by providing water stations at our corporate office and events. We have reduced our overall paper usage by 40 percent, saving more than 100 tons of paper annually. Just in time for Earth Day, we will unveil more exciting sustainability initiatives next month, so stay tuned!
As we continue to grow and evolve, so will the Isagenix brand. With the introduction of the IsaLife™ app earlier this year and our upcoming rebrand in August, exciting things are on the horizon!

"Today's celebration is for our global employees and Customers who have made Isagenix a household name," Kathy Coover said. "Without everyone working together as One Team to fulfill a bigger vision, we would not be celebrating 16 years in the health and wellness business. Thank you all for embracing our vision! We're excited to see where the next 16 years take us."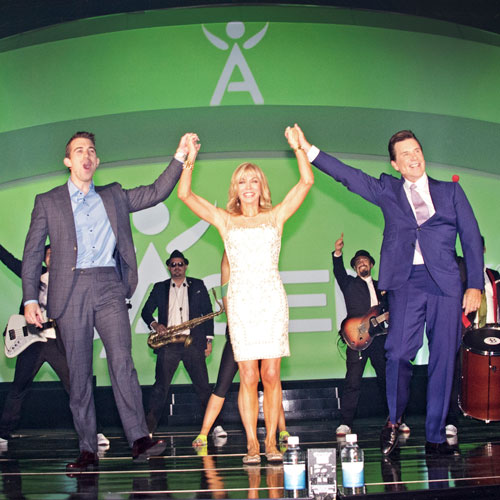 Together #WeAreIsagenix.