Kathy Coover: Achieving Your Goals in 2018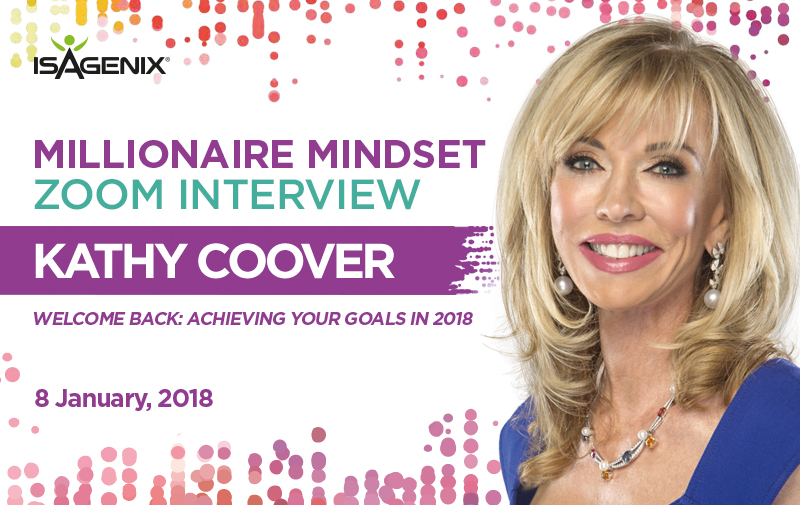 On Monday 18 December Warren and Arlene Lance took us through Building Isagenix Culture and Community in your team.
They discussed why you need to find the right people to build a strong and supportive community, and the importance of 'igniting interest' and building passion. They showed us the importance of showing up to events, not only to reignite your own passion but to show your team how powerful and supportive Isagenix is as larger community.
Millionaire* Mindset with Kathy Coover
On 8 January Isagenix Co-Founder and Executive Vice President Kathy Coover will share her extensive knowledge and experience with us, including her reasons for creating the 90-Day Action Plan.
Kathy originally left her career as a dental hygienist to spend more time with her family. When she then discovered network marketing as a way to earn extra income and contribute to the lives of others Kathy found how talented she was at the profession. She soon became a top earner in three separate network marketing companies, and went on to generate millions in income and help tens of thousands of entrepreneurs achieve success in both their professional and personal lives.
Remaining focused on her aspirations to positively impact the lives of others, Kathy joined her husband, Jim, and together they co-founded Isagenix. They set out to build a network marketing company that would be different than all the rest, founded on integrity, passion, and collaboration. Kathy is a nationally recognized and respected leader who has translated her personal successes into training and support systems that have helped create physical and financial freedom for countless Isagenix Associates.
Kathy Coover on Achieving your Goals in 2018
The 90-Day Action Plan was originally created by Kathy Coover to give business associates a structure and way of creating a plan of action. Take the opportunity to learn about one the business' most successful tools from the creators mouth.
It is a brand new Year and it's important to keep the momentum flowing. Kathy will tell us how to keep building our business' and how to show others to keep building their business' without suffering the January blues and that traditional dip in energy. She will also discuss the importance of measurable outcomes and how they make you accountable in achieving your goals.
Date: Monday 8 January, 2018
Time: 8pm GMT
How to access: Simply create a free Zoom account, then follow this link. International numbers can be found here. You van also dial in using the following phone numbers: +1 646 558 8656 (US Toll) or +1 408 638 0968 (US Toll).
Please note: these Zoom details will be the same for each weekly Isagenix Millionaire Zoom Interview call. You can download and import the following iCalendar files to your calendar system by clicking here. Also please note that the time is 8pm GMT.
*Isagenix Millionaires are defined as Isagenix Associates who have cumulatively earned US$1 million or more with Isagenix. Earning levels for this Isagenix Independent Associate substantially exceed the average results achieved by all Associates during the same time periods and should not be construed as typical or average. Income level achievements depend on many factors, including the individual Associate's business and networking skills, personal ambition, time commitment, work habits and other abilities. For average earnings, please see the Isagenix Independent Associate Earnings Statement found at IsagenixEarnings.com.