Despite being active in his youth, the breakdown of Jonathan Bridges' marriage and a series of traumatic personal tragedies put his health on the back burner. He was self-employed and used to working very long hours which did nothing to help him maintain a healthy lifestyle. Jon mostly turned to convenient food options to get through the week, and this had started to take its toll on his wellbeing.
Jon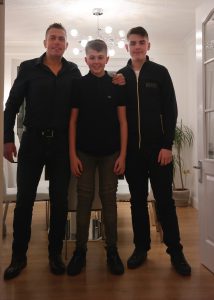 tried his best to attain a healthier lifestyle. He found that the result was the same each time. Everything was great at the start but he was never able follow through with the whole plan. This was until his friends from Australia introduced him to Isagenix. Even though his friends had said that this was a lifestyle change he was sure that it would be the same as everything else he had tried, he was however willing and ready to try anything at this point.
He found that the products provided results he was hoping for.  He was able to keep motivated as the energy he had experienced when he was younger slowly started to return. His lack of time to prepare meals was easily managed as he replaced meals with IsaLean™ Shakes which were convenient to prepare, he could have these on the go and still make sure he had a nutritional meal.
Jon first set very unrealistic goals due to his lack of experience. After speaking to his Isagenix friends, that he had met at different events and through Isagenix social media sites such as the European IsaBody Challenge Facebook group, he was able to not just set, but surpass his reasonable goals. Jon saw further weight management results when he decided to join the Isagenix IsaBody Challenge. The challenge helped him be accountable for his results and keep track of his health and wellness goals.
After some time, his results were visible. Friends and family who hadn't seen him for a while were commenting on his appearance. He was so confident that he booked a holiday with his two sons in full knowledge that he would have to wear swim wear during this time. He would have never even considered this before.
Jon's advice for someone starting to use Isagenix for the first time would be to just 'give it a go' but keep at it. If you're going to do a 30-day system, then you need to try it properly to see the fantastic results.
Jonathan Bridges is 46 years old and lives in Merseyside in the UK. Since joining the IsaBody challenge he has started to play tennis again and is currently training for a national endurance challenge that requires him to run for 10 miles through an assault course. He feels that he has reached his wellness goals and is now focusing on defining his muscle.
* The weight loss and lifestyle results depicted in this article may vary depending on level of effort, adherence to a controlled-calorie dietary regime, and physical constitution. The results were achieved when Isagenix products were included as part of a healthy lifestyle that incorporates regular exercise, appropriate portion control, and a varied and balanced diet to meet desired goals. Those who are pregnant, breastfeeding, or have a medical condition are advised to consult a doctor before using Isagenix products or making any other dietary changes.