Have you heard about the IsaBody Challenge®? This is the single most popular Isagenix programme worldwide and has helped thousands of people to become a version of themselves that they are proud to show off! Ask anyone who has taken part to tell you about the Challenge, and get ready for a whole load of positivity, passion and encouragement!
People join the IsaBody Challenge for many different reasons. Some are looking for a way to achieve their physical goals, or a way to stay motivated to maintain their good health. For others, it's the prizes and the chance to be the Grand Prize Winner that entices them to take part! Whatever your reason, the IsaBody Challenge is your opportunity to become the best version of you.
What Is the IsaBody Challenge? 
The IsaBody Challenge is a 16-week health and wellness challenge for Isagenix customers. We believe that transformations are possible for everybody, and together we inspire, we support, we reward and we exceed our goals. We challenge you to embrace your full potential: transform your body, transform your lifestyle. You can sign up here!
To help you stay motivated…
The Challenge acts as a built-in accountability system; providing you with a 16-week timeline to achieve your goals.
You and other participants will support each other and keep each other on track throughout your journey.
We provide a variety of social media tools to help keep you moving in the right direction.
What are the prizes?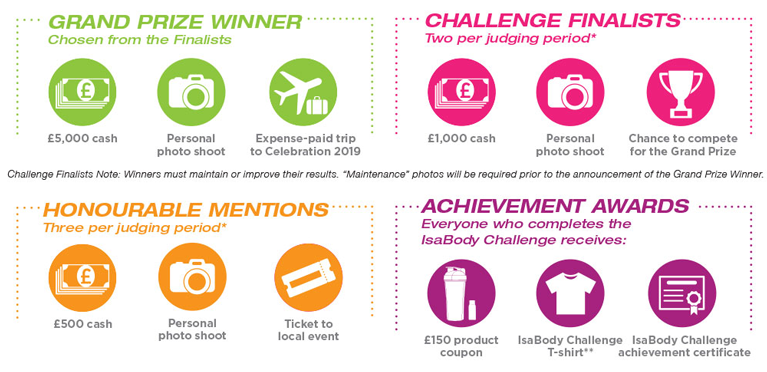 Will it help my business?
Many IsaBody participants say their Isagenix businesses improved after they shared their IsaBody stories on social media and through word of mouth. Sharing information about the Challenge is a great way to engage new customers with the products as they set their goals. In fact, our research shows 80 percent of those who successfully complete the Challenge are still with Isagenix a year after joining!
When can I start the IsaBody Challenge?!
You can sign up now! To take part in this judging period, you just need to have signed up by 18th July. All the details you need can be found here. Once you've signed up, don't forget to join the IsaBody Challenge UK Facebook group for motivational tips, support and to meet a community of people on a similar journey to you!
Want to know more? Watch the IsaBody Challenge video now!