A huge congratulations to Sam Edwards, our 2021 official IsaBody Grand Prize Winner! If you weren't on the Wellbeing Hour call, check out his reaction when he found out he'd won! If you'd like to see the whole call, you can watch the recording here.
How did Sam become our 2021 Grand Prize Winner? It's not just his impressive physical transformation, but his inspiring journey and the way that he completely turned his life around throughout his IsaBody Challenge. He's one seriously inspirational man!
Here's his reaction to being crowned Grand Prize Winner:
It's not often you see a scaffolder cry. Ever since I've been with Isagenix, the journey and the events have changed my life! I've worked so hard and I'm so proud and happy that all my hard work has been noticed. It means so much to me! I gave the IsaBody everything I have and then to be rewarded with £5000 is AMAZING. We're all over the moon! Well done to all the other finalists all your results were amazing. 
If you're thinking about joining the IsaBody Challenge, just do it! If you want to change your life and you want amazing people around you, Isagenix is where it's at. Anything is possible. The world is your oyster.
Here's his IsaBody Challenge journey: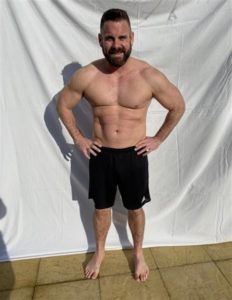 I started my IsaBody Challenge after a summer of overindulging with beer, BBQs, weekends away with too much ice cream and takeaways, and a 2-week all-inclusive holiday. I had so much fun, but I wasn't pressing my off switch, so with all this overindulging, my mood and energy was going downhill. My negative thoughts can spiral very fast when I'm not taking care of myself.
Enough was enough, I was ready to start afresh so I started my next challenge, and this time I went alcohol free and pushed my body to new limits. My body and mind started rewarding me after just a few days, I got my spark back, I had bounce in my step my family noticed the difference in me straight away!
Things seemed like they couldn't get better, but then AMPED Nitro was released, BOOM! My training went to the next level. I had so much more energy and the results were insane. Then AMPED Post-Workout was launched, and my recovery went from a few days, to being ready to train again the next day. I started setting myself physical challenges and I hit personal bests in every aspect of my training, I ran up the highest peaks around Bristol, I'm now lifting way more than my body weight!
The beauty of this system is that you can go on holiday and enjoy yourself but come back and get straight back into it to reach your peak again. I highly recommend this to anyone if you're feeling like you don't want to feel the way you do anymore. Do this 16-week challenge. You can make a change with this amazing system!
We'd like to say congratulations to everyone who entered IsaBody, and especially to our Finalists who were all such deserving winners in their own right.
Could you be our next winner? Everyone who completes the Challenge wins a £150/€165 product coupon, nine Finalists a year win £1000/€1100 and one Grand Prize Winner gets a whopping £5000/€5500! Sign up now via the Back Office or the IsaLife App.