Ingredient Breakdown: Celletoi Advanced Youth Serum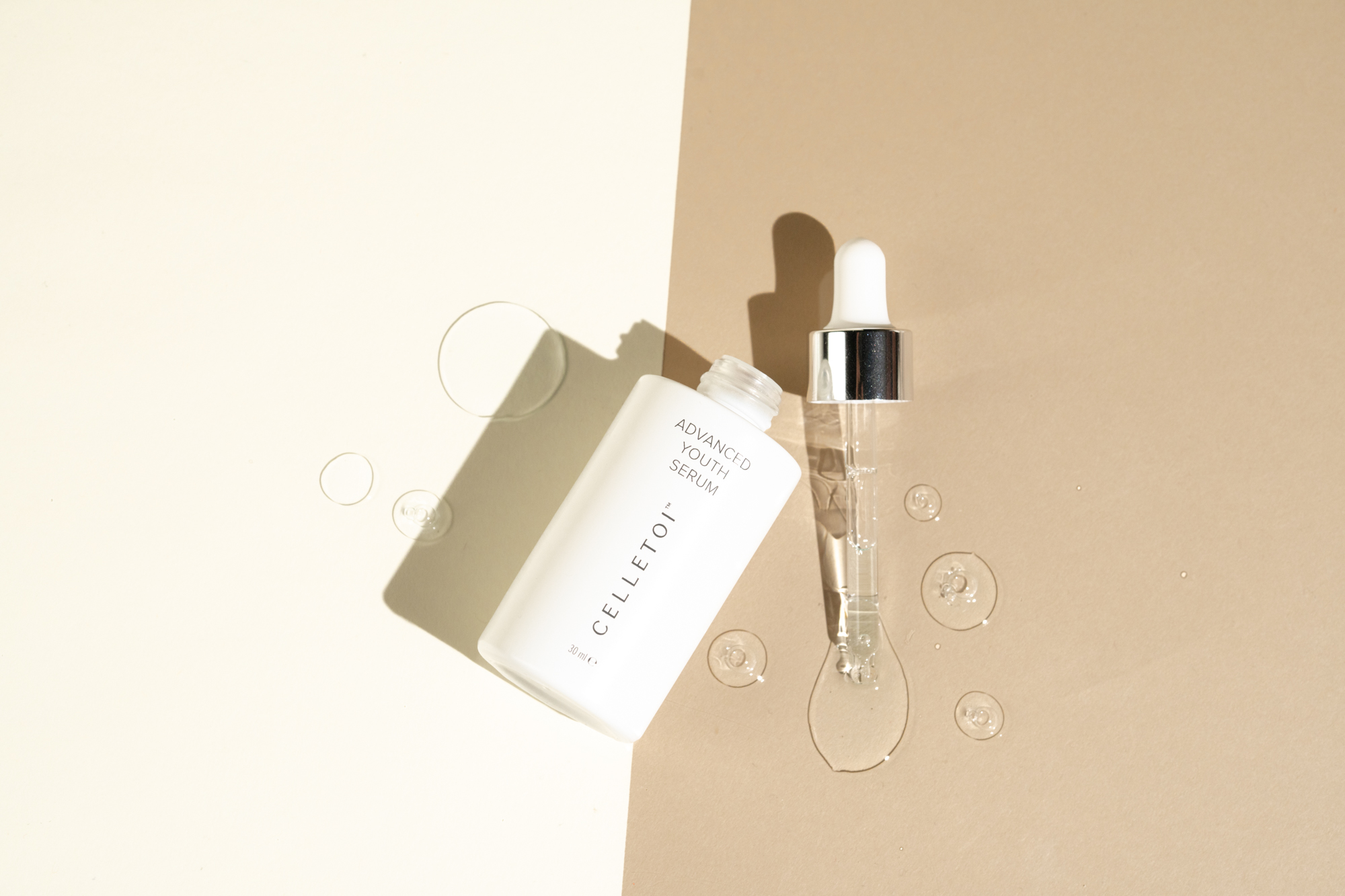 Learn what makes Celletoi Advanced Youth Serum the product that no skincare routine should ever be without in this complete ingredient-by-ingredient breakdown.
Ceraposome™ with Plant-Based Stem Cells
Celletoi enhances the delivery of key ingredients using state-of-the-art Ceraposome Technology. This innovative approach ensures nourishment reaches the underlying skin cells by decreasing the density of the microencapsulated active ingredients using ceramides and lecithin. These two ingredients create a smoothly consistent, nano-emulsified formula that enhances active ingredient delivery to the skin layers.
Celletoi's plant-based stem cells are derived from two coastal plants: Sea Fennel (Crithmum Maritimum) and Sea Holly (Eryngium Maritimum). The stem cells are extracted from freeze-dried plants to ensure that cell membranes remain intact. Sea Fennel reduces the appearance of fine lines and wrinkles and softens the skin without the photosensitivity and skin irritation that synthetic retinol often causes. Sea Holly contains lipids, amino acids, polyols, polyphenols and water-soluble sugars – a winning combination for enhancing the skin's radiance and luminosity.
Ceraposome Nano-Emulsifying Ingredients: Ceramide NP and hydrogenated lecithin
Plant-Based Stem Cells: Crithmum maritimum callus culture filtrate and Eryngium maritimum callus culture filtrate
Celletoi Peptide Blend™
The Isagenix Celletoi Peptide Blend moisturises and replenishes your skin with plant-derived peptides that work in synergy with your skin to reduce the appearance of wrinkles, make pores less visible, and provide a firmer, more lifted appearance.
Peptide Ingredients: Palmitoyl tripeptide-5, palmitoyl tripeptide-1
Smoothing, Moisture-Boosting Ingredients: Glyceryl polymethacrylate, glycerin, propylene glycol
Celletoi BioFirm Complex™
BioFirm Complex is comprised of five concentrated growth factors with rejuvenating nutrients and snow algae to reveal irresistible firmness and youthful luminosity. BioFirm's growth factors are isolated from plants and safely created from biosynthesis using traditional Korean fermentation technology.
Swiss snow algae xanthophylls are a source of the antioxidant lutein that helps increase skin hydration. BioFirm Complex further enhances skin hydration with hyaluronic acid, a powerful water-binding substance found naturally in the skin, and acetyl glutamine, a building block for the body's hyaluronic acid production.
Sourced from traditional fermentation methods, vitamin B9 is a nourishing ingredient that helps to enhance the skin's overall quality and appearance. Together, these BioFirm Complex ingredients help to soften the look of emerging lines and wrinkles.
BioFirm Growth Factors: Sh-oligopeptide-1, sh-oligopeptide-2, oligopeptide-2, sh-polypeptide-1, sh-polypeptide-11, and sh-polypeptide-9
Swiss Snow Algae: Xanthophylls
Hyaluronic Acid Boosting Ingredients: Sodium hyaluronate, acetyl glutamine
Skin Smoothing Ingredients: Butylene glycol, caprylyl glycol, 1,2-hexanediol, maltodextrin
Fermentation-Derived Vitamin B9: Bacillus/folic acid ferment filtrate extract
Celletoi Botanical Blend™
Our Botanical Blend includes extracts from ginseng, green tea, thyme, rosemary, lavender, and liquorice root and is developed by applying solid fermentation and extraction methods to wild herbs and botanicals to maximise their purity and efficacy. This helps to improve overall skin health and promote a more youthful-looking radiance by soothing, nourishing, and shielding the skin from harmful environmental stressors.
Botanical Blend: Panax ginseng root extract, Camellia sinensis leaf extract, Thymus vulgaris (thyme) extract, Buddleja davidii extract, Rosmarinus officinalis (rosemary) extract, Lavandula angustifolia (lavender) flower/leaf/stem extract, Glycyrrhiza glabra (licorice) root extract
Elegant Fragrance from Natural Ingredients
Celletoi indulges the senses with a soft aroma from a subtly earthy bouquet of botanical ingredients. Chamomile and violet contribute light floral notes that blend with a peppery aroma from turmeric, herbaceous elements from rosemary, the earthy aroma of patchouli, and the warm woody fragrance of cedarwood.
Naturally Sourced Fragrance Ingredients: Anthemis nobilis (Roman chamomile) flower oil, Curcuma longa (turmeric) root extract, Rosmarinus officinalis (rosemary) leaf oil, Juniperus virginiana (cedarwood) oil, Pogostemon cablin (patchouli) oil, Viola odorata (violet) leaf extract
Balancing Hydration Your Skin Adores
Moisturising ingredients help the skin maintain hydration while softening and smoothing the skin's surface for a firmer appearance.
Advanced Youth Serum delivers balancing hydration with a blend of potent, botanically derived moisturisers and ingredients that soothe and protect skin in a lightweight, silky formula. Our botanically derived moisturisers include aloe vera to help soothe and hydrate and phytonutrient-rich chlorella extract to revitalise skin.
Botanically Derived Moisturisers: Aloe barbadensis flower extract, Ricinus Communis (castor) seed oil, Melia azadirachta (Neem) leaf and flower extracts, Chlorella Vulgaris extract, Coccinia indicia fruit extract, Copaifera Officinalis (Balsam Copaiba) resin, panthenol, pentylene glycol
Skin-Soothing Ingredients: Ocimum sanctum (holy basil) leaf extract, adenosine, fructooligosaccharides
Skin-Protecting Ingredients to Lock-In Moisture: Solanum melongena (eggplant) fruit extract, Corallina officinalis extract, xylitol, ethylhexylglycerin
Power-Boosting Ingredients You Can Feel
Although these ingredients are not in one of our potent proprietary blends, they help boost each formulation by ensuring key ingredients are evenly distributed and actively penetrate even the deepest layers of the skin for maximum benefits.
Effectiveness Boosting Ingredients: Glucose
Stabilising Ingredients: Origanum vulgare (oregano) flower/leaf/stem extract, citric acid, sodium phytate, sodium citrate, polyglyceryl-10 laurate
After you cleanse your skin, be sure to give it the nutrition and radiance it deserves with Celletoi Advanced Youth Serum.