How our 2022 Grand Prize Winner achieved her results!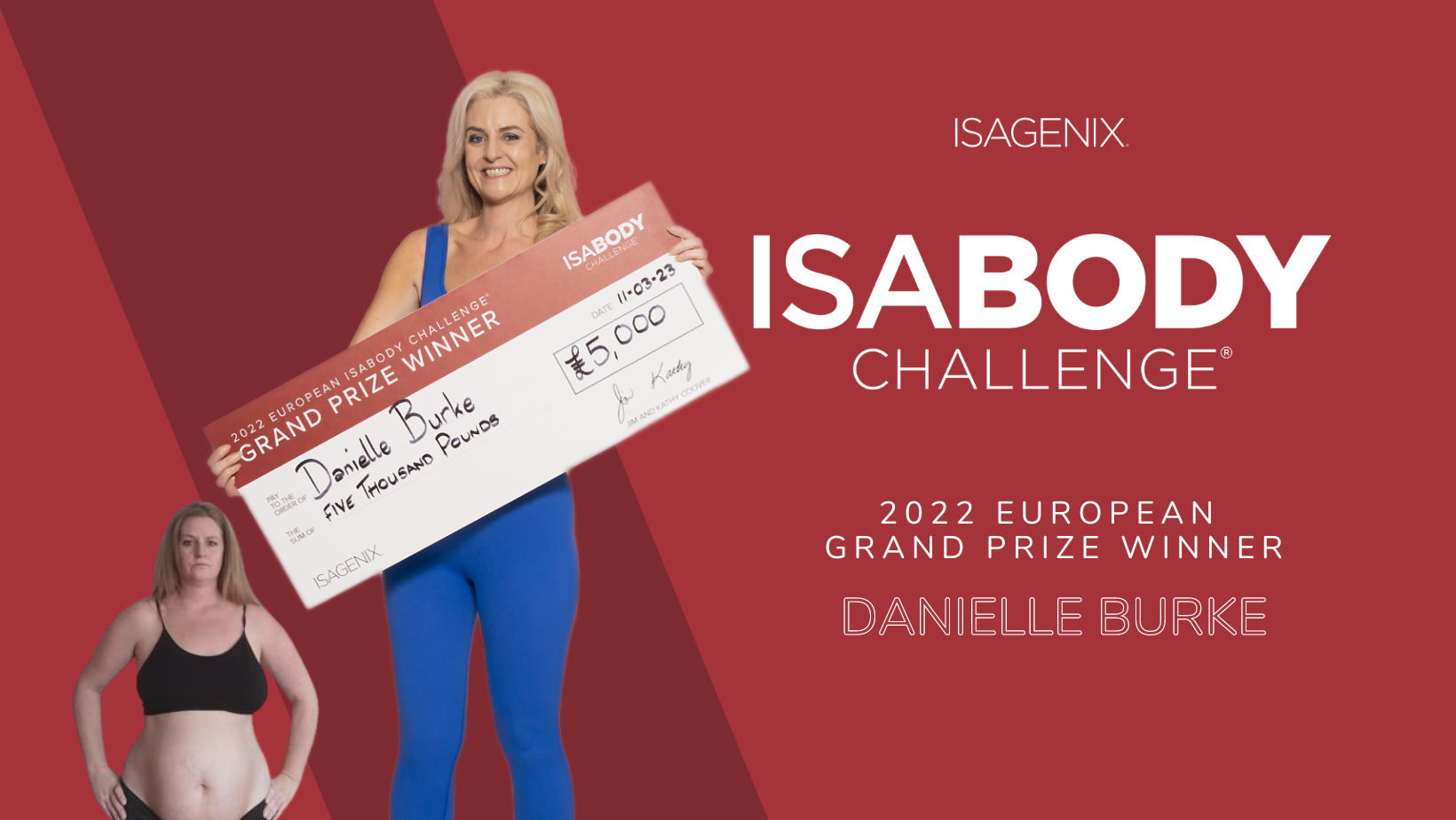 Danielle Burke has been named our European IsaBody Challenge Grand Prize Winner 2022. Her story isn't just one about weight loss, it's also about a whole life transformation and finding a solution that's maintainable.
Danielle, who has lost four stone/25.4kg since the start of her IsaBody journey, was over the moon when she found out she'd won this prestigious title, "It means the world to me. When I entered, I never thought I'd have any chance of winning so I just feel like I've come such a long way from the person that I was. This really does mean so much! Thank you to everyone who supported me."
As the Grand Prize Winner, Danielle will also receive a £5,000 prize, which she says will be spent enjoying time with her family, "I'm going to take my children on our first family holiday. Somewhere hot for sure!"
She shares that the challenge helped to keep her accountable and says having a target in mind really helped to spur her on, even on the tough days. "The IsaBody Challenge will make you push yourself that bit harder, it keeps you accountable and if you've got a target, you're less likely to quit. For anyone that's thinking about entering one – just do it!"
After giving birth to her daughter, Danielle Burke was at a low point in her life.

"I was the biggest I'd ever been, I was miserable and I had no confidence whatsoever. People thought I was still pregnant which was really affecting my day-to-day life and I just wanted to hide away from the world. A friend I used to go to school with was using the Isagenix system and posting on Facebook about it so I got in touch with her. I bought my pack and started the IsaBody Challenge in January."

Very quickly, Danielle's energy levels were through the roof. "I started sleeping properly again and my digestion was working effectively for the first time in forever. The weight was just melting off me!"

"After just a couple of weeks I got into a skirt I hadn't worn in ages. I put a post on Facebook and people started to message me about what I was doing. I had two of my friends already doing the program with me for support and from this point people really started noticing the change in me."

Danielle started to start enjoying her life again, "I started making plans with people again whereas before I used to avoid seeing people, I didn't want to be seen at all. Everyone was saying "Wow Danielle, what are you doing?! You seem brighter, you seem happier!", and I couldn't wait to tell them about it."

By the time Danielle had completed the IsaBody Challenge she had reached the rank of Director, simply by sharing Isagenix with other people along the way.

"It was really unexpected and just took off. I didn't go into this to make a business out of it, I just wanted to feel better and lose weight but it has changed my life on so many levels. I've bought a whole new wardrobe, I won a trip to Ibiza for the IsaRally competition and I've since gone on to build a business with Isagenix and become an Executive.

"I love every single product but my favourites are IsaLean Shakes, Ionix and Nourish for Life but I really love Celletoi skincare.

"The IsaBody Challenge really kept me accountable along the way. Sometimes when you lose weight you quickly go back to old habits but this really kept me on track and I learned to treat this as a lifestyle.

If you're thinking about getting started with Isagenix don't think about it, just do it. Just say yes and figure it out afterwards. What's not to love about something that is going to help you age healthily and earn extra income!"
Feeling inspired by Danielle's incredible transformational story?
If you'd like to start your own Challenge and be in with a chance of becoming one of our Finalists or even our next Grand Prize Winner, you can sign up through your Back Office or the IsaLife App. It's free to enter and you receive a £150/€165 product coupon just for successfully completing the challenge!