Helen Koi on Providing a Five Star Service to Create Loyal Customers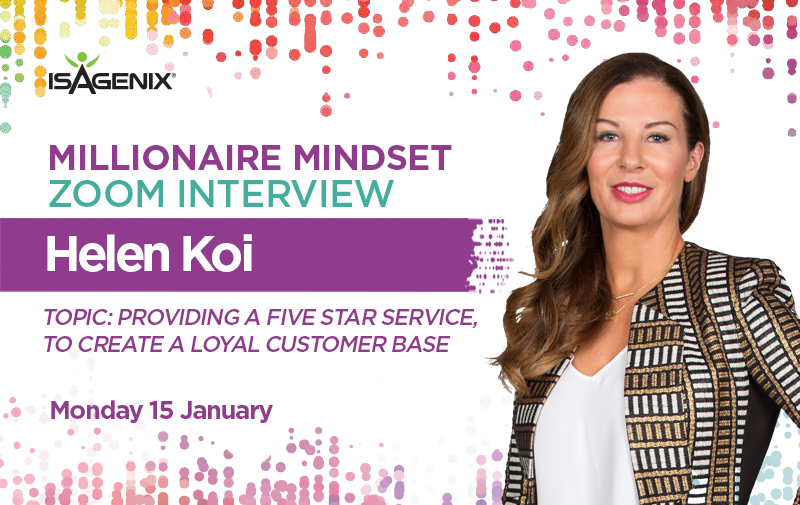 On Monday 8 January, we kicked off the year's Millionaire mindset Zoom calls with the one and only Co-Founder and Executive Vice President, Kathy Coover, who talked us through Achieving Goals in 2018.
She discussed and instructed us on the importance of being productive. Kathy showed us how doubling your income goals for the year is more than just a pipe dream with the support of your Isagenix team members and wider Isagenix Family.
Millionaire* Mindset with Helen Koi
On 15 January Isagenix Millionaire, 8-Star Platinum, 2-Star Executive Helen Koi will take us through providing a five star service to create loyal Customers.
With over 20 years' experience in management and business development and 15 years in the Health and Beauty industry, Helen brings a passion for helping others to the team. She has a vast record of showing associates how to grow their business with Isagenix.
In two years, she has managed to reach her own personal goals. She's been able to help her husband retire through her work building her Isagenix business. Helen considers herself a citizen of the world, having lived and worked in over eight countries and travelled to many more.
Helen Koi, on Providing a Five Star Service to Create Loyal Customers
Helen Koi will share the wealth of knowledge she has gained while building her extensive network. Helen will tell us how this creates loyalty and customers who become long term business builders and quality members of the team, and she'll show us how customers keep coming if you treat them as part of the Isagenix family, just as they deserve.
Date: Monday 15 January, 2018
Time: 8pm GMT
How to access: Simply create a free Zoom account, then follow this link. International numbers can be found here. You van also dial in using the following phone numbers: +1 646 558 8656 (US Toll) or +1 408 638 0968 (US Toll).
Please note: these Zoom details will be the same for each weekly Isagenix Millionaire Zoom Interview call. You can download and import the following iCalendar files to your calendar system by clicking here. Also please note that the time is 8pm GMT.
Rank as of 12/01/2018.
*Isagenix Millionaires are defined as Isagenix Associates who have cumulatively earned US$1 million or more with Isagenix. Earning levels for this Isagenix Independent Associate substantially exceed the average results achieved by all Associates during the same time periods and should not be construed as typical or average. Income level achievements depend on many factors, including the individual Associate's business and networking skills, personal ambition, time commitment, work habits and other abilities. For average earnings, please see the Isagenix Independent Associate Earnings Statement found at IsagenixEarnings.com