Global Celebration 2018: Will You Be Recognised?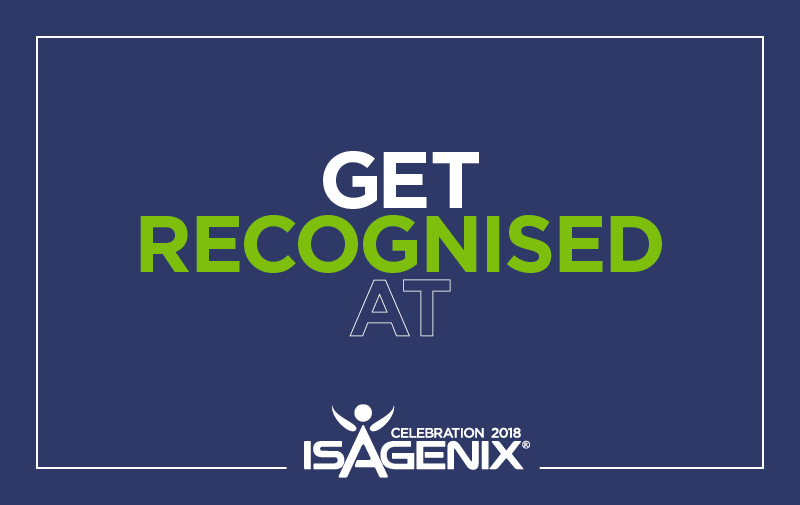 This August, we're headed to Nashville, Tennessee, where we will host our biggest event of the year – Global Celebration 2018! Each year, at this incredible event, we take the opportunity to recognise Associates from around the world who have exemplified the Isagenix mission and who have reached remarkable milestones in their businesses.
We can't wait for you to join us for these unforgettable moments and hope to be recognising YOU for one of these extraordinary achievements! You still have several months to qualify, so now is the time to push yourself and your team to reach the next level!
Your Ticket Onstage
There are several ways to earn your spot onstage at this year's Global Celebration where we will be recognising our newest Legacy Club members, Annual Income Earners, new START 1000 members, and our incredible 100-Pound Club members. One of the most anticipated segments of the year will take place as well – when Isagenix Owners Jim and Kathy Coover announce our 2018 IsaBody Challenge® Finalists, Runner-Up, and Grand Prize Winner.
Learn how to qualify.
Earn Your Way to Private Receptions & Meetings
Here are some of the fabulous receptions and meetings we have planned for Global Celebration 2018, so keep working hard to make sure you and your teams are on the list to attend. There's still plenty of time to qualify, so keep the momentum going!
Leadership Meeting: Celebration attendees who are Director and above are invited to attend this in-depth leadership and network marketing training. This powerful event is FREE to qualifiers with their Celebration ticket. (Sunday 5 Aug)
100-Pound Club Reception: All members with a Celebration ticket who have released 100 pounds or more using Isagenix products will be invited to this private reception. Members can bring a guest to the reception and must RSVP by 1 July 2018.
Crystal Executive Reception: This is a special event to honour all businesses that reach Crystal Executive for the first time between July 2017 and May 2018. All qualifiers will receive two tickets to this exclusive evening of dancing, celebration, and fun! Plus, team members can come cheer on their Crystal Executives by purchasing tickets in their Back Office. (Sunday 5 Aug)
IsaBody™ Reception: This reception is open to all current and past IsaBody Finalists, globally, in attendance at Celebration. Each finalist can bring one guest to the reception. You must RSVP by 1 July 2018. (Sunday 5 Aug)
Team Isagenix Reception: This reception is exclusive to all Team Isagenix athletes with a Global Celebration ticket. Each athlete can bring one guest to the reception. (Sunday 5 Aug)
START Party: This annual party celebrates the accomplishments of our START members who have achieved the status of Executive or above by 15 July 2018. (Sunday 5 Aug)
Global Top 100 Reception: Earn your spot at this private event where we honor our Top 100 Income Earners from June 2017-May 2018. (Monday 6 Aug)
Learn more about these receptions and meetings.
2018 Gala Awards
You won't want to miss our premier recognition night of the year, the 2018 Gala Awards! We'll be rolling out the green carpet to celebrate some of our most respected leaders from around the world. This phenomenal evening will include exciting announcements, entertainment, and success stories as we celebrate together as #OneTeam. Don't forget this star-studded evening is open to all Associates with a Celebration ticket! (Monday 6 Aug)
Learn how to qualify.
How YOU Can Qualify
Being recognised onstage at Celebration is an experience unlike any other, and it's something our incredible leaders never forget. Discover how YOU can get recognised and receive an experience of a lifetime. We'll see you this August at Celebration!
Don't have your Celebration ticket? Head to IsagenixEvents.com. See you in Nashville!