Get Ready to Qualify for the Global Top Achievers!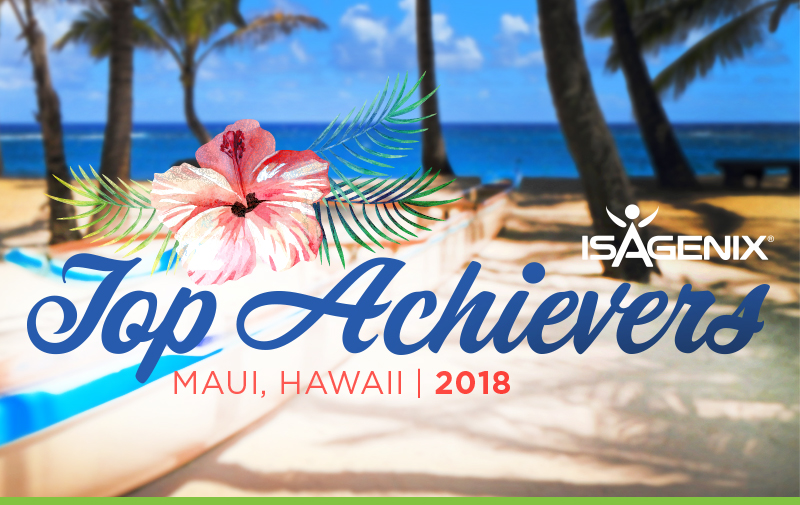 How would you like to join an elite group of our most passionate and hardworking Associates for the experience of a lifetime? Each year, our most dedicated business builders receive an invitation from Isagenix Co-Founders Jim and Kathy Coover to join them at one of our most exclusive business training events of the year: Top Achievers.
Even more excitingly, Top Achievers is now going global! Earlier this year, we announced the destination for Global Top Achievers as Maui, Hawaii and we can't imagine a better place to celebrate your extraordinary achievements.
During their time on this beautiful island, leaders from each market will get the opportunity to learn about new and upcoming products, network with fellow front-runners in the industry and enjoy influential business training from Isagenix top leaders and the Executive team.
It's not too late to get started. You still have six months to qualify, so keep reading to find out how you can join us in Hawaii in 2018!
Want To Be One Of The UK's First-Ever Top Achievers?
The qualification period began on 1 March 2017, so all of your hard work these last few months has already jump-started you to success! Be sure to check out our NEW criteria and start earning your invitation to this incredible event today.
One of the key Top Achievers objectives for the UK is the 3-Star Golden Circle requirement in Luxury Level II! Some of our UK Associates have already achieved this wonderful incentive and we still have many in the running for Luxury Level I. Keep up the momentum of growth in your team so you don't miss out on this amazing contest!
The 2018 Global Top Achievers qualification period runs from March 2017 to February 2018, and we've developed leaderboards to easily track your progress throughout the year. Head to your Associate Back Office under Contests & Promotions for full details and to see who is currently in the running! We can't wait to see you there!