Everything to know about Nourish for Life Peach Mango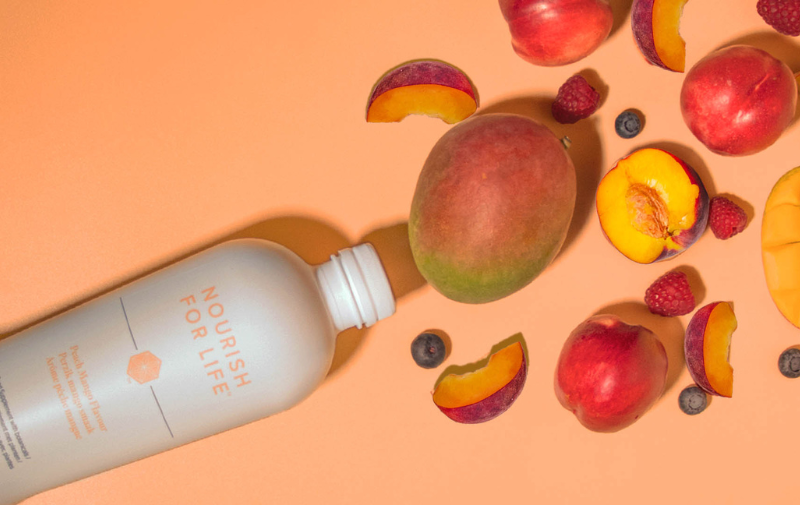 Nourish for Life™ is one of our best-selling products, and a key part of our Cleanse Day schedule. But variety is the spice of life and so we're so excited to launch our much-loved Peach Mango flavour… in liquid form!
If you're wondering what ingredients we've used in Nourish for Life and how they can benefit you and your Cleanse Days, then look no further! Whether you're looking to include Nourish for Life in your daily routine, or adding Cleanse Days into your wellbeing routine, here's how you can benefit from these ingredients in our new product…
B Vitamins
In each serving of Nourish for Life you'll find some of the essential B vitamins – like niacin, vitamin B6 and vitamin B12. These vitamins play an important role in metabolising proteins, fats and carbohydrates and converting the food we eat into energy. These vitamins also support the body's normal antioxidant and detoxification systems.
You'll also find other ingredients like choline and inositol – these are closely related to B vitamins and also help to support normal metabolic and liver function.
Botanicals
The blend of botanicals in Nourish for Life really make this product one of a kind. We've included a variety of ingredients with traditional uses that range from soothing the digestive system to supporting the body's natural detoxification system. Some of the botanicals you'll find in Nourish for Life include aloe vera, ashwagandha and Siberian ginseng.
We've used aloe vera leaf, not to be confused with the outer part of the plant known for being a laxative. This part of the plant contains polysaccharides which is known for its role in digestive health benefits.
Ashwagandha is an ancient Ayurvedic herb that has many traditional and modern uses. We've used the root of the plant where you'll find many of the key components known as withanolides that are responsible for ashwagandha's benefits. Ashwagandha has been traditionally used support stress, improve energy and overall wellbeing.
Siberian ginseng, also known as eleuthero, has been used in China for more than 2000 years and is used in traditional Chinese medicine to support stress and physical endurance. The root of the plant became popular after the former Soviet Union begun to include it in its space and sport programs.
Functional flavours and colours
We don't use any artificial flavours, colours or sweeteners in any of our Isagenix products, which includes Nourish for Life Peach Mango! Fruits like ike bilberry and raspberry bring their colour and flavour, along with their array of essential nutrients and phytonutrients. Peppermint and fennel also add subtle hints of flavour, but are also well known for their soothing support for the digestive system.
Getting to know each of these ingredients explains why we recommend Nourish for Life on your Cleanse Days. Cleanse Days are so much more than skipping meals – it's about nourishing your body with these botanical and nutrients it to support you while you're fasting.
Alles wat je moet weten over Nourish for Life Perzik Mango
Nourish for Life™ is een van onze best verkopende producten, en een belangrijk onderdeel van ons Cleanse Day schema. Maar variatie is de specerij van het leven en dus zijn we zo enthousiast om onze geliefde Perzik Mango smaak te lanceren… in vloeibare vorm!
Als jij je afvraagt welke ingrediënten we hebben gebruikt in Nourish for Life en hoe ze jou en je Detoxdagen kunnen helpen, zoek dan niet verder! Of je nu Nourish for Life in je dagelijkse routine wilt opnemen of Detox dagen aan je welzijnsroutine wilt toevoegen, hier is hoe je kunt profiteren van deze ingrediënten in ons nieuwe product …
B-vitamines
In elke portie Nourish for Life vind je enkele van de essentiële B-vitamines – zoals niacine, vitamine B6 en vitamine B12. Deze vitamines spelen een belangrijke rol bij het metaboliseren van eiwitten, vetten en koolhydraten en het omzetten van het voedsel dat we eten in energie. Deze vitamines ondersteunen ook de normale antioxidant- en ontgiftingssystemen van het lichaam.
Je vindt ook andere ingrediënten zoals choline en inositol – deze zijn nauw verwant aan B-vitamines en helpen ook de normale stofwisseling en leverfunctie te ondersteunen.
Botanicals
De mix van plantaardige ingrediënten in Nourish for Life maakt dit product echt uniek. We hebben een verscheidenheid aan ingrediënten toegevoegd met traditionele toepassingen die variëren van het kalmeren van het spijsverteringssysteem tot het ondersteunen van het natuurlijke ontgiftingssysteem van het lichaam. Enkele van de plantaardige ingrediënten die je in Nourish for Life vindt, zijn aloë vera, ashwagandha en Siberische ginseng.
We hebben aloë vera blad gebruikt, niet te verwarren met het buitenste deel van de plant dat bekend staat als een laxeermiddel. Dit deel van de plant bevat polysacchariden die bekend staan om hun rol bij de voordelen voor de spijsvertering.
Ashwagandha is een oud Ayurvedisch kruid dat veel traditionele en moderne toepassingen heeft. We hebben de wortel van de plant gebruikt, waar je veel van de belangrijkste componenten vindt, bekend als withanolides, die verantwoordelijk zijn voor de voordelen van ashwagandha. Ashwagandha wordt van oudsher gebruikt ter ondersteuning tegen stress, verbetering van energie en algemeen welzijn.
Siberische ginseng, ook bekend als eleuthero, wordt al meer dan 2000 jaar in China gebruikt en wordt gebruikt in de traditionele Chinese geneeskunde om stress te verminderen en het fysiek uithoudingsvermogen te ondersteunen. De wortel van de plant werd populair nadat de voormalige Sovjet-Unie deze begon op te nemen in zijn sportprogramma's.
Functionele smaken en kleuren
We gebruiken geen kunstmatige smaakstoffen, kleuren of zoetstoffen in onze Isagenix-producten, waaronder Nourish for Life Perzik Mango! Samen met de natuurlijke smaken die we hebben toegevoegd, om je de perzik-mangosmaak te geven waar je dol op bent, we hebben dit gecombineerd met andere functionele smaken zoals bosbessen en frambozen. Deze vruchten brengen hun kleur en smaak samen met hun reeks essentiële voedingsstoffen en fytonutriënten. Pepermunt en venkel voegen ook subtiele smaaktonen toe, maar staan ook bekend om hun kalmerende ondersteuning van het spijsverteringsstelsel.
Het leren kennen van elk van deze ingrediënten legt uit waarom we Nourish for Life aanbevelen op je Detoxdagen. Detoxdagen zijn zoveel meer dan het overslaan van maaltijden – het gaat erom je lichaam te voeden met deze plantaardige voedingsstoffen om je te ondersteunen tijdens het vasten.
Alles, was Sie über Nourish for Life Pfirsich-Mango wissen müssen
Nourish for Life™ ist eines unserer meistverkauften Produkte und ein wichtiger Bestandteil unseres Cleanse Day-Programms. Aber Abwechslung ist die Würze des Lebens und so freuen wir uns, unseren beliebten Pfirsich-Mango-Geschmack in flüssiger Form auf den Markt zu bringen!
Wenn Sie sich fragen, welche Inhaltsstoffe wir in Nourish for Life gepackt haben und wie diese für Sie und Ihre Cleanse Days hilfreich sein können, dann werden Sie hier die Antworten finden! Ganz egal, ob Sie Nourish for Life in Ihre tägliche Routine aufnehmen oder Ihr Wohlfühlprogramm mit Cleanse Days erweitern möchten – hier erfahren Sie, wie Sie von den Inhaltsstoffen in unserem neuen Produkt profitieren können…
B-Vitamine
In jeder Portion Nourish for Life sind einige der wichtigsten B-Vitamine enthalten: Niacin, Vitamin B6 und Vitamin B12. Diese Vitamine spielen eine wichtige Rolle bei der Verstoffwechselung von Proteinen, Fetten und Kohlenhydraten und bei der Umwandlung unserer Nahrung in Energie. Außerdem unterstützen diese Vitamine das normale Antioxidations- und Entgiftungssystem unseres Körpers.
Weitere Inhaltsstoffe sind Cholin und Inosit. Diese sind eng mit den B-Vitaminen verwandt und unterstützen ebenfalls die normale Stoffwechsel- und Leberfunktion.
Pflanzliche Extrakte
Die Mischung aus pflanzlichen Extrakten, oder "Botanicals", in Nourish for Life macht dieses Produkt wirklich einzigartig. Wir verwenden eine Vielzahl von Inhaltsstoffen mit traditionellen Anwendungsgebieten, von der Beruhigung des Verdauungssystems bis zur Unterstützung des natürlichen Entgiftungssystems des Körpers. Zu den pflanzlichen Extrakten, die Sie in Nourish for Life finden, gehören unter anderem Aloe Vera, Ashwagandha oder Schlafbeere, und Sibirischer Ginseng.
Allerdings verwenden wir das Blatt der Aloe-Vera-Pflanze und nicht den äußeren Teil, der als Abführmittel bekannt ist. Dieser Teil der Pflanze enthält Polysaccharide, die wichtig für eine gesunde Verdauung sind.
Ashwagandha ist eine alte ayurvedische Pflanze, die viele traditionelle und moderne Verwendungsmöglichkeiten bietet. Wir verwenden die Wurzel der Pflanze, in der viele der wichtigen Withanolide vorkommen, die für die Vorteile von Ashwagandha verantwortlich sind. Ashwagandha wird traditionell verwendet, um Stress abzubauen, die Energiespeicher zu füllen und das allgemeine Wohlbefinden zu steigern.
Sibirischer Ginseng, auch bekannt als Eleutherococcus senticosus oder Taigawurzel, wird in der traditionellen chinesischen Medizin seit mehr als 2000 Jahren verwendet, um bei Stress zu unterstützen und die körperliche Ausdauer zu verbessern. Die Wurzel der Pflanze wurde berühmt, nachdem die ehemalige Sowjetunion begonnen hatte, sie in ihren Weltraum- und Sportprogrammen zu verwenden.
Funktionelle Aromen und Farbstoffe
Wir verwenden in keinem unserer Isagenix-Produkte künstliche Aromen, Farbstoffe oder Süßstoffe, auch nicht in Nourish for Life Pfirsich-Mango! Neben den natürlichen Aromen, mit denen wir den leckeren Pfirsich-Mango-Geschmack kreieren, haben wir noch andere funktionelle Aromen wie Heidelbeere und Himbeere ergänzt. Diese Früchte bringen nicht nur ihre Farbe und ihren Geschmack mit, sondern auch eine Reihe von essentiellen Nährstoffen und Phytonährstoffen. Pfefferminze und Fenchel sorgen ebenfalls für subtile Geschmacksnuancen, sind aber auch für ihre beruhigende Wirkung auf das Verdauungssystem bekannt.
Wenn Sie jeden dieser Inhaltsstoffe kennen, verstehen Sie, warum wir Nourish for Life an Ihren Cleanse Days empfehlen. Cleanse Days, also "Reinigungstage", sind viel mehr als einfach Tage, an denen Mahlzeiten ausgelassen werden. Es geht darum, Ihrem Körper diese Pflanzenextrakte und Nährstoffe zuzuführen und ihn so während des Fastens zu unterstützen.