Dawn Ferrentino; Back by Popular Demand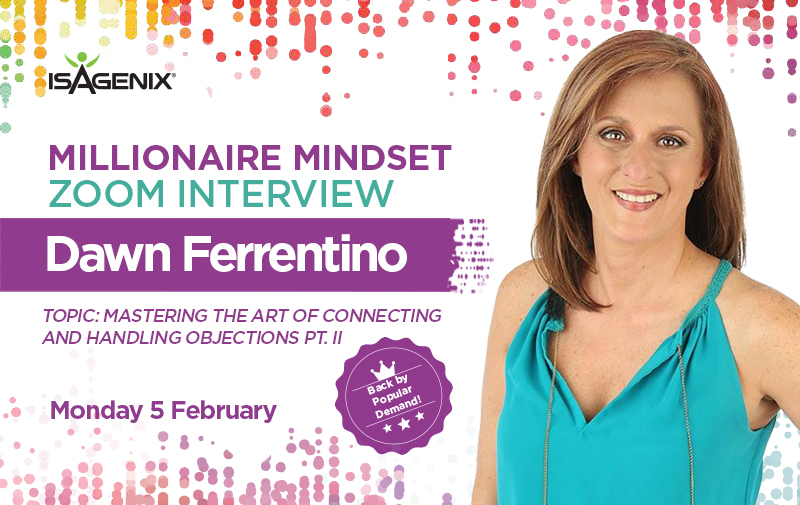 On Monday 29 January, 7-Star Golden Circle, 1-Star Executive Dawn Ferrentino took us through Mastering the Art of Connecting & Handling Objections. We are pleased to say that she is returning this week to give an extended insight into the same subject. Her knowledge of this subject is so extensive that we just didn't have time to cover everything last week, therefore she has returned by popular demand.
Last week Dawn who is a motivational speaker and upcoming author covered how she turned her rejections and "no's" into "yeses" and potential business. She tells us how the important thing when creating a lead is to make a connection, whether they initially want to know more about the product or not.
Millionaire* Mindset with Dawn Ferrentino
Dawn Ferrentino, is an Isagenix Millionaire who believes in being authentic and truly being interested in helping other people achieve their heath, wellness and financial goals.
She is a coach and mentor to her clients and her team and has featured on MLM Nation and other international podcasts. She regularly conducts conference calls and webinars in front of thousands of people across the world.
Dawn Ferrentino, on Mastering the Art of Connecting & Handling Objections (Part two)
On 5 February Dawn, in her extended training, will cover connecting with new prospects though exhibitions, and clearly presenting yourself properly to potential clients. She will tell us how she is able to make an average of 20 new prospects per week, and how you can too.
Mark your calendars and remember to share the dial-in details (listed below) with your teams so they don't miss a thing.
Date: Monday 5 February, 2018
Time: 8pm GMT
How to access: Simply create a free Zoom account, then follow this link. International numbers can be found here. You can also dial in using the following phone numbers: +1 646 558 8656 (US Toll) or +1 408 638 0968 (US Toll).
Please note: these Zoom details will be the same for each weekly Isagenix Millionaire Zoom Interview call. You can download and import the following iCalendar files to your calendar system by clicking here. Also please note that the time is 8pm GMT.
Rank as of 2/2/2018.
*Isagenix Millionaires are defined as Isagenix Associates who have cumulatively earned US$1 million or more with Isagenix. Earning levels for this Isagenix Independent Associate substantially exceed the average results achieved by all Associates during the same time periods and should not be construed as typical or average. Income level achievements depend on many factors, including the individual Associate's business and networking skills, personal ambition, time commitment, work habits and other abilities. For average earnings, please see the Isagenix Independent Associate Earnings Statement found at IsagenixEarnings.com