We are so excited to announce our four IsaBody Challenge®  Honourable Mentions who worked hard to transform their bodies and lifestyle and achieved great results!
These four participants will each receive £500/€550, a professional photoshoot as well as ticket to local events.
Amanda McCammon
Age: 41
Height: 1.60/5'2''
Location: Coventry, United Kingdom
Challenge Start Weight: 141.03 lbs / 64.10 kg
Challenge End Weight: 117.49 lbs / 53.40 kg
Weight Loss During Challenge: 23.54 lbs /10.70 kg *
Total Challenges Completed: 1
As a single mum of five kids, Amanda was living on very little sleep and was constantly tired. With no motivation and needing to nap between the school run, Amanda was reaching for junk food to get her through the day. "I had started to buy baggy tops and wore jeggings as jeans as I could never get a pair to fit. I weighed myself and was heavier than when I was pregnant. This really started to get me down and I knew I had to do something about it!"
After seeing a post on Facebook, Amanda felt she had found the solution she'd been praying for. "I was hesitant at the price but cut some things out and found a way to afford a 30-Day Program."
As soon as her pack arrived she entered the IsaBody Challenge to give her something to work towards. "I felt amazing. I'm now a lot less stressed, my children have noticed a difference and I'm not biting their heads off all the time."
Amanda is now focused on her next IsaBody Challenge where she hopes to improve her fitness in the gym. She is looking forward to the future with Isagenix. "I am looking forward to Christmas this year and haven't in such a long time. Knowing I can still enjoy it and then smash out a cleanse after**. Every day I wake up and feel my body thank me for such amazing nutrition."
Stuart Lloyd
Age: 42
Height: 1.85 / 6'00''
Location: Nuneaton,United Kingdom
Challenge Start Weight: 213.42 lbs / 97 kg
Challenge End Weight: 178.22 lbs / 81 kg
Weight Loss During Challenge: 35.2 lbs / 16 kg *
Total Challenges Completed: 1
With a decade of experience in the fitness industry and a degree in Sport and Exercise Sciences, Stuart was skeptical about Isagenix to begin with. "I was most sceptical about intermittent fasting with a nutritional cleanse ** as it went against several things I had learnt in the past."
After doing his due diligence on the company, Stuart committed to a Weight Management system. "I was unhappy with my weight and fitness levels. My 4-year-old son would wobble my tummy and told me I was fat and furry which was pivotal in me making a change."
"The thing that surprised me the most was the nutritional cleansing  **. I thought cleansing would be horrendous, but with the Nourish for LifeTM it was considerably easier than I was expecting."
"As I approached the end of my challenge getting changed in front of my son he told me that I had muscles which justified in a few words my decision to start the system."
Stuart's outlook on life has shifted significantly and he has no intention to return to the way he used to be. "I am keen to be the best role model for my young children. I have my self-respect back and for that I am very grateful. Thank you Isagenix for giving me the life I deserve!"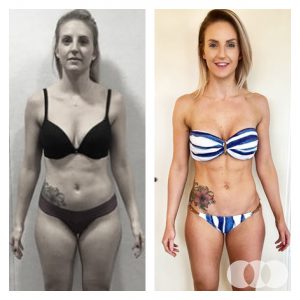 Rhianne M
Age: 30
Height: 1.78 / 5'8''
Location: Northampton,United Kingdom
Challenge Start Weight: 147.39 lbs / 66.99 kg
Challenge End Weight: 144.99 lbs / 65.90 kg
Weight Loss During Challenge: 2.4 lbs / 1.09 kg *
Total Challenges Completed: 1
Rhianne started with Isagenix in May 2017 when it first launched in the UK. "I was uncomfortable in my own skin, tired and lacked confidence in myself. I was so down about the state I'd let my body get into that I wasn't able to show myself any love, let alone anyone else."
Despite working hard in the gym, Rhianne wasn't seeing the results she wanted. When she started on the Isagenix system she began to experience the results for herself. "My weight was dropping, I had more energy and people started to tell me I was myself again. I was the happiest I'd been in a long time and I was enjoying my freedom. Having the confidence to be myself led me to end my relationship of four years. This however had a negative effect once it was done."
After her break up, Rhianne turned to food for comfort. "I was comfort eating in front of the TV most nights and just getting back into old habits, I'd hit rock bottom."
Then she attended an Isagenix event, UIA with David Wood. "I saw so many inspirational stories and I wanted to be on that stage so badly. It lit a fire in me. I set myself a goal and re-entered the IsaBody Challenge for a second time. It was November so I knew it would be a challenge with the holiday period approaching!"
Rhianne got to work and became a true product of the product and once again people started noticing. "I have the confidence to walk around the gym in a sports bra. I talk to people I don't know about ways that I can help them. I have learned that only by putting yourself first, and learning self-love can you truly then give yourself to others. I want to be an advocate for the IsaBody Challenge and help as many people as possible get through their struggles and come out on top! Thank you so much Isagenix for this incredible gift."
Kasia Den Dijker
Age: 32
Height: 1.80 / 5'9''
Location: Kapel-Avezaath,The Netherlands
Challenge Start Weight: 170.96 lbs / 77.70 kg
Challenge End Weight: 146.97 lbs / 66.80 kg
Weight Loss During Challenge: 23.99 lbs / 10.9 kg *
Total Challenges Completed: 1
Kasia had always lived an active lifestyle until she stopped dancing a few years ago. "I was never really conscious about my nutrition, but around the time my dance group stopped I changed my view on food forever. I became very aware of ingredients and started to value good quality food."
When a friend introduced Kasia to Isagenix she felt she had found the solution she had been looking for. "It had been a year-long search to find the right nutrition that made me feel good and helped me stay fit. After having my daughter last year, I found it very tough to take good care of myself. I had no energy left to work out or just walk outside with my daughter. I also skipped meals due to lack of time and had a very sweet tooth which led me to reach for sweets instead of preparing healthy meals."
Kasia got started on Isagenix and entered the IsaBody Challenge. The results soon started to show. "I was full of energy, and I wanted to exercise again. I also had more time for my daughter instead of spending hours in the kitchen."
"The IsaBody Challenge helped me to achieve my goals and to go for it and people have noticed the change in me. I hope to be a source of inspiration for others and show them that any goal can be achieved."
* The weight loss and lifestyles results depicted in this publication may vary depending on level of effort, adherence to a controlled-calorie dietary regime, and physical constitution. The results were achieved when Isagenix products were included as part of a healthy lifestyle that incorporates regular exercise, appropriate portion control, and a varied and balanced diet to meet desired goals. Those who are pregnant, breastfeeding, or have a medical condition are advised to consult a doctor before using Isagenix products or making any other dietary changes.
** Refers to a Cleanse Day. A Cleanse Day is a nutritionally supported fast that nourishes and energises your body's own detoxification systems. For further Cleanse Day information, visit Isagenix.com.