Collagen Elixir™ Ingredient Breakdown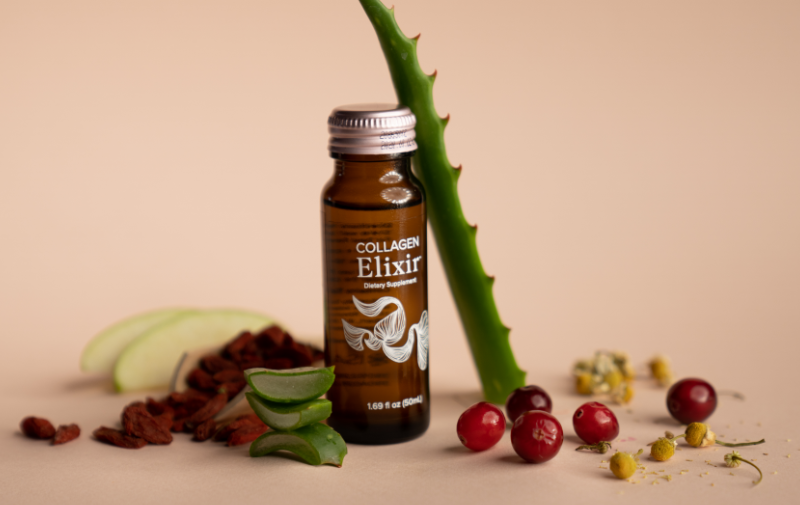 Collagen Elixir is made using marine collagen peptides, biotin, vitamin C, zinc, and other ancient botanicals to support healthy skin from the inside out. Let's dive deeper into these beauty–boosting ingredients!
Marine Collagen Blend 
This blend of collagen peptides comes from wild–caught, deep–sea fish, like cod, pollock, and haddock, that are naturally rich in type I collagen. This form of marine collagen contains the amino acids proline, glycine, and hydroxyproline that support the body's natural production of collagen and help promote healthy, hydrated skin (1).
A Blend of Superfruits and Botanicals 
Collagen Elixir contains a blend of botanical ingredients traditionally used for skin health, including goji and acerola berry extracts that are known for being rich in phytonutrients, aloe vera juice traditionally used for hydrating benefits, and chamomile extract powders which have been used for centuries for its soothing effect.
Nutrients for healthy hair, skin and nails
Vitamin C: Found naturally in citrus fruits, it's an antioxidant vitamin that supports your natural collagen production (2).
Zinc: A key mineral with a vital role in skin, hair, and nail health (2).
Biotin: A powerful vitamin that supports hair and skin health (2).
Great–Tasting Natural Flavour 
Apple juice concentrate: Made from filtered apple juice, apple juice concentrate has a mild flavour and colour, giving natural sweetness and a fruity flavour.
Natural flavours: We've only added flavourings that are found in nature, including cranberry, grape and sweet apple.
Stevia leaf extract: A South American herb that is naturally sweeter than sugar and provides no calories.
No–Compromise Quality: Good for You and the Planet  
Collagen Elixir is carefully formulated with our planet in mind and uses collagen derived from the skins and bones of wild–caught fish that would otherwise be discarded. Additionally, every bottle is made with 100% recyclable materials. Isagenix follows a no-compromise quality policy that ensures each product you receive has met the highest standards of manufacturing and quality assurance.
Are you ready to discover your glow? Find out more and order Collagen Elixir here.
References
Li P, Wu G. Roles of dietary glycine, proline, and hydroxyproline in collagen synthesis and animal growth. Amino Acids. 2018; 50:29–38

Biotin contributes to the maintenance of normal hair and skin. Vitamin C contributes to normal collagen formation for the normal function of skin. Zinc contributes to the maintenance of normal hair, nails and skin
Collagen Elixir™ Overzicht ingrediënten
Collagen Elixir is gemaakt met behulp van zeecollageenpeptiden, biotine, vitamine C, zink en andere eeuwenoude plantaardige stoffen om een gezonde huid van binnenuit te ondersteunen. Laten we eens wat dieper ingaan op deze schoonheidsbevorderende ingrediënten!
Zeecollageen mix
Dit mengsel van collageenpeptiden is afkomstig van in het wild gevangen diepzeevis, zoals kabeljauw, koolvis en schelvis, die van nature rijk zijn aan type I collageen. Deze vorm van zeecollageen bevat de aminozuren proline, glycine en hydroxyproline die de natuurlijke productie van collageen door het lichaam ondersteunen en een gezonde, gehydrateerde huid helpen bevorderen (1).
Een mix van supervruchten en planten
Collagen Elixir bevat een mix van botanische ingrediënten die traditioneel worden gebruikt voor de gezondheid van de huid, waaronder goji- en acerola-bessenextracten die bekend staan om hun rijkdom aan fytonutriënten, aloë vera-sap dat traditioneel wordt gebruikt voor hydraterende voordelen en kamille-extractpoeders die al eeuwenlang worden gebruikt voor hun verzachtende werking.
Voedingsstoffen voor gezond haar, huid en nagels
Vitamine C: Deze vitamine, die van nature in citrusvruchten voorkomt, is een antioxidant die de natuurlijke collageenproductie ondersteunt (2).
Zink: Een belangrijk mineraal met een vitale rol in de gezondheid van huid, haar en nagels (2).
Biotine: Een krachtige vitamine die de gezondheid van haar en huid ondersteunt (2).
Heerlijke natuurlijke smaak
Appelsapconcentraat: Appelsapconcentraat, gemaakt van gefilterd appelsap, heeft een milde smaak en kleur en zorgt voor een natuurlijke zoetheid en een fruitige smaak.
Natuurlijke smaken: We hebben alleen smaakstoffen toegevoegd die in de natuur voorkomen, waaronder cranberry, druif en zoete appel.
Extract van Steviabladeren: Een Zuid-Amerikaans kruid dat van nature zoeter is dan suiker en geen calorieën bevat.
Kwaliteit zonder compromissen: Goed voor u en de planeet 
Collagen Elixir is zorgvuldig samengesteld met onze planeet in gedachten en gebruikt collageen afkomstig van de huiden en graten van in het wild gevangen vis die anders zou worden weggegooid. Bovendien is elke fles gemaakt van 100% recycleerbare materialen. Isagenix volgt een kwaliteitsbeleid zonder compromissen dat ervoor zorgt dat elk product dat u ontvangt, voldoet aan de hoogste normen voor productie en kwaliteitsborging.
Bent u klaar om uw glans te ontdekken? Lees meer en bestel Collagen Elixir hier.
Referenties
Li P, Wu G. Roles of dietary glycine, proline, and hydroxyproline in collagen synthesis and animal growth. Amino Acids. 2018; 50:29–38

Biotine draagt bij tot de instandhouding van normaal haar en normale huid. Vitamine C draagt bij tot de normale collageenvorming voor de normale werking van de huid. Zink draagt bij tot de instandhouding van normaal haar, normale nagels en normale huid
Collagen Elixir™ Erläuterung der Inhaltsstoffe
Collagen Elixir wird aus Meereskollagenpeptiden, Biotin, Vitamin C, Zink und weiteren traditionellen Pflanzenwirkstoffen gewonnen, die gesunde Haut von innen heraus unterstützen. Lassen Sie uns einen genaueren Blick auf diese schönheitsfördernden Inhaltsstoffe werfen!
Meereskollagenmischung
Diese Mischung aus Kollagenpeptiden stammt aus wild gefangenen Tiefseefischen, wie Kabeljau, Seelachs und Schellfisch, die natürlich reich an Kollagen vom Typ I sind. Diese Form von Meereskollagen enthält die Aminosäuren Prolin, Glycin und Hydroxyprolin, die die natürliche Kollagenproduktion des Körpers unterstützen und eine gesunde, optimal mit Feuchtigkeit versorgte Haut fördern (1).
Eine Mischung aus hochwirksamen Fruchtextrakten und Pflanzenwirkstoffen
Collagen Elixir enthält eine Mischung aus pflanzlichen Inhaltsstoffen, die traditionell zur Förderung gesunder Haut eingesetzt werden, einschließlich Gojibeeren- und Acerolabeerenextrakte, die für ihren hohen Anteil an pflanzlichen Nährstoffen bekannt sind, Aloe Vera-Saft, der traditionell aufgrund seiner feuchtigkeitsspendenden Eigenschaften verwendet wird sowie Kamilleextraktpulver, das seit Jahrhunderten für seine beruhigende Wirkung bekannt ist.
Nährstoffe für gesundes Haar, gesunde Haut und gesunde Nägel
Vitamin C: Dieses antioxidativ wirksame Vitamin, das natürlich in Zitrusfrüchten vorkommt, unterstützt Ihre körpereigene Kollagenproduktion (2).
Zink: Ein wichtiger Mineralstoff, der für die Gesundheit von Haut, Haar und Nägeln eine bedeutende Rolle spielt (2).
Biotin: Ein hochwirksames Vitamin, das die Gesundheit von Haut und Haar unterstützt (2).
Köstlicher natürlicher Geschmack
Apfelsaftkonzentrat: Das aus gefiltertem Apfelsaft gewonnene Apfelsaftkonzentrat hat ein mildes Aroma und eine angenehme Farbe und schenkt natürliche Süße und fruchtigen Geschmack.
Natürliche Aromen: Wir haben ausschließlich Aromen aus der Natur verwendet, einschließlich Cranberry, Weintraube und süßer Apfel.
Extrakt aus Steviablättern: Dieses südamerikanische Kraut ist von Natur aus süßer als Zucker und enthält keine Kalorien.
Qualität ohne Kompromisse: Gut für Sie und unseren Planeten
Collagen Elixir wird sorgfältig mit Rücksicht auf unseren Planeten formuliert und verwendet Kollagen, das aus den Häuten und Knochen von wild gefangenen Fischen, die ansonsten entsorgt würden, gewonnen wird. Außerdem wird jede Flasche aus 100 % wiederverwertbaren Materialien hergestellt. Isagenix befolgt kompromisslose Qualitätsvorschriften, die dafür sorgen, dass jedes Produkt, das Sie erhalten, die höchsten Herstellungs- und Qualitätssicherungsstandards erfüllt.
Sind Sie bereit, Ihre Haut zum Strahlen zu bringen? Hier erfahren Sie mehr zu Collagen Elixir und gelangen zur Bestellseite.
Quellenangabe
Li P, Wu G. Roles of dietary glycine, proline, and hydroxyproline in collagen synthesis and animal growth. Amino Acids. 2018; 50:29–38

Biotin trägt zur Pflege normalen Haars und normaler Haut bei. Vitamin C trägt zur normalen Bildung von Kollagen für die normalen Hautfunktionen bei. Zink trägt zur Pflege normalen Haars, normaler Nägel und normaler Haut bei
Colágeno Elixir™ Desglose de los ingredientes
El colágeno Elixir se fabrica usando péptidos de colágeno marino, biotina, vitamina C, zinc y botánica antigua que contribuye a una piel sana desde dentro hacia fuera. Adentrémonos más en los ingredientes de este potenciador de belleza.
Mezcla de colágeno marino
Esta mezcla de péptidos de colágeno proviene de la pesca profunda y salvaje de bacalao, abadejo y merluza, naturalmente muy ricos en colágeno tipo I. Esta forma de colágeno marino contiene los aminoácidos prolina, glicina e hidroxiprolina, que contribuyen a la producción natural del colágeno del organismo y ayudan a promover una piel saludable e hidratada (1).
Una mezcla de superfrutas y productos botánicos
El colágeno Elixir contiene una mezcla de ingredientes botánicos tradicionalmente usados para la salud de la piel, goji y extractos de bayas de acerola, conocidos por ser ricos en fitonutrientes, jugo de aloe vera utilizado tradicionalmente por sus beneficios hidratantes y polvos de extracto de manzanilla, que se vienen utilizando desde hace siglos por su efecto calmante.
Nutrientes para la salud del pelo, la piel y las uñas
Vitamina C: Esta vitamina se encuentra naturalmente en los cítricos y es antioxidante, contribuyendo a la producción natural de colágeno (2).
Zinc: Un mineral fundamental con un papel clave en la salud de la piel, el pelo y las uñas (2).
Biotina: Una potente vitamina que contribuye a la salud del pelo y la piel (2).
Un rico sabor natural
Concentrado de zumo de manzana: Elaborado a partir del zumo de manzanas filtrado, el concentrado de este zumo tiene un sabor y un color suaves, dando un dulzor natural y un sabor afrutado.
Sabores naturales: Solo hemos añadido sabores que se encuentran en la naturaleza, incluyendo el de arándano, uva y manzana dulce.
Extracto de hoja de estevia: Esta hierba de América del Sur endulza más que el azúcar y no aporta calorías.
Calidad sin perjuicios: Bueno para ti y para el planeta 
El colágeno Elixir se formula cuidadosamente con nuestro planeta en mente y utiliza colágeno derivado de la piel y los huesos del pescado capturado en la naturaleza, que de otro modo serían descartados. Además, cada envase está fabricado con materiales 100 % reciclados. Isagenix sigue una política de calidad sin perjuicios, que garantiza que cada producto que recibes ha cumplido con los más altos estándares de fabricación y garantía de calidad.
¿Todo listo para descubrir tu resplandor? Descubre más y pide el colágeno Elixir aquí.
Referencias
Li, P. y Wu, G. El papel de la glicina dietética, la prolina y la hidroxiprolina en la síntesis del colágeno y del crecimiento animal. Aminoácidos. 2018; 50:29–38

La biotina contribuye al mantenimiento de un cabello y una piel normales. La vitamina C contribuye a la formación normal de colágeno para la función normal de la piel. El zinc contribuye al mantenimiento de un cabello, uñas y piel normales
Collagen Elixir™ Composizione degli ingredienti
Collagen Elixir è composto da peptidi di collagene marino, biotina, vitamina C, zinco e altre antiche sostanze botaniche per favorire una pelle sana dall'interno. Approfondiamo questi ingredienti che esaltano la bellezza!
Miscela di collagene marino
La miscela di peptidi di collagene proviene da pesci selvatici pescati in acque profonde come il merluzzo, il merluzzo nero e l'eglefino, naturalmente ricchi di collagene di tipo I. Questa forma di collagene marino contiene gli aminoacidi prolina, glicina e idrossiprolina che stimolano la produzione naturale di collagene del corpo e favoriscono una pelle sana e idratata (1).
Una miscela di superfrutti ed estratti vegetali
Collagen Elixir contiene una miscela di ingredienti vegetali da sempre utilizzati per la salute della pelle, tra cui gli estratti di bacche di goji e acerola, noti per l'elevato contenuto di fitonutrienti, il succo di aloe vera, tradizionalmente utilizzato per benefici idratanti, e l'estratto di camomilla in polvere, impiegato da secoli per il suo effetto calmante.
Nutrienti per capelli, pelle e unghie sani
Vitamina C: contenuta naturalmente negli agrumi, è una vitamina antiossidante che supporta la produzione naturale di collagene (2).
Zinco: minerale chiave dal ruolo essenziale nella salute di pelle, capelli e unghie (2).
Biotina: potente vitamina che favorisce la salute dei capelli e della pelle (2).
Gustoso aroma naturale
Succo di mela concentrato: realizzato con succo di mela filtrato, il succo di mela concentrato si presenta dal sapore e colore delicati, regalando una dolcezza naturale e un sapore fruttato.
Aromi naturali: abbiamo aggiunto solo aromi che si trovano in natura, tra cui mirtillo, uva e mela dolce.
Estratto di foglie di stevia: erba sudamericana naturalmente più dolce dello zucchero a 0 calorie.
Qualità senza compromessi: Un bene per te e per il pianeta 
Collagen Elixir è accuratamente formulato pensando al nostro pianeta e utilizza collagene derivato dalle pelli e dalle ossa di pesci catturati in natura che altrimenti verrebbero scartati. Inoltre, ogni flacone è realizzato con materiali riciclabili al 100%. Isagenix adotta una politica di qualità senza compromessi che assicura il rispetto dei più alti standard di produzione e garanzia di qualità su ogni singolo prodotto ricevuto.
Pronto a scoprire il tuo splendore? Scopri di più e richiedi Collagen Elixir qui.
Riferimenti
Li P, Wu G. Ruoli della glicina alimentare, della prolina e dell'idrossiprolina nella sintesi del collagene e nella crescita animale. Amminoacidi. 2018; 50:29–38

La biotina contribuisce a preservare il benessere naturale di capelli e unghie. La vitamina C contribuisce alla regolare formazione del collagene per le normali funzioni della pelle. Lo zinco contribuisce a preservare il benessere naturale di capelli, unghie e pelle
Collagen Elixir Description des ingrédients
Collagen Elixir est élaboré avec des peptides de collagène marin, de la biotine, de la vitamine C, du zinc, et d'autres produits botaniques ancestraux pour la santé intérieure et extérieure de votre peau. Examinons de plus près ces ingrédients qui améliorent la beauté !
Mélange de collagène marin
Ce mélange de peptides de collagène provient de poissons sauvages des profondeurs tels que la morue, le colin, et l'aiglefin, qui sont naturellement riches en collagène de type I. Ce type de collagène marin contient de la proline, de la glycine et de l'hydroxyproline d'acides aminés, qui favorisent la production de collagène naturelle du corps et aident la peau à être en bonne santé et hydratée (1).
Un mélange de super-fruits et de produits botaniques
Collagen Elixir contient un mélange de produits botaniques utilisés traditionnellement pour la santé de la peau, y compris des extraits de goji et de baies d'acérola qui sont connues pour être riches en phytonutriments, du jus d'aloe vera utilisé traditionnellement pour ses propriétés hydratantes, et des poudres d'extrait de camomille, utilisées depuis des siècles pour leur effet apaisant.
Nutriments pour des cheveux, une peau et des ongles en bonne santé
Vitamine C : présente naturellement dans les agrumes, c'est une vitamine antioxydante qui favorise la production naturelle de collagène (2).
Zinc : un minéral essentiel qui joue un rôle prépondérant pour la santé de la peau, des cheveux et des ongles (2).
Biotine : une vitamine puissante qui protège la santé des cheveux et de la peau (2).
Saveur naturelle délicieuse
Concentré de jus de pomme : élaboré avec du jus de pomme filtré, le concentré de jus de pomme a une saveur douce, naturellement sucrée et fruitée.
Saveurs naturelles : nous n'avons ajouté que des saveurs naturelles, notamment la canneberge, les raisins et la pomme sucrée.
Extrait de feuilles de stevia : une herbe d'Amérique du Sud qui est naturellement plus sucrée que le sucre et ne contient pas de calories.
Engagement qualité : bon pour vous et pour la planète 
Collagen Elixir est soigneusement formulé pour respecter l'environnement et contient du collagène dérivé de la peau et des os de poissons sauvages qui seraient autrement jetés. De plus, chaque bouteille est en matériaux recyclables à 100 %. L'engagement qualité d'Isagenix garantit que chaque produit que vous recevez satisfait les normes les plus strictes de fabrication et de qualité.
Êtes-vous prête à découvrir votre éclat ? Apprenez-en plus et commandez Collagen Elixir ici.
Références
Li P, Wu G. Roles of dietary glycine, proline, and hydroxyproline in collagen synthesis and animal growth. Amino Acids. 2018; 50:29–38

La biotine contribue au maintien d'une peau et de cheveux normaux. La vitamine C contribue à la formation normale de collagène pour le fonctionnement normal de la peau. Le zinc contribue au maintien d'une peau, de cheveux et d'ongles normaux