Collagen Elixir FAQs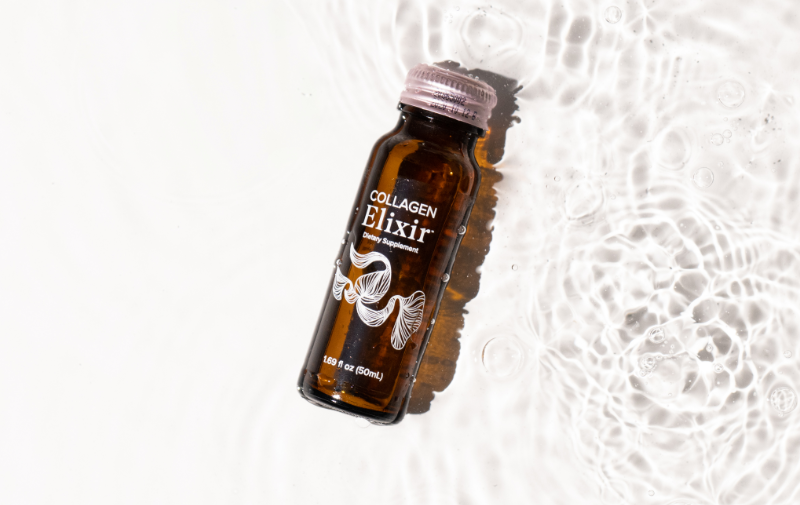 Collagen Elixir is soon to be the newest step in your beauty routine. It's made using marine collagen peptides, biotin, vitamin C, zinc, and other ancient botanicals to support healthy skin from the inside out*. All that's left for you to do is sip and enjoy!
What are the benefits of type I collagen?
There are many types of collagen. Type I collagen is the building block of our skin's structure, making up around 80% of our skin's dermal layer. Our bodies produce collagen naturally, but its production begins to decrease as we age, so Collagen supplementation has been shown to be beneficial for maintaining healthy and hydrated skin. Marine collagen is composed mostly of type I collagen and is rich in unique, specialized amino acids that have targeted benefits for skin health and support the body's natural production of collagen.
Where is marine collagen sourced?
The marine collagen in Collagen Elixir is sourced from wild–caught, cold–water fish from waters off the coast of Norway following strict, environmentally friendly practices.
Is there a difference between hydrolyzed collagen and collagen peptides? 
There is no difference. Hydrolyzed collagen and collagen peptides are two names for the same ingredient. Hydrolyzed collagen is collagen that has been broken down into collagen peptides. Collagen naturally occurs in the form of long twisted fibers that are difficult for the body to digest. Collagen peptides are created by special enzymes that break hard-to-digest collagen fibres into small pieces in a hydrolysis reaction. These short collagen pieces, or peptides, are quickly absorbed and easy for the body to use in building new collagen.
How is Collagen Elixir flavoured?
Collagen Elixir blends cranberry, grape and apple flavours to create a wildly delicious fruity flavour.
Is Collagen Elixir packaging recyclable?
Yes, our Collagen Elixir™ packaging is 100% recyclable. Please dispose of the glass bottle and box responsibly.
Who is Collagen Elixir suitable for?
Collagen Elixir is suitable for adults ages 18 and up. It is also gluten, soy and dairy free, although it is not suitable for vegetarians or anyone with a fish allergy.
While Collagen Elixir contains food-based ingredients that may be suitable for pregnant or breastfeeding women, it's always best to consult with your doctor before using any food supplements.
How many servings should I take per day?
We recommend enjoying one serving of Collagen Elixir each day.
When is the best time to take Collagen Elixir?
The best time to consume Collagen Elixir is daily! Any time, any place – as long as you consume one full serving of Collagen Elixir each day you will continue to receive its benefits.
How long do the benefits of Collagen Elixir last?
Your body naturally produces collagen every day to build new collagen and repair older collagen fibres in the body. You can think of it like a continuous process of recycling and renewal because some of the collagen in your body is replaced every day. When using Collagen Elixir daily, you are providing your body with nutrients to support new collagen production each day. As with any nutritional approach, it takes time for the nutrients in Collagen Elixir to support your body's natural process of renewal. When you stop using Collagen Elixir, you are no longer providing your body with the same nutritional support for daily collagen renewal and the benefit will gradually fade.
Is Collagen Elixir Cleanse Day approved?
Yes, Collagen Elixir can be consumed on Cleanse Days and has a value of 2 Cleanse Credits per serving when using the Cleanse Day Tracker. Please refer to our  for more information on Cleanse Day–approved snack options.
Can men take Collagen Elixir?
Absolutely! We are all made up of collagen and experience the same effects from the natural decline in collagen production through the aging process.
Can I take Collagen Elixir if I am allergic to fish?
No, Collagen Elixir is not suitable for individuals with fish allergies.
How does Isagenix assure the purity of the hydrolyzed collagen peptides?
The hydrolyzed collagen peptides in Collagen Elixir are derived from Scandinavian, cold–water cod, pollock, and haddock that are generally lower in mercury compared to top-of-the-food-chain fish like tuna and swordfish. Once the collagen has been purified to hydrolyzed collagen peptides, the raw material is tested for mercury and heavy metals to ensure purity, quality, and safety. In addition to the raw material testing, Isagenix sends every finished batch of Collagen Elixir for third-party independent testing, which includes mercury and heavy metals.
Isagenix follows a strict  and prioritises the purity, safety, and efficacy of all products.
*Biotin contributes to the maintenance of normal hair and skin. Vitamin C contributes to normal collagen formation for the normal function of skin. Zinc contributes to the maintenance of normal hair, nails and skin
Collagen Elixir Veelgestelde Vragen
Collagen Elixir is binnenkort de nieuwste stap in je schoonheidsritueel. Het is gemaakt met marine-collageenpeptiden, biotine, vitamine C, zink, en andere eeuwenoude plantaardige stoffen om een gezonde huid van binnenuit te ondersteunen*. Het enige wat je nog moet doen is een slokje nemen en genieten!
Wat zijn de voordelen van collageen van type 1?
Er zijn vele soorten collageen. Collageen van type I is de bouwsteen van de structuur van onze huid en maakt ongeveer 80% van de huidlaag uit. Ons lichaam maakt van nature collageen aan, maar de productie ervan neemt af naarmate we ouder worden. Onderzoek heeft aangetoond dat collageensupplementen gunstig kunnen zijn voor het behoud van een gezonde en gehydrateerde huid. Marine-collageen bestaat voor het grootste deel uit collageen van type I en is rijk aan unieke, gespecialiseerde aminozuren die gericht zijn op de gezondheid van de huid en de natuurlijke productie van collageen door het lichaam ondersteunen.
Waar komt marine-collageen vandaan?
Het marine-collageen in Collagen Elixir is afkomstig van in het wild gevangen koudwatervis uit de wateren voor de kust van Noorwegen, waarbij strenge, milieuvriendelijke praktijken worden gevolgd.
Is de verpakking van Collagen Elixir recyclebaar?
Ja, onze Collagen Elixir verpakking is 100% recyclebaar. Gelieve de glazen fles en doos op een verantwoorde manier weg te gooien.
Voor wie is Collagen Elixir geschikt?
Collagen Elixir is geschikt voor volwassenen vanaf 18 jaar. Hoewel Collagen Elixir ingrediënten op basis van voedingsmiddelen bevat die geschikt kunnen zijn voor zwangere vrouwen of vrouwen die borstvoeding geven, is het altijd het beste om je arts te raadplegen voordat je voedingssupplementen gaat gebruiken.
Kan ik Collagen Elixir innemen als ik allergisch ben voor vis?
Nee, Collagen Elixir is niet geschikt voor mensen met een visallergie. Hoeveel moet ik per dag nemen? Wij raden je aan elke dag één dosis Collagen Elixir te nemen.
Wanneer kan ik Collagen Elixir het beste innemen?
De beste tijd om Collagen Elixir te consumeren is dagelijks! Altijd en overal – zolang je elke dag een volledige dosis Collagen Elixir neemt, zul je er de vruchten van blijven plukken.
Kan ik Collagen Elixir drinken op een Reinigingsdag?
Ja, Collagen Elixer kan op Reinigingsdagen worden geconsumeerd en heeft een waarde van 2 Reinigingscredits per portie bij gebruik van de Reinigingsdagentracker. Raadpleeg onze Reinigingsdagentracker voor meer informatie over goedgekeurde tussendoortjes voor de Reinigingsdag.
Wat zijn de verschillende soorten collageen en wat doen ze?
Er zijn ten minste 16 soorten collageen bekend, maar het grootste deel van het lichaam bestaat uit vier hoofdtypen: type I, II, III en IV. Type I, het collageen dat wij voor Elixir gebruiken, is het meest voorkomende collageen in het lichaam, dat meestal voor schoonheidsproducten wordt gebruikt, omdat het de belangrijkste structurele component is in huid, beenderen, pezen, bindweefsels en vezelig kraakbeen. Type II is voornamelijk te vinden in het elastische kraakbeen dat dient als demping voor gewrichten. Type Ill dient als ondersteunende structuur voor organen, slagaders en spieren. Type IV wordt aangetroffen in de huidlagen en helpt bij de filtratie.
*Biotine draagt bij tot het behoud van normaal haar en een normale huid. Vitamine C draagt bij tot de normale collageenvorming voor de normale werking van de huid. Zink draagt bij tot het behoud van normaal haar, normale nagels en een normale huid
Collagen Elixir Häufig Gestellte Fragen
Collagen Elixir ist der neueste Baustein in Ihrer Beauty-Routine. Es wird mit Meereskollagen-Peptiden, Biotin, Vitamin C, Zink sowie anderen althergebrachten Pflanzenstoffen hergestellt und unterstützt eine gesunde Haut von innen heraus*. Alles was Du noch tun musst ist Schluck für Schluck genießen.
Was sind die Vorteile von Typ-1-Kollagen?
Es gibt viele verschiedene Kollagentypen. Das Kollagen vom Typ I ist der Baustein unserer Hautstruktur und macht etwa 80 % unserer Hautschicht aus. Unser Körper kann Kollagen zwar selbst herstellen, die Produktion nimmt jedoch mit zunehmendem Alter ab. Die Forschung hat gezeigt, dass eine Kollagen-Supplementierung vorteilhaft für die Erhaltung einer gesunden und mit Feuchtigkeit versorgten Haut sein kann. Marine Collagen besteht hauptsächlich aus Typ-I-Kollagen und ist reich an einzigartigen, besonderen Aminosäuren, die einen speziellen positiven Effekt auf die Gesundheit der Haut haben und die natürliche Kollagenproduktion des Körpers unterstützen.
Woher stammt das Meereskollagen?
Das Meereskollagen in Collagen Elixir wird von wild gefangenem Kaltwasserfisch aus den Gewässern vor der Küste Norwegens nach strengen, besonders umweltverträglichen Verfahren gewonnen.
Ist die Verpackung von Collagen Elixir recycelbar?
Ja, die Verpackung des Collagen Elixir ist zu 100 % recycelbar. Bitte entsorgen Sie die Glasflasche und die Umverpackung gemäß den geltenden Bestimmungen.
Für wen ist Collagen Elixir geeignet?
Collagen Elixir ist für Erwachsene ab 18 Jahren geeignet. Obwohl Collagen Elixir Inhaltsstoffe auf Nahrungsmittelbasis enthält, die für Schwangere oder stillende Mütter geeignet sein können, empfehlen wir, vor der Verwendung von Nahrungsergänzungsmitteln einen Arzt zu konsultieren. Kann ich Collagen Elixir verwenden, wenn ich allergisch auf Fisch bin? Nein, Collagen Elixir ist nicht geeignet für Menschen mit Fischallergien.
Wie viele Portionen sollte ich pro Tag zu mir nehmen?
Wir empfehlen die Einnahme von einer Portion Collagen Elixir pro Tag.
Wann ist der beste Zeitpunkt für die Einnahme von Collagen Elixir?
Nimm Collagen Elixir am besten einfach täglich ein. Zu jeder Zeit, an jedem Ort – genieße Tag für Tag eine volle Portion Collagen Elixir und profitiere von den Vorzügen.
Kann ich Collagen Elixir auch an Reinigungstagen trinken?
Ja, Collagen Elixir kann auch an Reinigungstagen verwendet werden und hat im Reinigungstag-Tracker einen Wert von 2 Reinigungspunkten pro Portion. Weitere Informationen zu den am Reinigungstag erlaubten Snackoptionen findest Du in unserem Reinigungstag-Tracker.
Was sind die verschiedenen Arten von Kollagen und wie wirken sie?
Obwohl mindestens 16 Arten von Kollagen bekannt sind, besteht der größte Teil des Körpers aus vier Haupttypen: Typ I, II, III und IV. Typ I, das Kollagen, das wir für Elixir verwenden, ist das vorherrschende Kollagen im Körper und wird hauptsächlich für Schönheitsprodukte verwendet, da es die Hauptstrukturkomponente in Haut, Knochen, Sehnen, Bindegewebe und Faserknorpel ist. Typ II kommt hauptsächlich im elastischen Knorpel vor, der zur Polsterung der Gelenke dient. Typ III dient als Stützstruktur für Organe, Arterien und Muskeln. Typ IV befindet sich in den Hautschichten und hilft bei der Filtration.
*Biotin trägt zur Pflege von normalem Haar und normaler Haut bei. Vitamin C trägt zur normalen Collagenbildung für die normale Funktion der Haut bei. Zink trägt zur Pflege von gesundem Haar, gesunden Nägeln und gesunder Haut bei
Collagen Elixir Preguntas Frecuentes
Collagen Elixir pronto será el nuevo paso de tu rutina de belleza. Está elaborado con péptidos de colágeno marino, biotina, vitamina C, zinc y otros extractos vegetales ancestrales para mantener una piel sana desde el interior*. ¡Lo único que debes hacer es beber y disfrutar!
¿Cuáles son los beneficios del colágeno tipo 1?
Hay muchos tipos de colágeno. El colágeno Tipo I es el elemento principal de la estructura de nuestra piel formando hasta el 80 % de la capa dérmica de la piel. Nuestros cuerpos producen colágeno de forma natural, pero su producción disminuye a medida que envejecemos. Las investigaciones han demostrado que la suplementación con colágeno puede ser beneficiosa para mantener una piel sana e hidratada. El colágeno marino está compuesto principalmente de colágeno tipo I y es rico en aminoácidos únicos y especializados que tienen beneficios específicos para la salud de la piel y ayudan a la producción natural de colágeno del cuerpo.
¿De dónde se obtiene el colágeno marino?
El colágeno marino de Collagen Elixir se obtiene de peces de agua fría capturados en estado salvaje en aguas de la costa de Noruega siguiendo prácticas estrictas y respetuosas con el medio ambiente.
¿Son los envases de Collagen Elixir reciclables?
Sí, los envases de nuestro Collagen Elixir™ son 100 % reciclables. Por favor, desecha el frasco de cristal y la caja de forma responsable.
¿Para quién es adecuado Collagen Elixir?
Collagen Elixir se recomienda para adultos mayores de 18 años. Aunque Collagen Elixir se elabora con ingredientes alimentarios que pueden ser adecuados para las mujeres embarazadas o en período de lactancia, siempre es mejor que lo consultes con tu médico antes de usar cualquier complemento alimentario.
¿Puedo tomar Collagen Elixir si tengo alergia al pescado?
No, Collage Elixir no es apto para las personas alérgicas al pescado ¿Cuántas dosis debo tomar al día? Te recomendamos que tomes una dosis de Collagen Elixir al día
¿Cuándo es el mejor momento para tomar Collagen Elixir?
¡El mejor momento para tomar Collagen Elixir es a diario! En cualquier momento y en cualquier lugar, siempre que consumas una dosis completa de Collagen Elixir cada día, continuarás disfrutando de sus beneficios.
¿Puedo beber Collagen Elixir en un día de limpieza?
Sí, Collagen Elixir se puede consumir en los días de limpieza y tiene un valor de 2 créditos de limpieza por dosis si se usa el control de días de limpieza. Consulta tu control de días de limpieza para más información sobre las opciones de aperitivo aprobadas para los días de limpieza.
¿Cuáles son los diferentes tipos de colágeno y qué efectos tienen cada uno?
Hay al menos 16 tipos de colágeno conocidos, pero la mayor parte del cuerpo se compone de cuatro tipos principales: tipo I, II, III y IV. El colágeno de tipo I es el que usamos para nuestro Collagen Elixir y es el que más abunda en el cuerpo, principalmente se usa en productos de belleza y es el principal componente estructural de la piel, los huesos, los tendones, los tejidos conectores y los cartílagos fibrosos. Tipo II se encuentra principalmente en el cartílago elástico que funciona como amortiguación para las articulaciones. Tipo III funciona como estructura de soporte para los órganos, las arterias y los músculos. Tipo IV se encuentra en las capas de la piel y ayuda con la filtración.
* La biotina contribuye al mantenimiento normal del cabello y la piel. La vitamina C contribuye a la producción normal de colágeno para el funcionamiento normal de la piel. El zinc contribuye al mantenimiento normal del cabello, las uñas y la piel
Collagen Elixir Domande Frequenti
Collagen Elixir sarà presto il nuovo prodotto della tua routine di bellezza. Realizzato con peptidi di collagene marino, biotina, vitamina C, zinco e altri estratti vegetali antichi a sostegno di una pelle sana dentro e fuori*. Non ti resta che sorseggiarlo e gustarlo!
Quali sono i benefici del collagene di tipo 1?
Ci sono molti tipi di collagene. Il collagene di tipo I è l'elemento costitutivo della struttura della pelle e costituisce circa l'80% dello strato epidermico della nostra pelle. Il nostro corpo produce collagene in modo naturale, ma la sua produzione diminuisce con l'invecchiamento. Le ricerche hanno dimostrato che l'integrazione di collagene può essere vantaggiosa per mantenere una pelle sana e idratata. Il collagene marino, che usiamo in Collagen Elixir, è composto principalmente di collagene di tipo I ed è ricco di amminoacidi unici, che offrono vantaggi mirati per la salute della pelle e sostegno per la produzione naturale del corpo di collagene.
Da dove proviene il collagene marino?
Il collagene marino di Collagen Elixir proviene da pesci selvatici catturati in acque fredde al largo delle coste norvegesi, seguendo pratiche rigorose e attente all'ambiente.
La confezione di Collagen Elixir è riciclabile?
Sì, la confezione del nostro Collagen Elixir è riciclabile al 100%. Si raccomanda di smaltire la bottiglietta di vetro e la scatola in modo responsabile.
Per chi è adatto Collagen Elixir?
Collagen Elixir è adatto per adulti maggiori di 18 anni. Sebbene Collagen Elixir contenga ingredienti prodotti da colture alimentali che possono essere adatti per donne incinte e che allattano, è sempre meglio consultare il proprio medico prima di assumere qualsiasi tipo di integratore alimentare.
Posso assumere Collagen Elixir se ho un allergia al pesce?
No, Collagen Elixir non è adatto a chi soffre di allergia al pesce. Quante porzioni si consiglia di assumere al giorno? Consigliamo di assumere una porzione di Collagen Elixir al giorno.
Qual è il momento migliore per assumere Collagen Elixir?
Il momento migliore per assumere Collagen Elixir è ogni giorno! In qualsiasi momento e ovunque, assumendo una porzione completa di Collagen Elixir ogni giorno, continuerai a vedere i risultati.
Posso bere Collagen Elixir in un Cleanse Day?
Sì, Collagen Elixir può essere assunto nei Cleanse Day e ha un valore di 2 Crediti Cleanse a porzione usando il Cleanse Day Tracker. Fare riferimento al Cleanse Day Tracker per maggiori informazioni sulle opzioni di snack approvate per il Cleanse Day.
Quali sono i diversi tipi di collagene e cosa fanno?
Ci sono almeno 16 tipi di collagene noti, tuttavia la maggior parte del corpo è costituita da quattro tipi principali: tipo I, II, III e IV. Tipo I, il collagene che usiamo per Elixir, è il collagene predominante nel corpo, principalmente utilizzato per i prodotti di bellezza, in quanto è il componente strutturale principale di pelle, ossa, tendini, tessuti connettivi e cartilagine fibrosa. Il tipo II è presente principalmente nella cartilagine elastica che funge da cuscinetto per le articolazioni. Il tipo III funge da struttura di supporto per gli organi, le arterie e i muscoli. Il tipo IV è presente negli strati epidermici e contribuisce alla filtrazione.
*La biotina contribuisce al mantenimento di capelli e pelle. La vitamina C contribuisce alla normale formazione del collagene per il normale funzionamento della pelle. * Lo zinco contribuisce al mantenimento di capelli e pelle e unghie in salute
Collagen Elixir Foire Aux Questions
Collagen Elixir deviendra rapidement la nouvelle étape de votre routine beauté. Il contient des peptides de collagène marin, de la biotine, de la vitamine C, du zinc et un mélange ancestral de plantes qui contribuent à vous offrir une peau saine à l'intérieur comme à l'extérieur*. Vous n'avez plus qu'à le déguster et à profiter de ses bienfaits !
Quels sont les bienfaits du collagène de type 1 ?
Il existe de nombreux types de collagènes. Le collagène de type I est l'élément constitutif de la structure de notre peau qui constitue environ 80 % de la couche cutanée. Notre corps produit naturellement du collagène, mais sa production commence à diminuer avec l'âge. La recherche indique que la supplémentation en collagène peut être bénéfique pour conserver une peau saine et hydratée. Le collagène marin est composé principalement de collagène de type I. Il est riche en acides aminés uniques et spécialisés qui présentent des avantages ciblés pour la santé de la peau et soutiennent la production naturelle de collagène par le corps.
D'où provient le collagène marin ?
Le collagène marin contenu dans Collagen Elixir provient de poissons d'eau froide sauvages pêchés au large des côtes norvégiennes, selon des pratiques strictes et respectueuses de l'environnement.
L'emballage de Collagen Elixir est-il recyclable ?
Oui, l'emballage de Collagen Elixir™ est 100 % recyclable. Jetez le flacon en verre et la boîte de manière responsable. À qui Collagen Elixir convient-il ? Collagen Elixir est recommandé pour les adultes âgés de 18 ans et plus. Bien que Collagen Elixir contienne des ingrédients d'origine alimentaire qui peuvent convenir aux femmes enceintes ou allaitantes, il convient toujours de consulter un médecin avant d'utiliser tout complément alimentaire.
Puis-je prendre Collagen Elixir si je suis allergique au poisson ?
Non, Collagen Elixir ne convient pas aux personnes allergiques au poisson. Combien de portions dois-je prendre par jour ? Nous vous recommandons de déguster une portion de Collagen Elixir par jour.
Quel est le meilleur moment pour prendre Collagen Elixir ?
Le meilleur moment pour prendre Collagen Elixir, c'est tous les jours ! Quand vous le voulez, où vous le voulez : tant que vous consommez une portion complète de Collagen Elixir par jour, vous bénéficierez de tous ses bienfaits.
Puis-je boire Collagen Elixir pendant une journée de jeûne ?
Oui, Collagen Elixir peut être consommé pendant les journées de jeûne Il a une valeur de 2 crédits de purification par dose si vous utilisez le Tableau de suivi de Journée de jeûne.. Reportez-vous au Tableau de suivi de Journée de jeûne pour plus d'informations sur les en-cas approuvés.
Quels sont les différents types de collagène et quels sont leurs bienfaits ?
On connait au moins 16 types de collagènes mais la majeure partie de notre corps est constitué de quatre types principaux : type I, II, III et IV. Le collagène que nous utilisons pour l'Elixir, le type I, est le plus prédominant dans notre corps car c'est le composant structurel principal de la peau, des os, des tendons, des tissus conjonctifs et du cartilage fibreux. Le type II se trouve principalement dans le cartilage élastique qui sert à amortir les articulations. Le type III sert de structure de soutien aux organes, aux artères et aux muscles. Le type IV se trouve dans les couches cutanées et permet la filtration.
*La biotine contribue au maintien des cheveux et d'une peau en bonne santé. La vitamine C contribue à la formation normale du collagène pour un bon fonctionnement de la peau. Le zinc contribue au maintien des cheveux, des ongles et d'une peau en bonne santé.