Ciji Siddons on 'Following Up and Getting New Members Started'!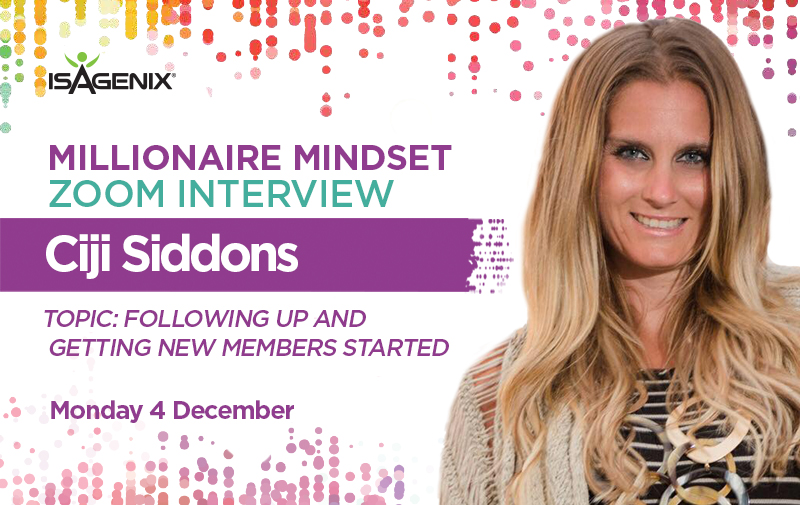 Last Monday, 27 November, we had the fabulous Brett Davis and his wife Samantha joining our weekly Monday evening Zoom call to discuss Connecting & Presenting Isagenix. As always he enthused, inspired and informed us into taking action!
Throughout the months that the 90-Day Action Plan runs, a new Isagenix leader each week will share their Isagenix journey and experiences with us. They'll also talk us through one of the pillars of the 90-Day Action Plan that has meant the most for them, and their career.
The 90-Day Action Plan is your business-building strategy for setting measurable goals and reaching them within a set period. It's specifically designed to provide you with solid tracks to run on that will carry you through to success. Use it to build your knowledge, share your goals and celebrate your progress with your team, friends and family.
Millionaire Mindset with Ciji Siddons
For our next Zoom call on 4 December we have 9-Star Platinum, 3-Star Executive, Isagenix Millionaire* Ciji Siddons sharing the wealth of her knowledge with us.
Before Isagenix, Ciji was waitressing and bartending on the Jersey Shore. She was constantly on the go and was looking for a convenient nutrition option. After benefiting from Isagenix products Ciji started to pursue the business side and decided to attend graduate school as a way to supplement her income and get her products paid for. She realized soon after this that her journey with Isagenix could be an even bigger part of her life. Now this Isagenix Millionaire* and START Ambassador has not only replaced her income, but she gets to spend her days helping others experience the same choice and freedom that she has.
Getting new members started!
The topics of Ciji's Zoom call will be 'Following Up and Getting New Members Started'.
Following up is one of the most important income producing activities. When you're sharing Isagenix, you're bound to receive questions and objections. A very effective way to address these is by listening and showing new team members that you understand. Getting new members started is different than supporting your business builders. It's important to be a dedicated accountability coach by helping your team members stay committed to their 90-Day Action Plan goals.
Mark your calendars and remember to share the dial-in details (listed below) with your teams so they don't miss a thing.
Date: Monday 4 December, 2017
Time: 8pm GMT
How to access: Simply create a free Zoom account, then follow this link. International numbers can be found here. You can also dial in using the following phone numbers: +1 646 558 8656 (US Toll) or +1 408 638 0968 (US Toll).
Please note: these Zoom details will be the same for each weekly Isagenix Millionaire Zoom Interview call. You can download and import the following iCalendar files to your calendar system by clicking here. Also please note that the time is 8pm GMT. 
Rank as of 1/12/2017.
*Isagenix Millionaires are defined as Isagenix Associates who have cumulatively earned US$1 million or more with Isagenix. Earning levels for this Isagenix Independent Associate substantially exceed the average results achieved by all Associates during the same time periods and should not be construed as typical or average. Income level achievements depend on many factors, including the individual Associate's business and networking skills, personal ambition, time commitment, work habits and other abilities. For average earnings, please see the Isagenix Independent Associate Earnings Statement found at IsagenixEarnings.com.