The 90-Day Action Plan Has Landed!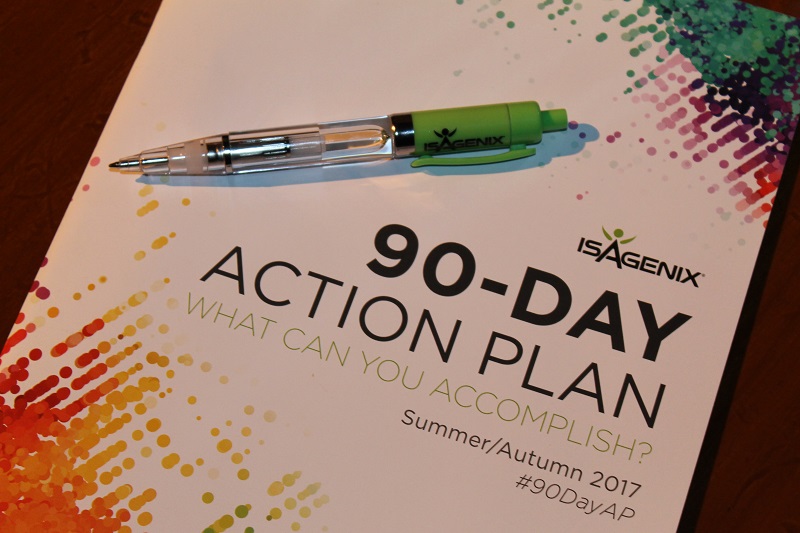 Just announced on stage at the UK Grand Opening, the new 90-Day Action Plan is one of the most powerful and innovative business-building tools ever developed at Isagenix®.
Ever wondered what you could accomplish in 90 days? Now is your chance to find out!
Put simply, the 90-Day Action Plan is your business-building strategy for setting measurable goals and reaching them within a set period of time. Ask any Associate around the globe and they will tell you the incredible impact this workbook and programme had on their business. It's specifically designed to provide you with solid tracks to run on that will carry you through to success. Use it to build your knowledge, share your goals and celebrate your progress with your team, friends and family.
Ready to get started?
Your first step is to download the workbook. This will also be available on UK.IsagenixBusiness.com very soon.
Once you've downloaded the workbook, flip through each page and write your answers to the questions. Some of the most helpful topics covered in the booklet include:
Connecting With Your 'Why'
Getting Your New Members Started
Developing The Right Mindset
Sharing Your Story
Recognising Your Team
Register For Your 90-Day Action Plan Training
To help you stay on track and accountable, register for free, at-home business-building training specific to your 90-Day Action Plan, and write out your first 90-day goal. By opting in, you can also choose to receive either an email or IsaPulse notification as a reminder to log in and access your training.
To register for the training, follow the simple steps below:
Login to your Back Office
Click 'Training Centre'
Register for the 90-Day Action Plan training, enter your goal and follow the steps as shown.
If you have any questions throughout the 90 days, contact the person who introduced you to Isagenix, and keep in touch with other people working on the 90-Day Action Plan to share top tips. As Kathy Coover, Isagenix Owner & Executive Vice President says: "It's amazing how much we can accomplish when we commit to growing as One Team."
Get ready for massive action and incredible results! Good luck – we can't wait to see what you achieve.