5 Reasons to love Snack Bites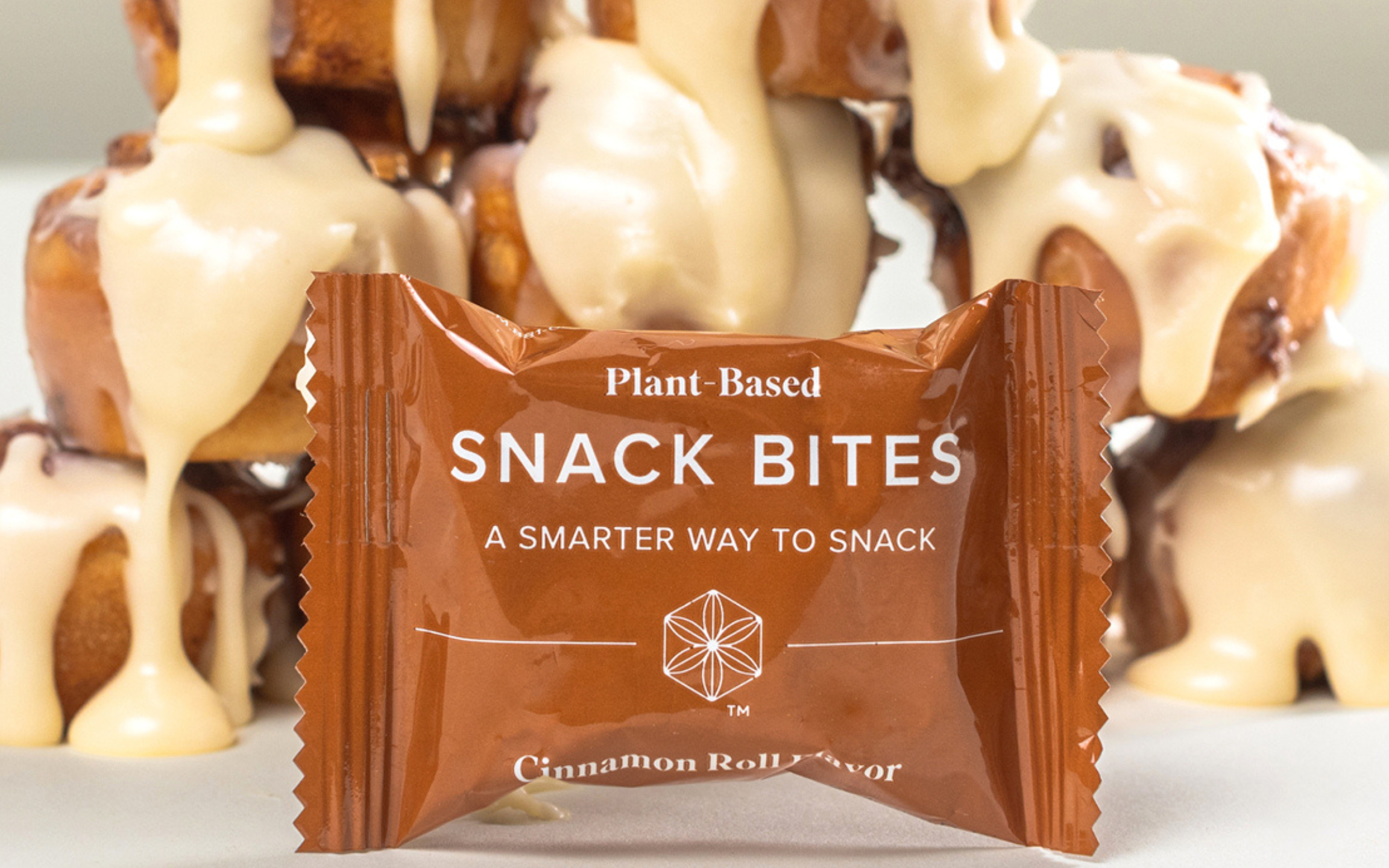 Can't imagine a life without snacks? We can't either, that's why we created our delicious and nutrient-dense Plant-Based Snack Bites. Snack Bites help you stay focused on reaching your goals, whether that's weight loss, enhancing your nutrition or refueling your workouts.
Here's five reasons you'll love Snack Bites…
A flavour party you won't want to miss
Delicious Cinnamon Roll and creamy peanut butter… the perfect blend of sweet and savory – now that's what we call a snack!
Snack smarter… not harder
Made with wholesome and nutritional plant-based ingredients as well as 5g protein and 4g fibre from fava bean protein. Now that's going to keep you fuller for longer!
Psst… did you know the protein content of our Snack Bites also makes them a great post workout snack!
Naturally Sweetened
Crushes cravings and satisfies that sweet tooth of yours! Yep, they taste great and keep you energised and feeling good too.
Cleanse Day approved
It may sound too good to be true but trust us, life's too short to miss out on great snacks!
Say goodbye to drama
Snack Bites are Individually wrapped to take the 'just one more' drama out of snacking. It also makes them perfect for on the go… whether that's on your daily commute, in your packed lunch or to the gym!
Kun je je een leven zonder snacks niet voorstellen? Wij ook niet, daarom hebben we onze heerlijke en voedzame Plant-Based Snack Bites ontwikkeld. Snack Bites helpen je om gefocust te blijven op het bereiken van je doelen, of dat nu gewichtsverlies, het verbeteren van je voeding is of het helpen bij workouts.
Hier zijn vijf redenen waarom je van Snack Bites zult houden…
Een smaakfeest dat je niet wilt missen
Een heerlijke smaak van kaneel en romige pindakaas… de perfecte mix van zoet en hartig – dat noemen wij snacks!
Snack slimmer… niet vaker
Gemaakt van gezonde en voedzame plantaardige ingrediënten en 5g proteïne en 4g vezels uit favaboonproteïne. Dat houdt je langer vol!
Psst… wist je dat het proteïnegehalte van onze Snack Bites ze ook geschikt maakt als snack voor na de training!
Natuurlijk gezoet
Verpletter je trek en bevredig je zoete trek! Ja, ze smaken heerlijk en geven je energie en een goed gevoel.
Goedgekeurd tijdens een 'Cleanse' dag
Het klinkt misschien te mooi om waar te zijn, maar geloof ons, het leven is te kort om geweldige snacks te missen!
Zeg vaarwel tegen drama
Snack Bites zijn individueel verpakt om het 'nog maar eentje' drama van het snacken weg te nemen. Het maakt ze ook perfect voor onderweg… of dat nu tijdens je dagelijkse woon-werkverkeer is, in je lunchpakket of naar de sportschool!
Kannst du dir ein Leben ohne Snacks nicht vorstellen? Wir auch nicht. Deshalb haben wir unsere leckeren und nährstoffreichen Snack Bites auf Pflanzenbasis entwickelt. Die Snack Bites helfen dir dabei, deine Ziele zu erreichen, egal ob du abnehmen, deine Ernährung verbessern oder dein Training optimieren möchtest.
Hier sind fünf Gründe, warum du Snack Bites lieben wirst…
Ein Geschmackerlebnis, das du nicht verpassen möchtest
Leckere Cinnamon Roll und cremige Erdnussbutter… die perfekte Mischung aus süß und herzhaft – das nennen wir einen Snack!
Snack smarter… nicht härter
Hergestellt aus gesunden und nahrhaften pflanzlichen Zutaten sowie 5 g Protein und 4 g Ballaststoffe aus Favabohnenprotein. So bleibst du länger satt.
Psst… wusstest du, durch den guten Eiweißgehalt der Snack Bites eignen sie sich perfekt als Snack nach dem Training.
Natürlich gesüßt
Macht Heißhungerattacken schnell vergessen und stillt deinen Heißhunger! Ja, sie schmecken großartig und geben dir Energie für ein gutes Gefühl.
Geeignet für Reinigungstage
Es klingt vielleicht zu gut, um wahr zu sein, aber das Leben ist zu kurz, um auf tolle Snacks zu verzichten!
Verabschiede dich vom Drama
Die Snack Bites sind einzeln verpackt, um das Drama des "nur noch einen Snack" zu beenden. Außerdem sind sie perfekt für unterwegs – ob auf dem täglichen Weg zur Arbeit, in deinem Lunch-Paket oder im Fitnessstudio!
Non riesci a immaginare una vita senza spuntini? Neanche noi riusciamo a immaginarla, ecco perché abbiamo creato i nostri deliziosi e nutrienti Snack Bites a base vegetale. Gli Snack Bites ti aiutano a rimanere concentrato sul raggiungimento dei tuoi obiettivi, che siano la perdita di peso, il miglioramento della tua alimentazione o il rifornimento dei tuoi allenamenti.
Ecco cinque motivi per cui amerai gli Snack Bites…
Una festa di sapori da non perdere
Deliziosi Cinnamon Roll e cremoso burro d'arachidi… il perfetto mix di dolce e salato: questo è ciò che chiamiamo snack!
Fai uno spuntino più intelligente… non più difficile
Realizzato con ingredienti vegetali sani e nutrienti, oltre a 5 g di proteine e 4 g di fibre derivanti dalle proteine delle fave. Questo ti manterrà sazio più a lungo!
Psst… sapevi che il contenuto proteico dei nostri Snack Bites li rende anche un ottimo spuntino post-allenamento?
Naturalmente dolcificato
Schiaccia le voglie e soddisfa la tua voglia di dolce! Sì, hanno un ottimo sapore e ti danno anche energia e benessere.
Aprobado el Día de la Limpieza
Può sembrare troppo bello per essere vero, ma fidati di noi: la vita è troppo breve per rinunciare a degli ottimi spuntini!
Dì addio al dramma
Gli Snack Bites sono incartati singolarmente per evitare il dramma dello spuntino "solo un altro". Inoltre, sono perfetti per essere consumati in movimento… che sia durante il tragitto quotidiano, nel pranzo al sacco o in palestra!
¿No puedes imaginar una vida sin tentempiés? Nosotros tampoco, por eso hemos creado nuestros deliciosos y nutritivos Snack Bites vegetales. Los Snack Bites te ayudan a centrarte en alcanzar tus objetivos, ya sea perder peso, mejorar tu nutrición o reponer fuerzas en tus entrenamientos.
Aquí tienes cinco razones por las que te encantará Snack Bites…
Una fiesta de sabores que no querrás perderte
Delicioso rollo de canela y cremosa mantequilla de cacahuete… la mezcla perfecta de dulce y salado, ¡eso es lo que llamamos un tentempié!
Merienda más inteligentemente… no más fuerte
Elaborado con ingredientes vegetales sanos y nutritivos, además de 5 g de proteínas y 4 g de fibra procedentes de la proteína de haba. ¡Eso sí que te mantendrá saciado durante más tiempo!
Psst… ¿sabías que el contenido proteínico de nuestros Snack Bites también los convierte en un estupendo tentempié para después del entrenamiento?
Edulcorado naturalmente
¡Acaba con los antojos y satisface a tus golosos! Sí, saben muy bien y además te mantienen con energía y bienestar.
Aprobado el Día de la Limpieza
Puede sonar demasiado bueno para ser verdad, pero créenos, ¡la vida es demasiado corta para perderse bocadillos estupendos!
Di adiós al drama
Los Snack Bites están envueltos individualmente para evitar el drama del "sólo uno más" en los tentempiés. Además, son perfectos para comer sobre la marcha… ¡ya sea en el trayecto diario al trabajo, en la comida para llevar o en el gimnasio!
Tu ne peux pas imaginer une vie sans collations ? Nous ne pouvons pas non plus, c'est pourquoi nous avons créé nos délicieuses Snack Bites à base de plantes et riches en nutriments. Les Snack Bites t'aident à rester concentré sur l'atteinte de tes objectifs, qu'il s'agisse de perdre du poids, d'améliorer ta nutrition ou de faire le plein d'énergie pour tes séances d'entraînement.
Voici cinq raisons pour lesquelles tu vas adorer les Snack Bites…
Une fête des saveurs à ne pas manquer
De délicieux roulés à la cannelle et du beurre d'arachide crémeux… le mélange parfait de sucré et de salé – voilà ce qu'on appelle une collation !
Des collations plus intelligentes… et non plus difficiles
Fabriqué avec des ingrédients végétaux sains et nutritifs, ainsi qu'avec 5 g de protéines et 4 g de fibres provenant des protéines de fèves. Voilà de quoi te rassasier plus longtemps !
Psst… savais-tu que la teneur en protéines de nos Snack Bites en fait également une excellente collation après l'entraînement !
Naturellement sucré
Écrase les fringales et satisfait ta dent sucrée ! Oui, ils ont un goût délicieux et te permettent de garder de l'énergie et de te sentir bien aussi.
Journée de nettoyage approuvée
Cela peut sembler trop beau pour être vrai, mais fais-nous confiance, la vie est trop courte pour passer à côté d'excellents en-cas !
Dis adieu aux drames
Les Snack Bites sont emballés individuellement pour éviter de se demander s'il y a encore quelque chose à grignoter. Elles sont également parfaites pour les déplacements… que ce soit sur ton trajet quotidien, dans ton panier-repas ou à la salle de sport !